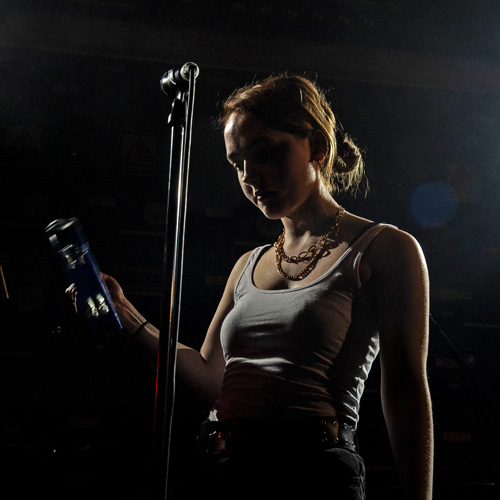 Just Mustard
Fortunately the sole support 5-piece band were heard respectfully to enable everyone to enjoy the performance. Singer Katie Ball proved to be a nervous but capable and enigmatic front woman. The style of music sounded like a combination of Portishead and Radiohead, while Ball was a young version of Beth Gibbons. There was something original and distinctive about the band's slow-moving compositions underpinned by the most expert and assertive drum rhythm. I did not perceive a band with strong dance stylings (unlike other reviewers) but songs with depth and strong emotional vibe, with acres of integrity. Song four was my pick with its massive explosion of drums and guitars at the middle eight which suddenly changed this piece of lo-fi contemplation into an out-and-out heavy rocker. The audience responded with sincere demonstrations of acclaim and I made a mental note to find out more about this band and their music.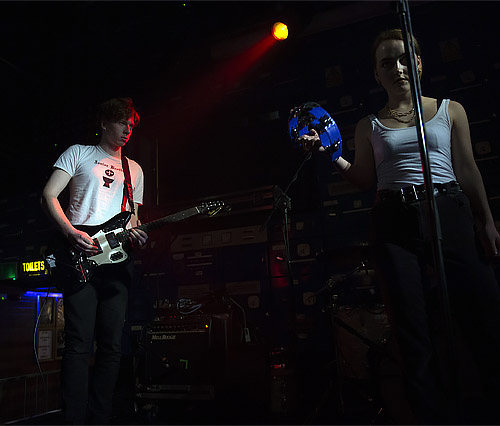 Biography
Just Mustard are a 5 piece band from Dundalk, Ireland. Crafting their own unique blend of noise, trip hop and electronic influenced music, they released their debut album 'Wednesday' to critical acclaim earning a nomination as album of the year in the 2018 Choice Music Prize. Wednesday, the debut LP by Just Mustard, was a conscious effort to provide the listener with the experience of hearing the band in their natural state with little to no polished, glossy, post-production magic. It was recorded by David Noonan in their home studio in Dundalk with additional recording by Chris Ryan (Robocobra Quartet) in Start Together Studios, Belfast & released on 12″ Vinyl and streaming services with Pizza Records. Following some highly regarded sets at Other Voices, Hard Working Class Heroes and 2 nationwide tours in 2018 - Just Mustard will be touring extensively throughout Ireland, UK & Europe in 2019.
Album Reviews
"Their debut album 'Wednesday' is a two-toned masterpiece, flipping from hypnotic, smoky vocals to screeching industrial noise on the fly." - NME
"The five-piece is from Dundalk, Ireland on the eastern border with Northern Ireland but their sound is so huge, so loud, and powerful that it's as if they've been touring the gritty venues of London and New York for decades. There's so much rock history in these songs, so much of the past mashed together and reformed for a harsher modern sound that has just the right amount of sweet." - Bandcamp
"Just Mustard is one of the sweetest bands we've found recently." - Revolver Magazine
"Despite its caustic mood, Wednesday is a swirling atmosphere-heavy thrill-ride." - Irish Independent
"Music under complete control, even when it sounds at its most unwieldy." - The Last Mixed Tape
"Blending elements of shoegaze, noise-rock and trip-hop, give rise to an intriguing and dense, but at the same time very refined and distinctive sound, I was hooked from the first listen." - WhiteLight/WhiteHeat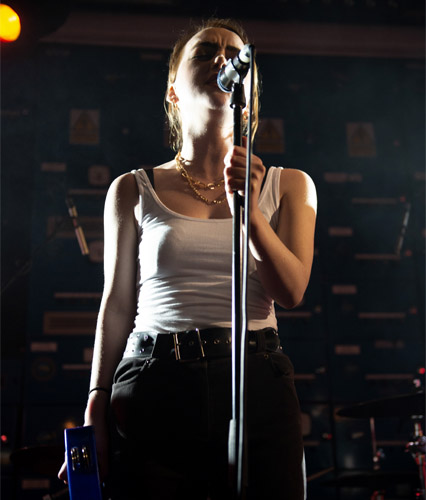 Influences:
A Tribe Called Quest, Aphex Twin, Burial, Can, Cornelius, Daniel Johnston, David Lynch, Four Tet, Joy Division, Lightning Bolt, Luke Vibert, Massive Attack, NIN, Pixies, Portico Quartet, Portishead, Radiohead, Robocobra Quartet, Squarepusher, Warpaint.
https://justmustard.bandcamp.com/releases