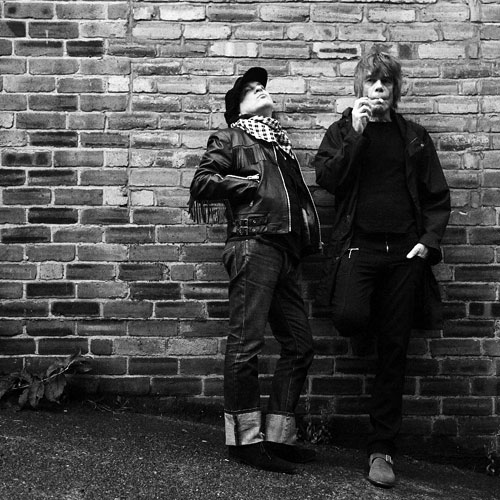 Photo: Anna Victoria Best
Have you ever come across a time where one or more of you just can't seem to come up with anything?
To write a good song is such a hard thing to do. If you're doomed to write songs then you have to write songs but you're not going to be able to write every day. A song may be good for you or it could be good for somebody else. You've just got to write the song and worry about who's going to get it later. Sometimes I write songs which I call "stoppers" where I can't take it any further at that particular moment so I'll put it to one side and give it a break and move onto the next one.
One day, all a sudden, either a piece of that one, or the results needed to finish that one, will manifest. So instead of trying to force things, we decided to make a u-turn. The song will come if you treat it right. It's like giving birth and that's the way it is with songs, you can't really sweat over them too much. If they take too much thinking then you're probably on the wrong track. If you're flying on automatic then that's it. If it takes an enema to get there, you just better forget about it and plug it up. The more you write the better you get at it; it comes with experience.
How many songs have written so far?
We came to Newcastle with about 20 ideas and we recorded about 16 of them and at the end of the day we'll end up with about 10 really good songs which will cross that line and become magic.
So you'd prefer a shorter album with 10 great songs than a longer one with 15 not so good songs?
I like to look at it in the way the whole thing fits and makes a whole. Just because someone makes you a big pie doesn't necessarily mean that it'll taste nice. What I'm trying to say is that it doesn't matter about the size of that pie, it's all about the taste and the flavour in every little bite and even though it's only 10 songs, so long as those songs pass that magical point then we'll have a great record.
Do you have any titles sorted yet?
Some of the songs have pretty cool titles. There's a song called "Kids Like You", which is amazing. David wrote the most beautiful lyrics to that and I wrote the music and the organ part. That really has a Leonard Cohen feel to it. David sings that so well in that beautiful baritone, raspy, Bluesy voice of his. There's also "The End Of The Summer" and that is the hit of the album to be honest. We've got another which is a real rocker, a kind of 60's Mitch Ryder and The Detroit Wheel kind of tune. It has a real R&B feel to it. It is really Newcastle-ish in a way, you know the way that you guys do R&B and Soul. We didn't set out to get that sound it just happened because we're here I guess. That's the beautiful thing about the New York Dolls and the way me and David work together. That's a song called "Round and Around". There's a great line in there where David goes "I wanna listen to the tambourine" and then there's nothing but drums and the tambourine going "doo dah da doo dah da doo dah!!" That's so cool and really dancing. I have to say that I think these are the best set of songs that me and David have written in years.
On your last album you reworked "Trash" from your debut album. Why did you decide to do that?
We always do a cover or we do one of our own songs and why shouldn't we cover ourselves, it's great for our royalties…Ha!! We always try to lay our signature over a song and make it our own. On this record we've done a cover of "I Sold My Heart to the Junk Man" which is a Patti LaBelle and the Bluebelles number back in the `60s. It's such a great song and we've done it our way. There's a girl called Stephanie who worked in the pub around the corner called The Ship Inn singing on the album. One day I heard this beautiful voice coming from the pub and it was Stephanie and I thought "Wow, we need her singing on the album". It then all of a sudden became like a movie, she was doing our catering from the pub and then she appears on our album. She also knew some singers from a college in Leeds and we brought them into the studio to play.
So you see we're using the local fans and acquaintances on the album. They also knew a sax player who came in here and did some incredible sax work. We did this very Baroque style of song with the girls called "You Don't Have To Cry", it's so beautiful and Stephanie who was singing also knew a string section. One night she went down to Leeds and brought us some singers and the next night she went back down to Leeds and brought us a string quartet. They laid down such a beautiful melody and David wrote some gorgeous lyrics for that one too.
On 2006`s One Day It Will Please Us To Remember Even This album you featured a special guest appearance by Bo Diddley on the albums bonus track "Seventeen". Were you in the studio when Bo laid down his parts? I didn't come down to the studio the night Bo Diddley was there as I was sick. I was thrilled though that he appeared on our record, it was a real honour. We try to utilise special guests but it depends on whether we can get them there and that depends on schedules and where they are at the time and whether we can get them over to work on the album.
David played with Howlin` Wolf guitarist Hubert Sumlin at the Radio City New York in 2003 playing "Killing Floor" and this was featured on the excellent Lightning in a Bottle DVD. You also guested on his album About Them Shoes. Did you ever consider inviting Hubert to play on the album?
You know what, if he was here, and he was available, I'd say yes straight away but unfortunately it's a long way and it's all about timing so we couldn't get him involved.
Is it your plan to finish all of your writing and recording here or will you be moving on somewhere else to mix the album and finish things off?
99% of the album has been recorded and finished in Newcastle and then we have to do the mixing. If there's anything left to be done then Jason Hill, our producer, will do that in California where he lives.
How did Jason originally become involved?
We had a few shows together about a year or two ago where we performed with his band "Louis XIV" at a festival and Jason was a big fan of good music like T-Rex and the New York Dolls. He's grown up loving that so he's got that in his heart and soul. When his name first came up I was so grateful as I thought we were doomed with some of the other names that also came up. It's worked out great for us and he's taken us exactly into the realm of sound that I think we should be in.
Is he a hands-on producer, a slave driver or someone to bounce ideas off and generally get the best out of you?
He's kiss-ass when you have to be and he can be a slave driver when he needs to be so he has the two of them which gets the best out of us. His balance and bed-side manner are perfect and he gets the job done. He sees your side of the story and can explain so clearly what he is thinking and he just clears away any obstacles to the creative process.
Technology wise is he keen on trying new recording techniques or is the approach more of a back to basics affair of the band in the studio together playing on vintage equipment and analogue recording?
We're using everything together. Any recording at the end of the day winds up being digital, no matter what we like to do. We do have a shit load of vintage instruments and pedals and noisemakers and beautiful analogue gear. We're lovers of that. I've been collecting that sort of stuff since the old days. So when I first talked to Jason we talked about what equipment each of us had. When I sent him my first demos he was saying, "How did you get that old Vox organ sound?" I thought "Wow", he was really interested. All the other ones I have worked with have gone "Oh, are you going to give me that old thing again?" Jason was so different; he was really into using the old vintage equipment to get the perfect sound for us. We're so lucky that we have Jason Hill who understands exactly what we want to do. The same things turn us on.
www.nydolls.org
www.facebook.com/nydolls
www.myspace.com/newyorkdolls