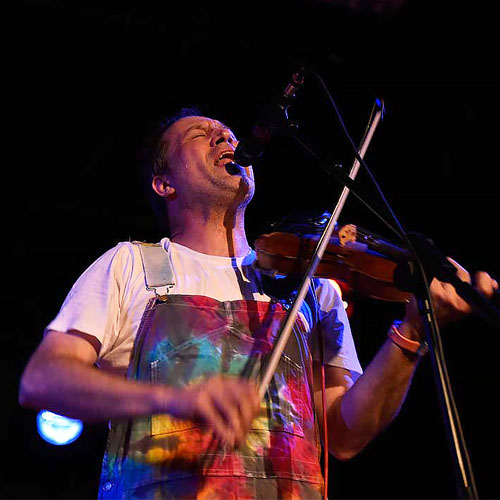 The Catrin Finch Centre, Wrexham, 18 July 2017
The Band
Barley Scotch – lead vocals, fiddle and guitar. The Reverend Don-Wayne Reno – banjo. Deacon Dale Reno – mandolin and guitar. Jake 'Bakesnake' Byers – acoustic bass.
Hayseed Dixie began in the Summer of 2000 when John Wheeler and Daly decided to play around in Wheeler's studio.  The band then evolved into a proper force playing interpretations of well known rock songs by others and their own compositions. The band has recorded fourteen albums and played over 1,200 shows in 31 different countries with their own 'Rockgrass' musical genre. The band has just released its fifteenth studio album, a collection of original songs and reinterpretations of R&B and Soul classics.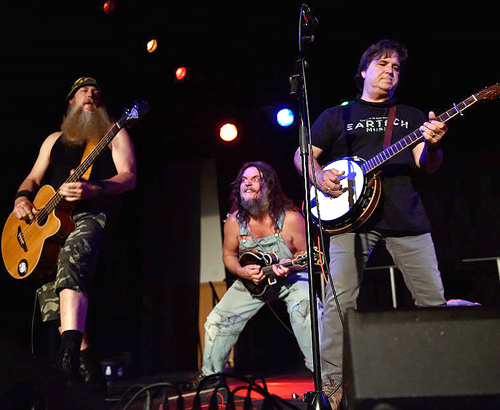 The Show
At a time when I was avidly covering music festivals one name virtually always cropped up on those minor stages. That name was Hayseed Dixie who I thought was some marginal local UK rock band who performed covers. I never investigated or checked them out. It was not until just a few months ago that I started taking notice and for the first time received some PR information on them. I was surprised to find that the band came from the USA, had released a truckload of albums and had an international fan base. I vowed to make amends by attending a live performance in Wrexham.
The Catrin Finch Centre at the Wrexham university is a small studio style theatre opened by its namesake, Catrin Finch, the world renowned Welsh harpist. I actually attended Catrin's show which opened the theatre some years ago. It's an extraordinary space offering strong acoustic quality, flexible seating and standing, and even has a recording facility. As I arrived at the venue I was not surprised to see a largely middle-aged audience taking advantage of the facility's excellent bar area. There was a tangible buzz about the place and I was about to discover why…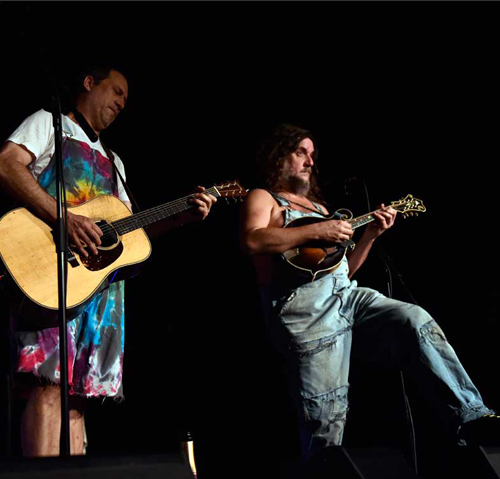 In front of a capacity audience the four players emerged to commence an engaging and exciting set, without a drummer! It was strings, strings and more strings partnered by powerful vocals that could have filled the Manchester Arena. Over to the right The Reverend provided one of the most animated displays I have seen on stage. But it was the musicianship of the four players and a setlist made in rock heaven that endeared this band to me and many others. Now because I was taking photos I was shown the door after just four songs but it was enough to convince me that this was no ordinary band. If you haven't experienced a live performance by Hayseed Dixie and you love great rock music delivered with passion and enthusiasm, don't miss these guys if they appear in your neck of the woods. You will be royally and skilfully entertained.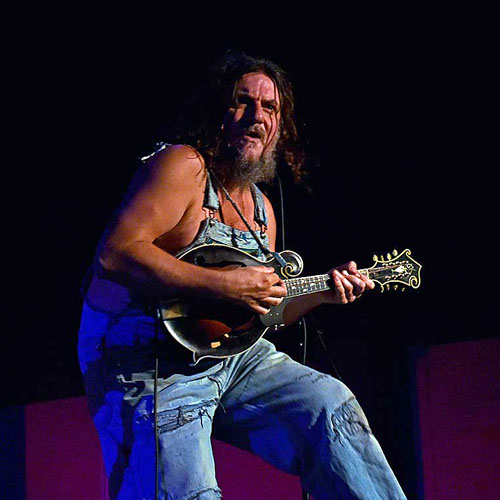 SETLIST
Dirty Deeds Done Dirt Cheap (AC/DC cover)
Kirby Hill
Bad Moon Rising (Creedence Clearwater Revival cover)
Love Train (The O'Jays cover)
War / War Pigs
Walking Cane
Black or White (Michael Jackson cover)
Don't Stop Believin' (Journey cover)
In the Backyard
Watching the Detectives (Elvis Costello cover)
Ace of Spades (Motörhead cover)
Touch Too Much (AC/DC cover)
Buffalo Soldier (Bob Marley cover)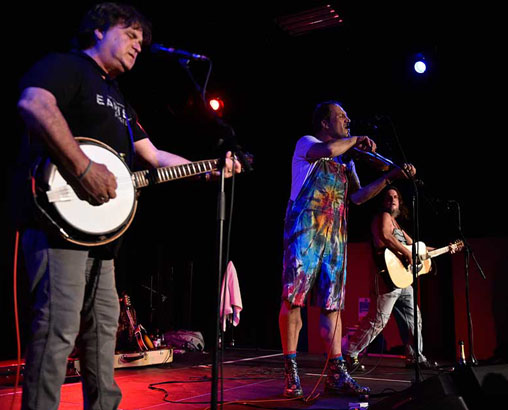 Alien Abduction Probe
Bohemian Rhapsody / Let's Get It On
Vom Selben Stern
We're Not Gonna Take It (Twisted Sister cover)
Corn Liquor
Paradise (John Prine cover)
Oliver's Army (Elvis Costello cover) (Banjo interlude during guitar string change)
T.N.T. (AC/DC cover)
Poop in a Jar
Dueling Banjos (Don Reno & Arthur Smith cover)
Encore:
Highway to Hell / Free Bird / Eternal Flame