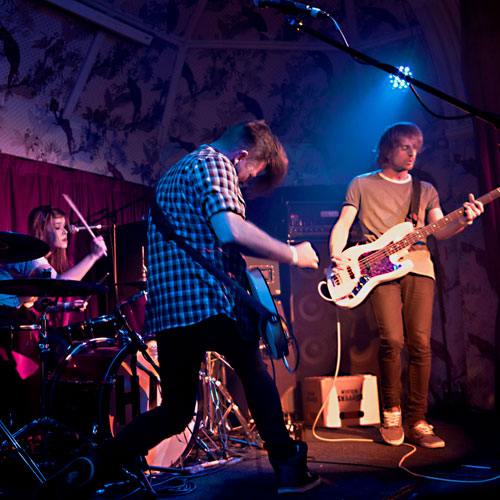 The Deaf Institute, Manchester, 25 September 2015
Band Members:
Jen Hingley - Vocals, Guitar, Drums
Chris Warr - Drums, Vocals, Guitar
Josh Sellers - Bass
"Thinking we were ready, we spent the entire bank holiday weekend recording 19 songs worth of drum travks between us. After a few weeks back in rehearsals it dawned on us that we could have done a lot better. So we started the recording process again and again until we were good enough to get the parts that had written right"
I said in my review of the band's accomplished debut album that I couldn't wait to see them perform live. I didn't have long to wait…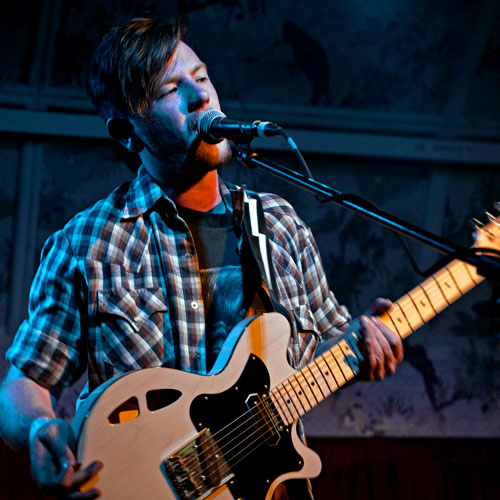 For many independent Manchester based rock or folk act the bijou Deaf Institute venue is familiar and often conquered territory. For False Advertising this is particularly the case as the band launched its debut album there. In a show comprising three new/young bands, False Advertising comfortably stood out as being the one with outstanding future potential; the one to watch out for.
The foundation and multi-talented band members Jen Hingley and Chris Warr opened proceedings with Hingley on drums and Warr on lead vocals - roles they would reverse through the night's proceedings. Opening with "I Don't Know" from their eponimous debut album Warr's vocal and guitar playing was beyond reproach, while bass player Josh Sellers made his presence felt in this rhythmic humdinger of a song. Considering Hingley took up drums by necessity, her playing lacked for nothing.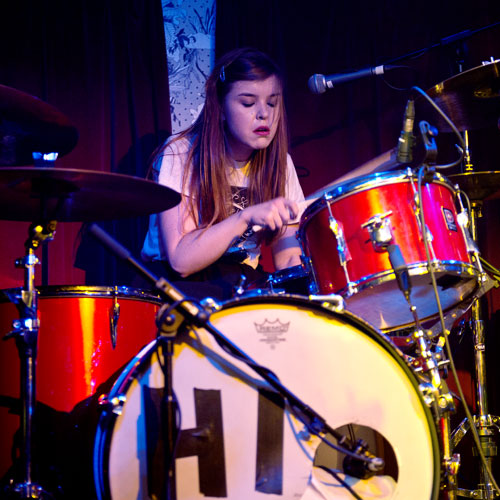 The lumbering paced and deathly vibe of "Cold Shoulder" was next with Warr again featuring on vocals and guitar supported by an explosive rhythm section which dominated this quite brilliant song. Warr's final lead role culminated in another superb song from the new album. "No Good" is a glacially paced grunge powerhouse with a sound that belonged on an arena stage rather than this tiny dolls house platform. The first three songs on the night confirmed by view that this band will indeed go places, and not just here in the UK.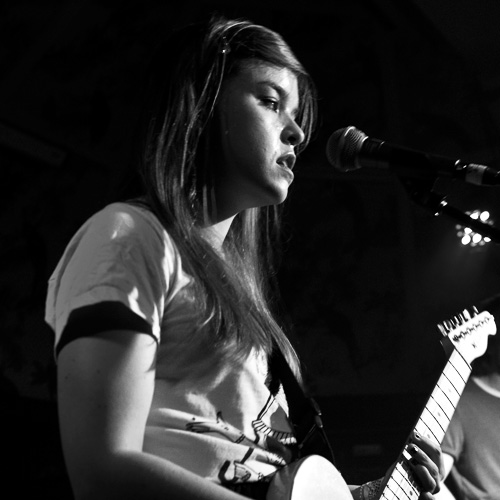 Hingley swapped roles with Warr to take up guitar and lead vocals for the next song, "Breaker", which opens the band's album. Her live performance belies her baby-faced, very young looks. She's not an animated player rather one who delivers with skill, passion and heaps of expression for this jagged, dirty rock ditty. Next is one of my favourite tracks on the album, the hugely melodic and Nirvana influenced "Only Way". Hingley's voice reminded me of Hole's Courtney Love while her guitar work is of high quality.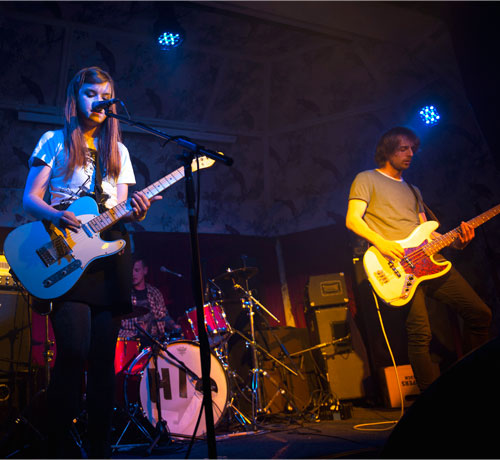 "Something Better" moves along at snail's pace again with brilliant performances from the three culminating in some of the most explosive choruses I've heard this year. Throughout the performance I felt that here was a band totally committed to their art and a rock genre that's become sadly neglected in recent years. It's rare to come across a brand new and young band with so much authenticity and authority, and who not only perform to perfection but can write rock songs of such accessible quality.
In short, I was blown away!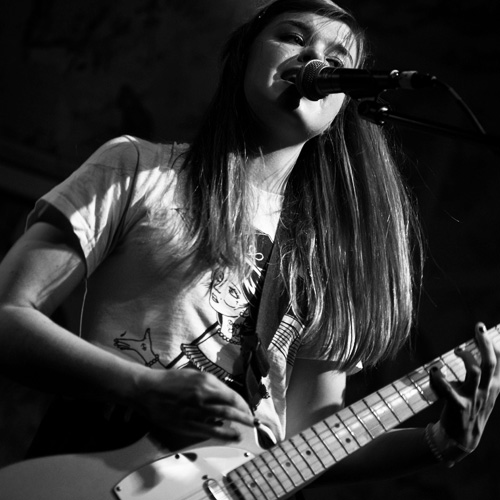 SETLIST
I Don't Know, Cold Shoulder, No Good, Breaker, Only Way, Something Better, Wasted Away, Dozer.