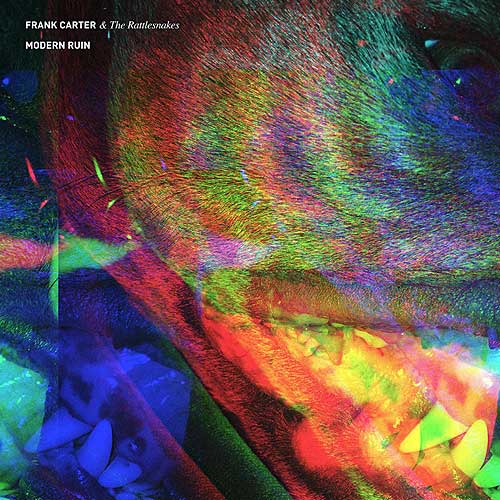 Frank Carter & The Rattlesnakes MODERN RUIN. International Death Cult/Kobalt Label Services
Frank Carter – vocals
Dean Richardson – guitars
Tom 'Tank' Barclay – bass guitar
Gareth Grover – drums
Frank Carter & The Rattlesnakes are an English hardcore punk band formed in 2015 by former Gallows and Pure Love frontman Frank Carter. The band sees Carter return to the hardcore stylings of Gallows, as opposed to the alternative rock sound of Pure Love. They released one EP in May 2015 called ROTTEN, and launched their debut album BLOSSOM via Kobalt Label Services in August 2015. They revealed their second studio album, entitled MODERN RUIN, on 28 September 2016, which was released in January 2017 via International Death Cult.
The return of Frank Carter in 2015, was the return of a bitter and angry Rattlesnake, spitting venom on all cylinders with the album BLOSSOM. It was the return of a frontman who fans of his old band Gallows, had missed for the 4 long years since he had left the band.
To a lot of those fans, his follow-up band 'Pure Love' strayed too much into a more - for want of a better phrase - "Radio-Friendly" area of music. He won them back with BLOSSOM which was lyrically and musically akin to the Frank Carter of old.
With MODERN RUIN it's clear Carter has found his niche. Gallows and Pure Love were two entirely separate paths that led to dead ends, but with the Rattlesnakes, he has found a path directly in between that takes him to places that no other bands can get to.
Review
It's been a while since I heard a heavy rock record that's both inspiring and truly entertaining. Frank Carter to the rescue! With MODERN RUIN, Carter and his band pull no punches musically, lyrically  or emotionally. In fact if there was a template that I could recommned to budding rockers then this wwould be it.
The album opens with a fairytale, gentle one minute 'Bluebelle' before launching into 'Lullaby' which sonically is anything but, however, listen to the lyrics and it is indeed that personal. There's strong melody, Bolt-like pace and instrumentals made in rock heaven. Carter's voice triumphs over it all with production that makes every word as clear as a bell.
'Snake Eyes' is a rhythm-led, (fabulous drum work here from Gareth Grover) explosive rock song that rattles along at the speed of light with another strong melody to underpin it. Then suddenly it stops and ends with deep-set keyboard notes. 'Vampires' boasts some telling guitar riffs in a song that I could imagine playing out on radio. Checkout the military snare drum passage around the middle eight which adds a distinctive touch.
'Wild Flowers' is dominated by  a guitar riff that strikes up in the choruses while Carter is at his most vocally flamboyant. The differing pace of the song adds to its drama and inventiveness. 'Acid Veins' travels slowly in verses while upping the pace in the choruses. The melody is arguably the strongest here while the vibe goes from contemplative emo to something harder as Carter pleads "Give me love."
Title track 'Modern Ruin' upps the guitar stakes and jagged punk rock vibe. It's a vicious little bugger with drums once again beating the attack. Brilliant! The epic 'Neon Rust' closes the album on a highly emotive note and for me is the highlight of a wonderful rock record. There are twelve great tracks here and I can't wait to see Carter and co rock in Manchester next month. This could so easily be the heavy rock album of the year…
4.5/5
Tour Schedule
6.03.17 – Norwich, Norwich Waterfront
17.03.17 – Manchester, Academy 2
18.03.17 – Newcastle, Riverside
19.03.17 – Glasgow, St Lukes
21.03.17 – Belfast, Oh Yeah Music Centre
22.03.17 – Dublin, Academy 2
24.03.17 – Leeds, Stylus
25.03.17 – Birmingham, Asylum
26.03.17 – Cardiff, Globe
27.03.17 – Exeter, Phoenix
29.03.17 – Portsmouth, Wedgewood Rooms
30.03.17 – London, Koko