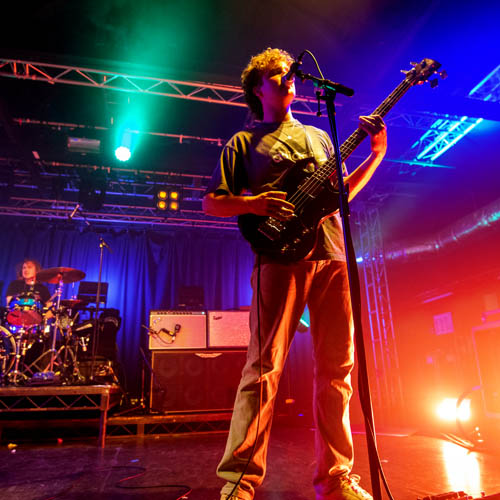 2022 EU TOUR DATES:
MARCH
Thur 24 Munich Strom
Fri 25 Cologne Luxor
Sat 26 Amsterdam Melkweg
Mon 28 Berlin Hole44
Tue 29 Copenhagen Hotel Cecil
Wed 30 Hamburg Molotow
APRIL
Fri 01 Brussels AB Club
Sat 02 Paris Nouveau Casino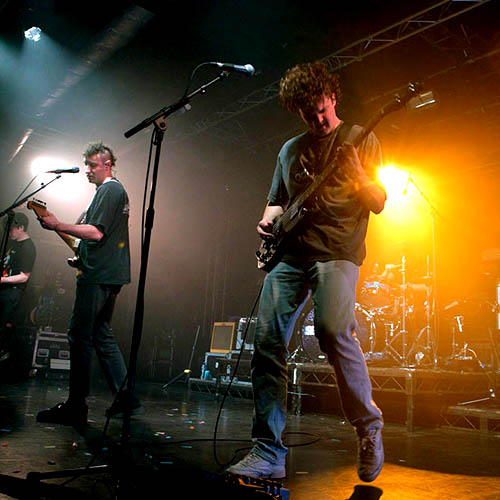 Sea Girls Biography
The all-male London indie rock quartet formed in 2015, evoking an anthemic early-2000s alt-pop sound.
Frontman and chief songwriter Henry Camamile, drummer Oli Khan, lead guitarist Rory Young, and bassist Andrew Noswad originate from Lincolnshire, Leicestershire, and Kent, but initially met while playing in each other's bands at school. All four went on to study at different universities and regrouped in London as Sea Girls following completion of their courses. Chosen for its ambiguity, the band's name was inspired by a misheard lyric in Nick Cave's brooding 'Water's Edge'. While previous musical endeavours had been much more textured and groove-based, as Sea Girls they consciously chose to bring the song to the forefront, aiming high with the kind of big choruses on which the Killers and Bastille had built their reputations.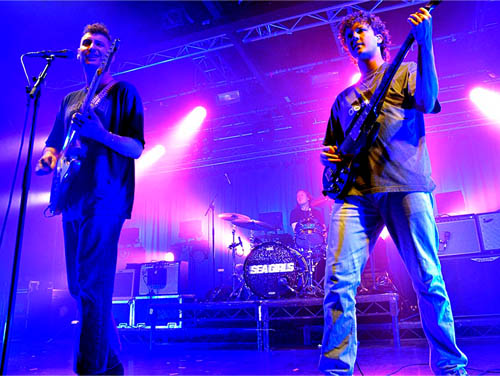 The formula was an instant success, with the lead track from their debut release - June 2017's Call Me Out EP - enjoying plays on BBC Radio, which led to multiple inquiries from festival bookers. That autumn they issued the singles 'Lost' and 'What For' as teasers for their HEAVENLY WAR EP, which appeared in January, accompanied by a U.K. headline tour. Their June 2018 EP, ADORED, preceded their first appearances at Reading & Leeds Festival, an event which they'd visited as fans in prior years. They saw out 2018 with the stand-alone single 'All I Want to Hear You Say', but the new year saw them placed on the BBC Sound of 2019 shortlist, exponentially increasing their profile.
Debut full-length record OPEN UP YOUR HEAD was issued in February of 2019, before Polydor came calling in the spring. As a result, their debut major-label single, 'Damage Done', was released early in the summer. In addition to returning to Reading & Leeds, the festival season saw them play at Truck and Benicassim before going on to support Foals in Russia. After the release of the confident and optimistic 'Violet', December brought their first visit to the U.S., where they fulfilled dates in New York and Los Angeles. Being named "Ones to Watch" by MTV the following month brought another positive start to the year before March's UNDER EXIT LIGHTS became their fourth EP. 'Open Up Your Head' was chosen as the title of their debut full-length, which was preceded in April 2020 by the single 'Do You Really Wanna Know?'
Sea Girls announced details of their second studio album HOMESICK set for release in Jan 2022.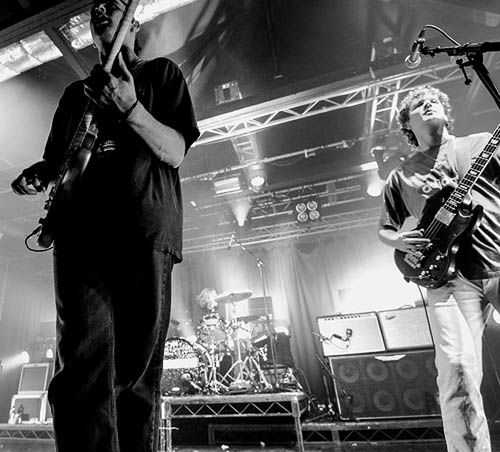 HOMESICK Album Tracks
Hometown
Sick
Lonely
Someone's Daughter Someone's Son
Sleeping With You
Paracetamol Blues
Again Again
Lucky
Higher
Cute Guys
Friends
More Images Here: http://www.shakenstir.co.uk/gallery/?album=3726&gallery=2254