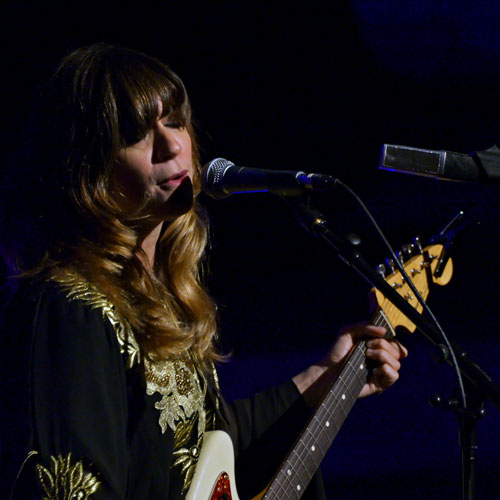 Nicole Atkins Biography
Internationally acclaimed American musician Nicole Atkins is a rare artist whose timeless songwriting and raw, emotional voice spans the ages. The miasma of faded glamour and nostalgic pop noir of her critically lauded début album, Neptune City (2007), secured her place in Rolling Stone's "Top 10 Artists To Watch," where they praised her "voice full of longing and Loretta Lynn elegance." Her second album, the blues-oriented Mondo Amore (2011), was an unflinchingly honest album reflecting on a time of great personal turmoil for Nicole.
Slow Phaser, Nicole's much anticipated third album, sees her reunited with Neptune City producer Tore Johansson (The Cardigans, Franz Ferdinand, Saint Etienne, New Order) and features a number of songs co-written with the legendary musician/producer Jim Sclavunos (Nick Cave & the Bad Seeds/Grinderman/The Cramps/Sonic Youth).
Nicole's television appearances have included "The Late Show with David Letterman", "Conan", and "Later… with Jools Holland", and she has been featured in dozens of magazines and newspapers, ranging from the New York Times to The Guardian (UK) to Time magazine. She has toured internationally throughout the US and Europe, both headlining and also touring with Nick Cave & the Bad Seeds, Primal Scream and the Avett Brothers. She is also a radio host on Sirius XM's Spectrum channel.
Atkins was born in Neptune, New Jersey. She grew up in Shark River Hills, a middle class enclave within Neptune overlooking the Shark River. Atkins has cited the river (technically a bay) as a major inspiration for her music, particularly the imagery of "the river in the rain" found in the title track on her album Neptune City. She started playing piano when she was aged nine and taught herself to play guitar at 13. She eschewed more popular acts of the day for musical groups her parents listened to, such as The Ronettes and Johnny Cash. She has cited The Sundays' Harriet Wheeler as a major early influence.
She started playing in pick-up bands and doing gigs at local coffeehouses while attending St. Rose High School in the nearby town of Belmar.
After high school, Atkins moved to Charlotte, North Carolina to study illustration at the University of North Carolina at Charlotte. She ingrained herself within the city's independent music scene, discovering bands like Superchunk and Uncle Tupelo. She also started writing original songs and befriending other local musicians. Among other bands, she joined a supergroup in the city called Nitehawk that, at one point, had almost 30 members. Atkins spent her junior year abroad in Australia. After she returned, she joined the band Los Parasols, releasing an EP with them entitled The Summer of Love in 2002. That same year, Atkins moved to the neighborhood of Bensonhurst in Brooklyn, New York. She began performing at open mic night at the Sidewalk Café in Manhattan's East Village. Influenced by the artists on Rainbow Quartz, the independent record label specializing in guitar heavy pop music and traditional songwriting for which she worked, she moved away from the louder rock music she'd played in North Carolina and toward the songcraft style of Wilco and Roy Orbison. She returned briefly to Charlotte, living in a wood shop and playing with several bands, most notably a group called Virginia Reel. At this time, she started writing what she termed "a mix of Americana, 60s, and indie rock." She also recorded her EP Bleeding Diamonds.
She moved back to her parents' house in New Jersey in 2004, working odd jobs and playing local gigs. During a regular Friday night stand at Kelly's Tavern in nearby Neptune City, the audience kept requesting cover songs by local favorites Bruce Springsteen and Jon Bon Jovi. In response, Atkins got drunk and played a tongue-in-cheek version of Bon Jovi's "Livin' on a Prayer". She was not asked back.
During this time, she commuted into New York by train to play gigs and maintain a connection to the city's underground music scene. In mid-2004, Atkins and David Muller, who had played drums with Fischerspooner and The Fiery Furnaces, started working on a demo CD entitled Party's Over. They recorded most of the album in Atkins' parents' house using a Casio keyboard, a ProTools rig, and a mini recorder. Drum parts were recorded at Muller's apartment in Manhattan, with further tracks recorded at the Dietch Projects gallery in Brooklyn.