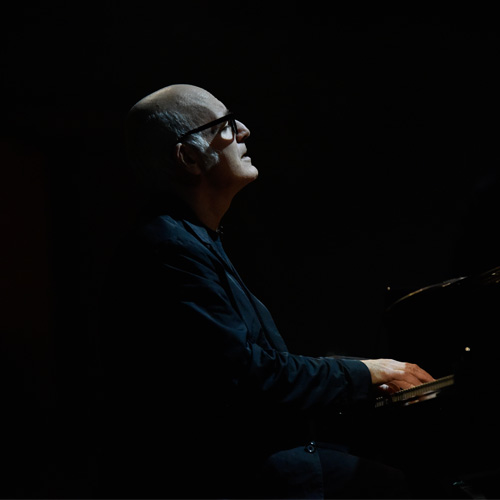 First was 'Cloudland' (2009) the debut from 'Whitetree' - comprising Ludovico on piano, Robert Lippok on electronics, and Robert's brother Ronald Lippok on drums - which has a sunny African feel amid the cutting-edge electronics and percussion.
NIGHTBOOK (2009) Ludovico's seventh solo album was a perfect contrast. Meditative and  introspective it charts an inward voyage through dreams and the shadows of the psyche with evocative use of electronics. Ludovico calls it his 'Dark Side of The Moon' and though challenging it too found immediate resonance with his audience who once again took Ludovico to the summit of the charts and back into the concert halls.
The 'Nightbook' tour produced 'The Royal Albert Hall Concert' (2010) a double CD and DVD documenting Ludovico's concert at the venue in March 2010. Drawing on every part of a now distinguished career, it shows a composer and performer at the very height of his creative powers.
In 2010 and 2010 he has been invited to conduct the "Concertone" of the Festival La Notte della Taranta in the Puglia region where more than 100,000 people danced the whole night away . A succesful tour also followed which included two sold out in London at Barbican. The music has its roots in the wild dances that were meant to ward off the effects of a tarantula bite, and Ludovico's La Notte della Taranta
Orchestra combines singers, mandolin, virtuoso tambourines, percussion, accordion, strings, organ and guitar in a mad profusion of exuberant music. Einaudi has refreshed the tradition by rearranging the old songs, writing new music, and inviting international guests such as The Turkish multi-instrumentalist and DJ Mercan Dede, the greel singer Savina Yannatou , Ballake Sissoko the Malian kora player and the guitarrist/composer Justin Adams and the Gambian griot Juldeh Camara.
In 2011 the collection ISLAND which includes also some unpublished works reached a terrific success. The tour in the same year brought him also touring in Asia where he performed in a series of sold out concerts in Japan, Thailand , Vietnam, and twice in China.
Other Highlights of his activity in 2012 include: a performance at BT River of Music in July , an acclaimed tribute to Luciano Berio with his composition "The Elements" premiered in Rome in September and his partcipation at the London Film Festival in October 2012 playing at the projection of "This is England" with live score. In November he has been awarded with the Premio Vittorio De Sica from the President Giorgio Napolitano.
IN A TIME LAPSE was recorded in October 2012 in a Monastery near Verona. The CD was released in January 2013. ELEMENTS released in 2015, was his first album of new recordings for almost 3 years and saw Einaudi influenced by the world around him. In March 2016 the world premiere of a new piano concerto 'Domino' took place at the Royal Liverpool Philharmonic Orchestra.
More Exclusive Live Manchester 2016 Images Here:
http://www.shakenstir.co.uk/index.php/gallery/?album=3411&gallery=1939