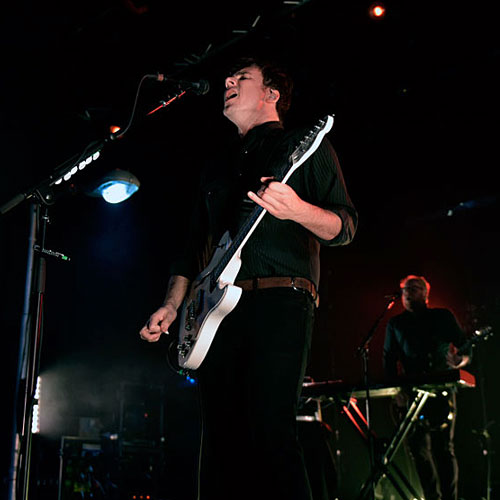 Manchester Academy, 10 November 2016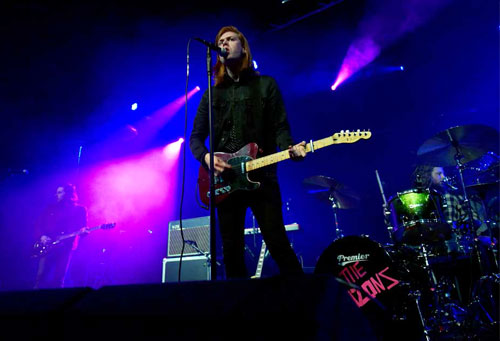 The Amazons Band Members
Matt Thompson - vocals, Joe Emmett - drums, Elliot Briggs - bass, Chris Alderton - guitar
Sole support for Jimmy Eat World were a new young guitar band from Reading called The Amazons. The band has been steadily garnering younger fans over the last couple of years in supporting leading bands and festivals. A support slot for Jimmy Eat World is another major step up the ladder but for me the band has to more clearly define itself in a market that is becoming very difficult to penetrate in any meaningful way. A primary strategy must be to secure radio airplay and I heard a couple of songs that were 'friendly' enough to make it to Radio 1 et al. The band sounded and looked good while generating genuine applause from even older punters.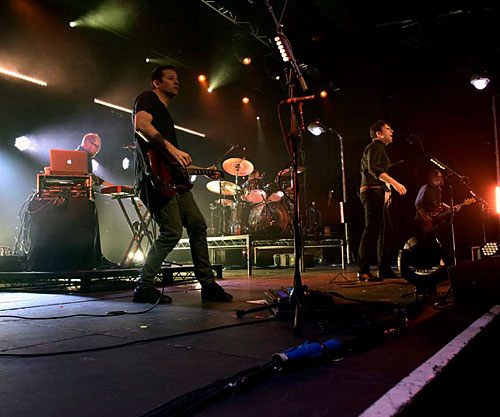 Jimmy Eat World Band Members
Jim Adkins - lead and backing vocals, lead guitar
Tom Linton - rhythm guitar, backing and lead vocals
Zach Lind - drums, percussion, programming
Rick Burch - bass guitar, backing vocals
Current touring members
Robin Vining - keyboards, percussion, guitar, backing vocals
I'm not sure whether I should be surprised or not…I had expected Manchester University's largest Academy venue to be full to overflowing for Jimmy Eat World but not so. I wondered if the band's 23 year history had somehow dimmed the excellence of its song output which mostly combined great lyrics with memorable softer rock melodies. In live performance terms they always seem to deliver the goods and in fresh-faced leadman Jim Adkins the band possesses a real treasure.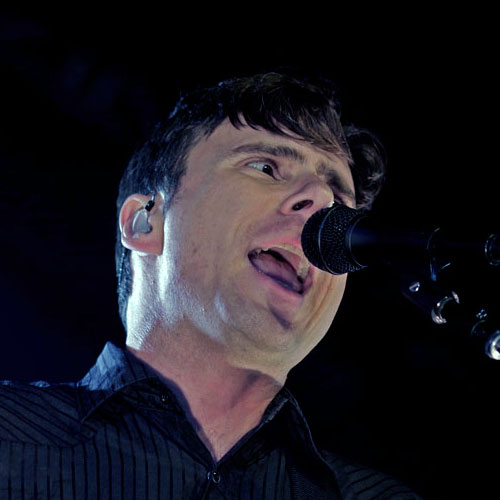 Be that as it may, Adkins profers a a simple and brief greeting before embarking at full and relentless pelt with rhythmically powerful new song 'Get Right' followed by 2001 bone-crunching punk-rocker classic 'Bleed American'. I wondered if the show was about to launch into a best of from the band's 23 year releases? Melodic pop-rocker 'I Will Steal You Back'(2013) and 'Big Casino'(2007) confirmed that this was indeed the setlist strategy (and hugely welcome). In fact the first 6 songs  spanned the years 2001 to 2016 with the audience response notably warmer for the older songs.
In a show lasting about 2 hours the band performed flawlessly with setlist that few would have complained about. Did I discover anything new? Well, I did. In fact a few things caught my attention. First the range of emotions played out in songs that covered diverse pace. Then the vital role that guitars play in the band's makeup; as opposed to a heavy bass dominance. Finally, I hadn't realised how melodic the band's songs were, and how the band embraced a variety of popular rock/pop genres to make their point.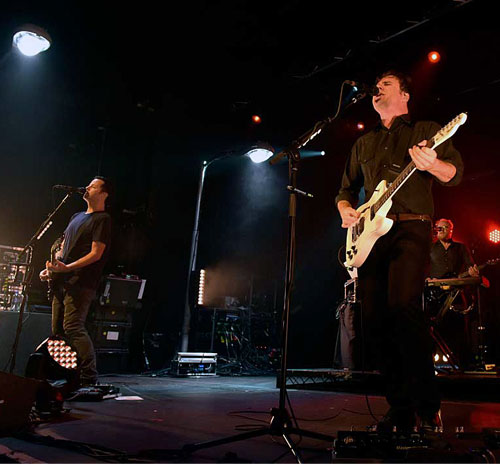 The audience revelled in the show and especially in the vintage songs. There were singalongs and encore demands that I felt would have kept the band on stage well past curfew. This was a great show by a band with many more years left in them.
SETLIST
Get Right (new)
Bleed America (2001)
I Will STeal You Back (2013)
Big Casino (2007)
If You Don't, Don't (2001)
You Are Free (2016)
Pass The Baby (2016)
Futures (2004)
Polaris (2004)
Blister (2002)
It Matters (2016)
You With Me (2016)
For Me This Is Heaven (2002)
Lucky Denver Mint (2002)
Always be (2007)
A Praise Chorus (2008)
My Best Theory (2010)
23 (2004)
Work (2004)
Pain (2004)
The Middle (2001)
Sure And Certain (2016)
Sweetness (2001)