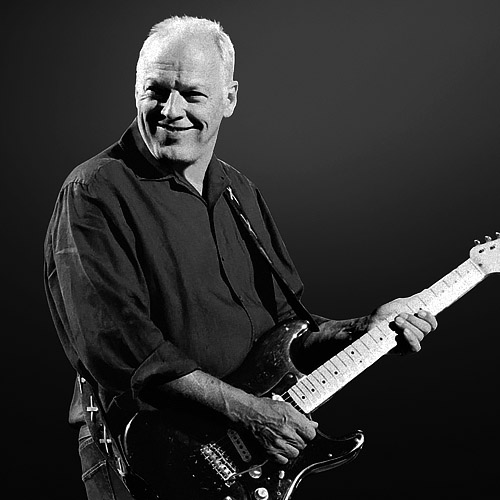 THE STUDIO INTERVIEW
The story probably starts late '85 early '86. When you were writing songs at that point can you remember thinking 'this is a Floyd song, this should be a Floyd song'.
DG. I don't think that's ever a delineation that you make or certainly that I would make. I just start writing and hope that things will progress into something and I had been working for some time in the studio on a number of songs. But what was then going to happen was in the air for a long time while Roger decided whether he was going to fuck off into the ether or not, and then what would then do.
So what was the mindset of you as individuals then?
DG. Rick at that time had been bunged out during the war so basically at that time it was me and Nick. And we talked about it and said we want to continue. During that summer somewhere in '86 I guess it was, I was thinking about it and putting together bits of music that I had and thinking how am I going to go about this. During that summer I went to the same place that Rick was and I did speak to him then and asked him if he fancied coming in and doing some work on this project which he was quite keen on the idea of. But I needed a person that I could count on so I got Bob Esring back in who worked on THE WALL and a previous solo album. Bob's a very good driving force and is very honest with his opinion you might say. You could say brutally honest with his opinions! He is not going to let you get away with anything that is not to the standard you wanted yourself. But you know it was an alarming time. It's quite a big thing to carry on doing something like this, something specifically like Pink Floyd with Roger having gone who was a big, big part of it obviously - a major talent and our primary lyricist. So it was difficult.
And you kind of reached out to other people to start collaboratively about replacing that element or bringing in new works.
DG. Yes. We did that. We had Anthony Moore who I knew from somewhere or other, a lyricist. I invited him to come and help and see if he would have any good ideas and Bob thought of one or two other people, some of whom were too similar to to me in some ways to be valuable…
What do you mean?
DG. Well, I suppose you could say the Roger and me thing is that I (and some people might agree) that I am more of a melodic type first and Roger is more of an aggressive wordsmith and there are different sides of us that came together to create the thing that we became. You don't want to exactly try to replicate any of that. Something with a harder edge to it that I tend to have seemed to be a good idea to be looking at.
Where there many people who tried to come into it with existing Pink Floydian tropes - 'I've got this lyric about time and destiny' - it was kind of 'we've kind of done that…'
DG. No it didn't work that way. I met a couple of people and we chatted and stuff and basically if I thought it was going to work we might continue. But in fact it was basically Anthony doing most of the lyrics for three songs and myself trying to crack on with it.
The image of these gents gently bobbing about gives an image of a tranquil experience leisurely taking your time…
DG. Without wanting to cover some really horrible territory but we were in the middle of a major law suite and during every bit of what I was doing I was on the phone to lawyers and that stuff was just eating away at me, us and our time in the studio. It was a nightmare. It's the image of it being a bucolic beautiful scene of bobbing on a river - that was the intention, it was intended, but it wasn't the reality of the recording. Of course later, because Bob lived in L.A. he insisted that we did some of it in England and I insisted that we did some of it in L.A. and when we moved to L.A.  there was some relief because office hours in England and office hours in L.A. are not the same so by the time we started working all legal firms were closed in London making it a little bit easier.
So this was, even before it was decided what it was to be called, this was a no-obligations record. There was no deadline in theory, there was no label asking for this record, it gives you a certain amount of freedom. That has to be a positive thing…
DG. I don't remember thinking about that or not. I knew that if we put together a record the label would probably take it because it was obviously OK but I definitely wanted to continue my chosen career that I had worked so many years on and Nick did too, and so we started working and planning and trying things out and by Christmas we started, I guess by late September, by Christmas we were feeling quite optimistic and had some nice pieces of music and some beginnings of some good lyrics and we ploughed on through the early part of the next year.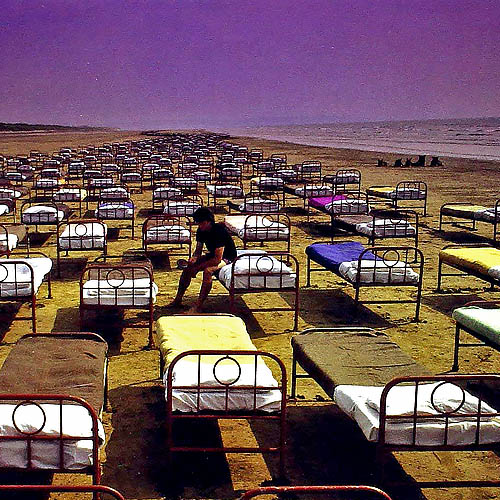 I remember the moment the whole lyric for 'Sorrow' came to me like magic from nowhere. I sat down and basically wrote  down five verses of a song I had no music for. I've never done it that way round before, it's always been music first. But with 'Sorrow' the words came first and when I wrote the music to fit it and went in and demoed it and put it all together in the studio that for me was the moment I thought we were all in the clear with the direction we were going in and it gave context to the other songs and it made me have confidence as to where we were going.
Of course the moment the word gets out there that there will be a new Pink Floyd album the expectations upon that are huge and inescapable regardless of any history that had gone up to that point with anyone. Is it possible to, especially with that album at that time, was it possible to set that aside or was it on your shoulder somewhat?
DG. You know it's not something I think about. Peoples' expectations of what it's going to be are not what I'm thinking about. I'm thinking about making a record for me. I'm sure subconsciously there are decisions you make when making a Pink Floyd record that differ slightly to the ones you might might in making a solo record but they are not decisions that are conscious or that I think about. And of course with Bob there cracking the whip trying to make sure we moved we moved in a good direction not allowing anything to slip by. He's a guy I learnt a lot from.
So this is kind of connected to the box set, the new version of MOMENTARY LAPSE OF REASON. What can you tell me about the creative dynamic between Rick, Nick and you at that point you were working on the record?
DG. It's a difficult thing to discuss. It's a painful thing for all of them to discuss because Roger's departure had damaged people because I talked about it at the time but it's tricky to…anyway… We got to L.A. and pretty much to that moment we'd used click tracks and drum machines and soforth. We started in L.A. by adding drums to these tracks and it was all really really coming together. We had good songs, we had 'Learning To Fly', 'On The Turning Away', 'Sorrow' - these are for me the big moments I suppose you could say. [emotionally] Sorry, some of this stuff is very awkward to steer around…
That must have been very very difficult to navigate.
DG. It was. Rick was coming in sometimes and working sometimes, and Nick was there but there were difficulties. The thing about the time was that in the '80s there was a mass of new technology - new keyboards, synthezisers, all this stuff - we were keen to make a record that was of its time and embraced a lot of this new technology with massive enthusiasm. Of course that is a fashion and fashions go out of fashion and I think in the years after MOMENTARY LAPSE OF REASON there were moments when I thought that we hadn't followed the timeless template that I think we should have done at the time. So I think we wanted to go back, temper down some of those things, replace one or two rather jangly keyboards with rather nicer Hammond organ and so that's what we've been doing in the recent past. We got Nick to come and play the drums on every track, we found old tapes of Rick playing Hammond organ and other things which we couldn't fathom why we didn't use at the time. But you know you have a quite clear idea of what you're aiming at and mixing you want to do, and what you want to do and how you want the whole thing to sound. And later you realise, 'fuck it was the '80s'!
Andy Jackson has been a sound engineer with Pink Floys since 1981. That year he has been busy remixing and remastering A MOMENTARY LAPSE OF REASON for the new box set. But he can still remember the original recording sessions?
Andy Jackson. We didn't quite know what we were going to do. David had recently bought the Astoria studios we are in now. We were going to try some stuff out. Bob had come in with some idea that what we should do is to try to do something that was very very cutting edge and current. That's something that sounds very good but of course it becomes very time-stained. Particularly because of Roger's input was missing and so there was a vacuum to fill and it and so that idea filled that vacuum. So we were presented with all this technology and new toys that effectively we could play with. So for the first time computer technology came in and we could utilise that to programme some of the music so that effectively you had robotic people playing and this was something that was enormously appealing because it gives you control over things. So you get this massive control of being able to say 'I want this done, or I can imagine in my head playing this piece of music'. And you can create that so this becomes a seductive musical drug and we very much followed that musical path. It was with the context if not the idea that we were having to invent a new way of working, because the old way was no longer there. At the time it did achieve the brief that we set out to make it sound very 'now'. But 'now' became 'then' and 'then' became a long time ago and in retrospect it became very time-stained and it sounds like a product of when it was made.