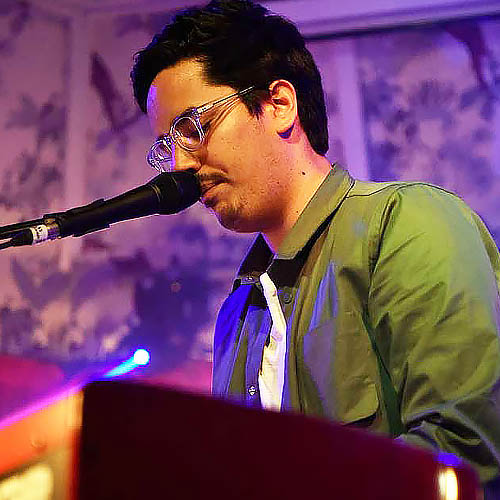 The Deaf Institute Manchester, 22 May 2017
Luke Sital-Singh was brought up in the small south west London town of New Malden, birthplace of folk legend John Martyn. The youngest of 3 brothers, Luke's parents encouraged their sons to pick up musical instruments. Piano, saxophone, guitar and the flute were all part of the Sital-Singh ensemble with Luke taking up the violin at age 11. After picking up his brothers guitar, he has never looked back. The ever compelling and emotionally captivating young songwriter has his roots in an eclectic mix of songsmiths both young and old, from Bob Dylan, Bruce Springsteen and Joni Mitchell to Damien Rice, Josh Ritter and Tallest Man On Earth. Though a new artist and relatively unexposed, he has already established himself within BBC's Introducing arena, gaining him a slot at Glastonbury 2010.
Luke Sital-Singh released his first EP, FAIL IN YOU, in late 2012. Produced by veteran Irish producer Iain Archer (Snow Patrol, Jake Bugg), the four songs had a haunting, intimate quality that drew comparisons to Bon Iver and Jeff Buckley. Sital-Singh released a second EP in the spring of 2013 called Old Flint, which opened the doors to several tours, key spots on the U.K. festival circuit, and eventually landed him a deal with British major Parlophone Records. TORNADOS, his third EP and first for Parlophone, found him again working with Iain Archer and was released in late 2013. The EP found Sital-Singh expanding his usually spare sound with the introduction of a full complement of backing musicians, bringing a newfound complexity to his music.
He then appeared on the BBC Sound of 2014 long list, and soon after confirmed the details of his debut album, THE FIRE INSIDE, which was due for release midway through that year. Two years later, Sital-Singh had split from his major-label and headed out to record what would be his sophomore album. Heading to the remote Attica Audio in Donegal, Ireland, with producer Tommy McLaughlin (Villagers), Sital-Singh stripped back everything, being joined by just a small backing band to help deliver the personal and reflective 2017 release TIME IS A RIDDLE.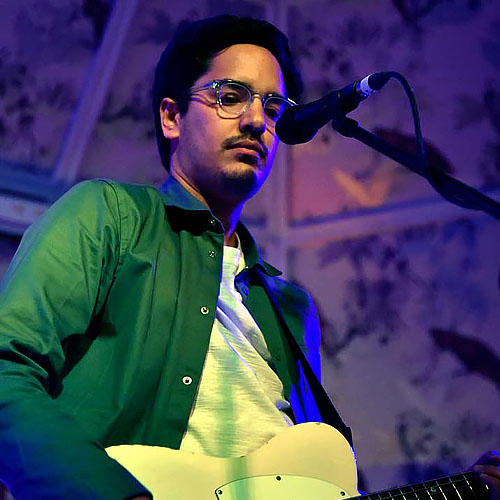 Few UK singer/songwriters have impressed me as much as Sital-Singh in recent years. His initial EPs and album revealed a major talent in the making. His latest LP is even better. It's a deeply moving and inspiring accomplishment with its simple and meaningful lyrics, mind-grabbing melodies and expressive vocal performances. In 2017 it's also one of the best released thus far and puts certain multi-million sellers by others in the deep, dark shade.
The opportunity to witness a live performance from this young artist was an exciting prospect albeit at Manchester's lively little Deaf Institute which is not my favourite photography venue. However, it's a popular haunt for singer/songwriters with its intimacy, acoustic quality and always an appreciative and knowledgeable Manchester audience. First to appear was the very capable support act Ciaran Avery who provided a short set of modern folk songs that the crowd loved.  When Sital-Singh eventually hit the stage the crowd had expanded to crammed status. Performing solo with his guitar and keyboards, he struck me as a modest character with a childish/mischievous sparkle in those bespectacled eyes. Accompanying himself on acoustic guitar he opened the show with 'Cynic' from his new album. He seemed immediately at home playing this slow and emotive song with its strong folk flavour. I was actually a tiny bit surprised by the power and range of his voice but not by his ability to accurately express the song's beautiful lyrics, without overplaying them.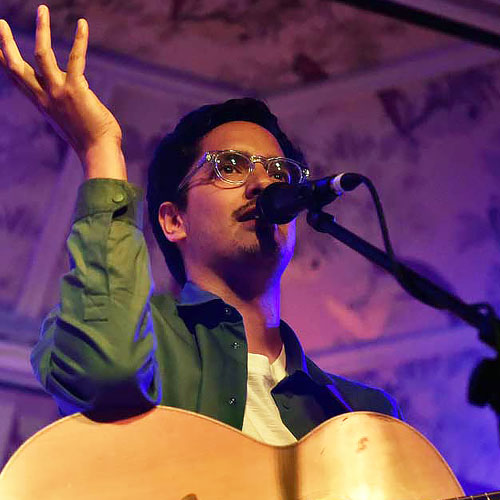 As he progressed through the evening several of my personal favourites from the new album were played including the distinctive and epic 'Oh My God' . He moved to his keyboards for several songs including the heart-breaking and utterly beautiful 'Until The Night Is Done' with the now regular massive applause from the audience. Sital-Singh revealed another side of his performance art that can only be exposed in a live environment and that is his ability to connect with his audience. His humour was continual and infectious as he recounted the trials and tribulations of touring a well-travelled road. At one point he encouraged us to cheer loudly for a song that nobody had heard before (as if it was a well-worn fan favourite) and provide vocal support during a song's chorus. But above all he showed humility and care.
The superb set-list also included older songs from his EPs and debut long-player. It struck me then that as a songwriter his ability to put feelings and experiences into words and music are in his blood. I made a mental note to try to acquire his earlier EPs after hearing songs like 'Nothing Stays The Same' and the final song of the night 'Fail For You'. The evening was full of precious, special moments including a wonderful duet with support act Ciaran Avery when the Ryan Adams classic 'Oh My Sweet Carolina' was interpreted with nothing short of respect and love.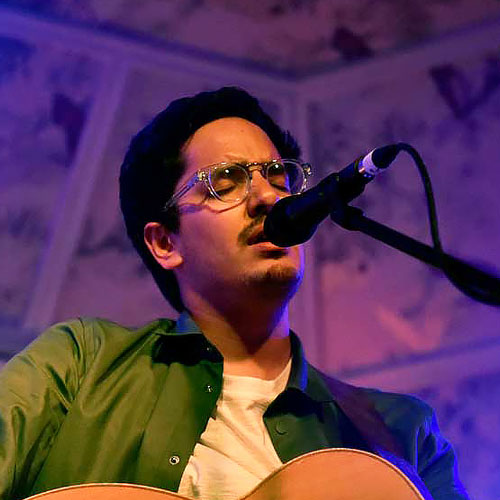 In truth I was taken aback by this young man's performance which exceeded even my high expectations but while we were being seduced by his skill and artistry close by on the other side of Manchester a terrifying drama and tragedy was unfolding. And at the city's premier music venue which I have visited many times over the years and stood waiting in the exact location of the bombing. I later discovered that the father of two young daughters at the fateful concert was actually in the audience at the Deaf Institute and would be collecting them later. Thankfully the children were unharmed.
Sital-Singh exhibited signs of hope and love on an awful night for Manchester. This was a performance that I will not forget in a hurry from a very fine artist who deserves to succeed internationally. If you've yet to experience his music you need to acquire his new album which for me is one of the year's best.