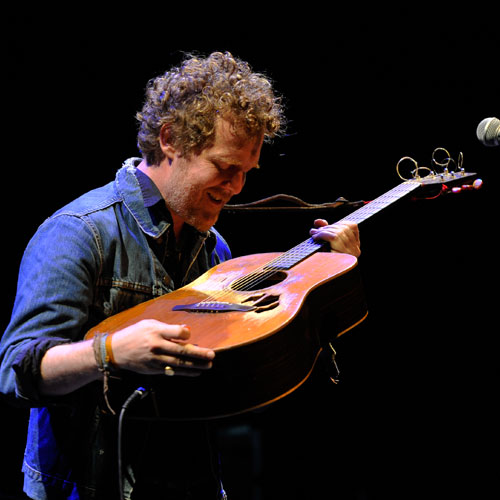 Royal Northern College of Music. 5 February 2013
PLAYERS: Glen Hansard (guitar & vocals)
Support Musicians including The Frames: Joe Doyle (bass guitar & backing vocals) Colm Mac Con Iomaire (violin & backing vocals) Rob Bochnik (guitar & backing vocals) Graham Hopkins (drums & backing vocals)
In addition: 3 piece brass section (trombone, sax, trumpet) 3 piece string section (cello, violins) Keyboards player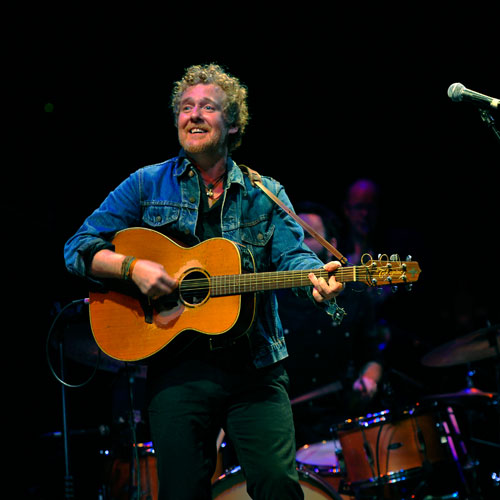 The musical career of Glen Hansard is one of the most unique and intriguing in the industry. From his modest beginnings busking on Dublin streets, to his band (Frames) formation in the late 80s, to his part as Outspan Foster in Alan Parker's great music/comedy movie The Commitments before The Frames re-emerged to be signed and ultimately deliver some truly classic rock albums. But that was far from the end of his musical journey. Following difficulties experienced with record labels Hansard decided to go independent and almost immediately found maximum Irish success with the band's first own-label recording FOR THE BIRDS.
Then followed extensive touring which, backed by the album, found many new fans around Europe, Australia and the USA. Then in 2006 Hansard formed a music partnership with Czech musician Marketa Irglova called The Swell Season which led to the duo's first album and participation in the musical romance movie ONCE. This low budget independent movie won the hearts of Sundance Festival attendees and finally led to winning the Oscar for Best Movie Song in 2008 for 'Falling Slowly'. This highly successful independent film was eventally transferred to the theatre where last year it won no less than 8 Tony Awards.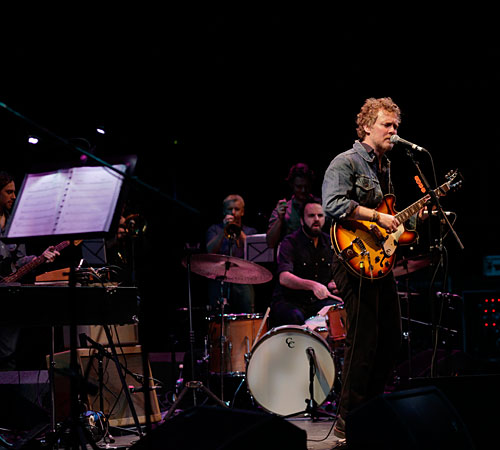 For several years The Swell Season dominated Hansard's time with the last Frames album (THE COST) released way back in 2006.
The band, however, have accompanied Hansard and Swell Season on tour around the world. "I've got to go back and make a record with those guys," Hansard says, saluting the "incredible patience" of the group, which hasn't released an album since 2006. "Those guys deserve a medal. I basically sort of said to the lads, 'I'm gonna set off and do my thing for a few years. If we're still all here and still all friends at the end, let's continue making music.'  That's kind of what I've done. Now I'll definitely be able to go back to the Frames and at least make some music and see what comes of it."
But before that The Swell Season broke up and Hansard delivered his first solo album in 2011 (RHYTHM AND REPOSE) which came within a cat's whisker of winning our album of the year award. Not unusally for Hansard and The Frames the UK press and broadcast media all but ignored the album. Success in the UK has never really bothered Hansard who has stated to me that he will only go where his music is appreciated. Hence his minimum number of annual tour visits to England, however, when he does play here it's now to sellout audiences who are some of the most responsive and supportive on the planet.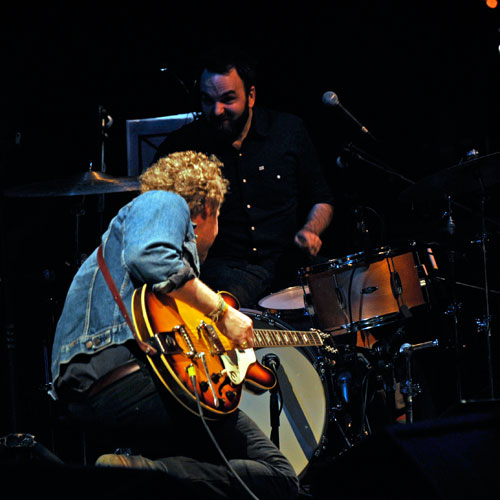 This is what Hansard recently said about future of The Swell Season after the end to the romance and Irglova's new solo career:
"The only reason the Swell Season will happen again is if Marketa and myself find ourselves back in a room together making music," Hansard explains. "It has to be organic; we have to sit down, play some tunes to each other and see what comes of it. We wouldn't want to go back to it to play gigs and make money or anything like that. It's a different relationship, and one you can't force. We do get along great and we do sit down and make music together, but you can't rely on it."
I have seen Hansard and The Frames perform live on several occasions starting way back in 1999, and it seems to me that each time they bring something fresh and exciting to the table. In live terms few bands and solo artists can match them. The Royal Northern College of Music is a wonderful venue with excellent acoustics and a capacity of approaching 700. Tonight the theatre is full and looks looks much larger than its capacity indicates. Opening for Hansard are The Lost Brothers:
The Lost Brothers first met in an old dusty library in Liverpool, England in 2007. From their first encounter, they noticed they had a lot in common. They both come from Ireland (Oisin Leech from Navan, Mark McCausland from Omagh), and having both come from musical families, they had both played in various bands since a young age and had now come to Liverpool to seek a brighter future. The pair shared the same love of music (from the Carter Family to Sam Cooke, Mississippi John Hurt to Dion and the Bellmonts, Phil Spector to the Louvin Brothers, the Impressions to Van Morrison), and before long, were jamming together in the dive bars of Liverpool when not on the road with their bands. The pair were regular faces on the Liverpool music scene and when together, people began to call them, The Lost Brothers…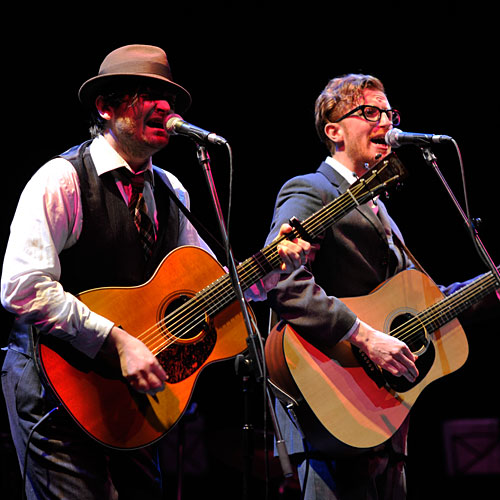 Feeling the pull from across the sea, however, the twosome decided to leave the bands they were in at the time and de-camp to Portland, Oregon. There they hooked up with producer Mike Coykendall (M Ward, Bright Eyes), and recorded in his attic, what would become their folk tinged debut album, TRAILS OF THE LONELY. Returning to the UK, the duo headed for London where they started their own label, 'BIRD DOG RECORDINGS', and released TRAILS OF THE LONELY in November 2008. The Lost Brothers spent the next two years touring and writing, honing their craft both as a live act and a songwriting partnership, while building a steady fan base along the way. In 2010, they were off to Sheffield, England with a new batch of songs. These recordings turned out to be their second album, SO LONG JOHN FANTE, released in 2011 on Bird Dog/ Ace records. More recently, the duo caught the ear of Raconteur, Brendan Benson, who invited them to record their third album in his Nashville studio. The album is their best yet. It is called THE PASSING OF THE NIGHT and will be released on Brendan's READYMADE RECORDS in the US and on LOJINX RECORDS in the UK and  Ireland.
It makes a change to see a support act that actually is musically sympathetic to the main act. Leech and McCausland reminded me of an edgier Simon & Garfunkel with wonderful harmmonies and magical acoustic guitar playing especially from McCausland. Their music was strongly tinged with Americana and varied from thumping barn-stormers to the softest, moving romantic ballads. A Leadbelly song, own composition 'Goodbye Kid' and a rip-roaring bee- bopper called (I think) 'Cats Do The Bop' had the audience clapping wildly to the rhythm. The set also included a tribute to Andy Williams with a lovely cover of 'Moon River' which the duo performed successfully in Cincinatti, USA and as a result very often afterwards. The duo dedicated the song to Hansard and his band to celebrate the joy and friendship they had experienced on tour. Hansard was later to respond…. This was a bijou performance that sparkled with wit, talent and memorable songs. As a result, this relatively unknown act was rewarded with massive audience acclaim.