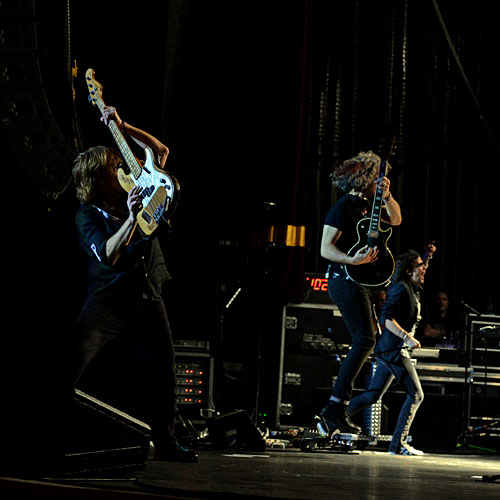 Foreigner, Europe & FM Live
Manchester Apollo, 3 April 2014.
I still have vinyl copies of Foreigner records including the one that houses the song that easily fits into my list of the best top ten love songs ever recorded. 'I Want To Know What Love Is' in no small way inspired me to restart my love affair with music after a lapse lasting many years. But I've never seen the band perform live and so this show, very many years later, is rather special for me…
It's a packed menue of classic rock at Manchester's wonderful Apollo theatre starting with a London band I last saw many years ago. A huge, predictably older audience (seated of course) welcomed FM to the stage for a set that many in the audience felt was far too short. Despite that this veteran band from the mid-80s proved that quality lasts and sells…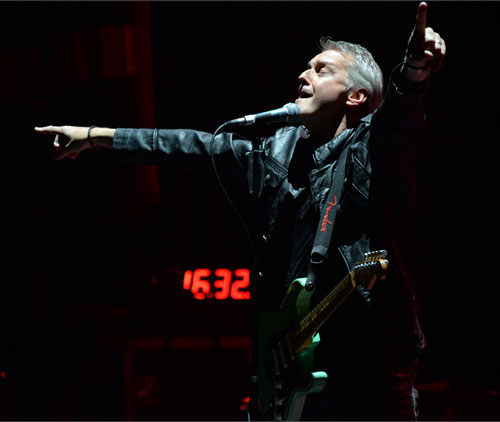 Leading the attack, Steve Overland (and the rest of the band for that matter) gave an understated performance parhaps careful not to outplay the night's headliners. Nevertheless it was a peerless performance that was suffuicient to delight the many FM fans who sang along and cheered the roof off the place. Six songs from four of the band's best albums were played including stunning versions of 'Closer To heaven' and 'Burning My Heart Down'. My only criticism was the quality of sound which disappointed in a venue famous for its acoustic quality.
FM: Steve Overland (lead vocals, guitar), Merv Goldsworthy (bass), Jem Davis (keyboards), Jim Kirkpatrick (lead guitar) and Peter Jupp (drums).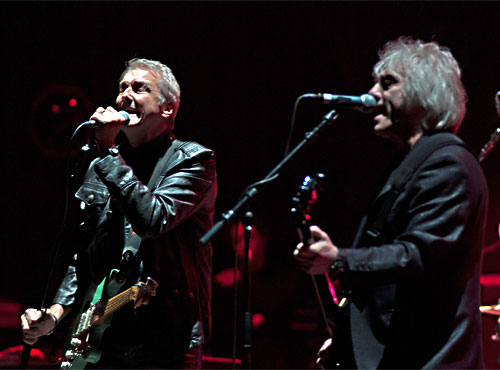 SETLIST
Tough Love, I Belong To The Night, That Girl, Closer To Heaven, Crosstown Train, Burning My Heart Down.
Things became more dramatic and passionate in performance terms when Europe hit the stage and lifted the atmosphere and performance up by a  couple of notches. This is a band that thrives on live performance with both Joey Tempest (especially) and John Norum leading the charge. While the band hasn't exactly re-invented themselves their last two albums have met with widespread acclaim and I think have provided solid evidence that the band has progressed enormously, especially in the songwriting stakes.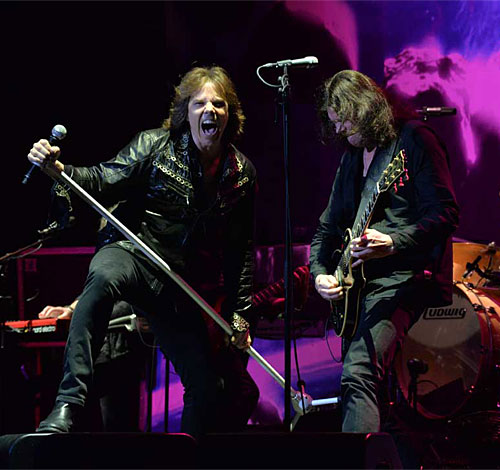 And that evidence was clearly displayed on the night. 'Riches To Rags' is from the band's last album called BAG OF BONES and is a priome example of how the band has progressed (amazingly) from very early beginnings some 23 years ago. Tempest played the game of his life encouraging his friends to follow his animated and skillful lead. What a frontman!
The setlist was a masterpiece grabbing melodic heavy rockers from at least five previous albums. The crowd responded in a way I never expected…I knew there would be a degree of enthusiasm but not to this extraordinary level. The amazing rocky crescendo was reached as the band played the wonderful 'Last Look At Eden' and then the humdinger that finally dragged each and every audience member to their feet. Of course it was 'The Final Countdown' - at least as good live as it is on record, aided in no small way by one the largest crowd singalongs I've heard. What a performance, what an audience, what a show!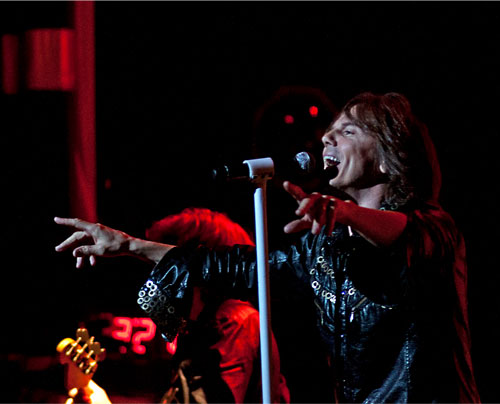 Europe: Joey Tempest (lead vocals, rhythm guitar), John Norum (lead and rhythm guitar)), John Leven (bass), Mic Michaeli (keyboards) and Ian Haugland (drums).
SETLIST
Riches To Rags, Firebox, Superstitious, SCream Of Anger, Girl From Lebanon, Carrie, Sign Of The Times, Cherokee, Rock The Night, Last Look At Eden, The Final Countdown.