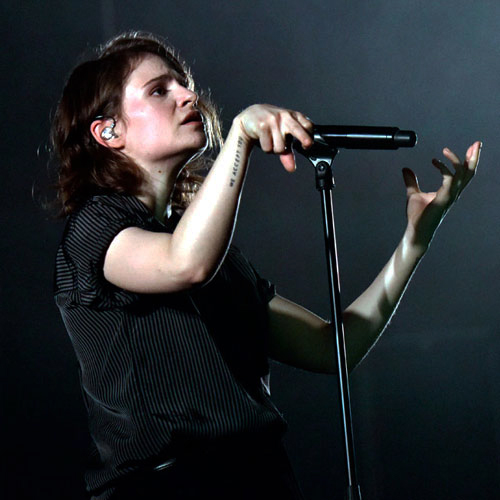 Apollo Manchester, 4 November 2016
A reviewer recently wrote:
"Letissier takes all of the elements of female superstars - synchronised dancing, full solo routines, the ability to hold a room in the palm of her hand"
This sums up what for me what was one of the very best live performance of the year but there's more…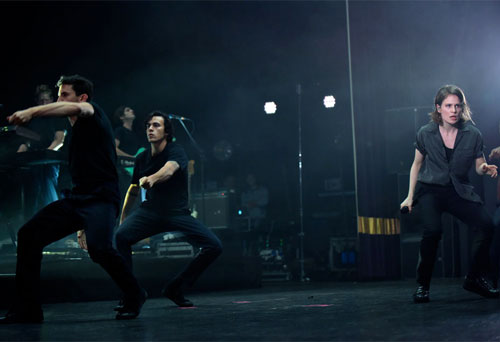 Christine and the Queens is Nantes-born Héloïse Letissier. Moving to London to study in 2010, Letissier instead found herself drawn to the art and theatre underworld of Soho, where she met the drag queens of Madame JoJo's who inadvertently helped birth Christine and the Queens. The following year she released the first of a series of three EPs, each one building praise and demand for her utterly individual brand of pop. Chaleur Humaine, her French-language debut album produced by Ash Workman (Metronomy) with multi-instrumentalist brothers Michael Lovett and Gabriel Stebbing, arrived in 2014 and has already gone more than five-times platinum to propel Letissier - named Female Artist of the Year at the Victoires de la Musique earlier this year - to phenomenon status in her homeland.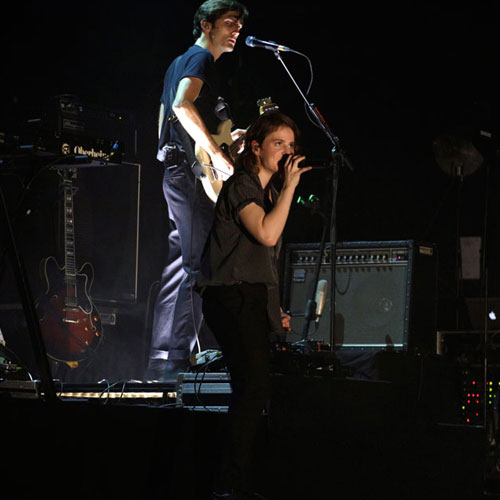 Already coveted by those in the know, last year Christine and the Queens took a step further into the international spotlight with a number of high profile European shows and scene-stealing performances at SXSW, a major 16-date North American run with Marina and The Diamonds and a solo sold-out headline show at New York's Webster Hall. She capped a stunning year by joining one of her all time heroes Madonna on stage in Paris. She released her debut, self-titled UK EP in November 2015 and now Chaleur Humaine makes its long-awaited UK debut. The album features EP tracks Jonathan (feat. Perfume Genius) and No Harm Is Done (feat. Tunji Ige), and has been completely reworked for its UK release, featuring all-new English versions.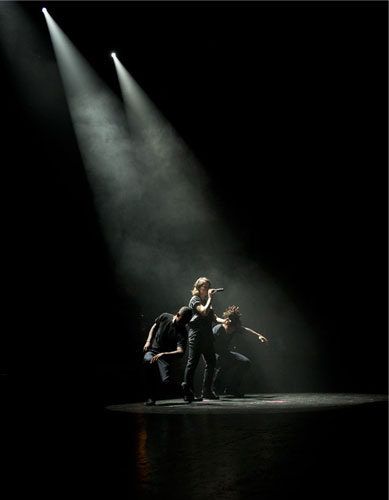 The Show
It was a wetter than average Manchester night with virtually non-stop rain during my fifty-mile journey to Manchester's premier, historic live venue. Things seemed relatively quiet outside the venue on arrival but how different when I ventured into the Apollo's hallowed auditorium. I have never seen the venue so full and buzzing with anticipation. It seemed to take ages for me to reach the stage front carrying my large load of camera gear. Usually the flanking aisles are pretty clear and easy to navigate. No so on this occasion and I even wondered if the tour promoters had managed to sqeeze a few hundred more punters over the venue's quota!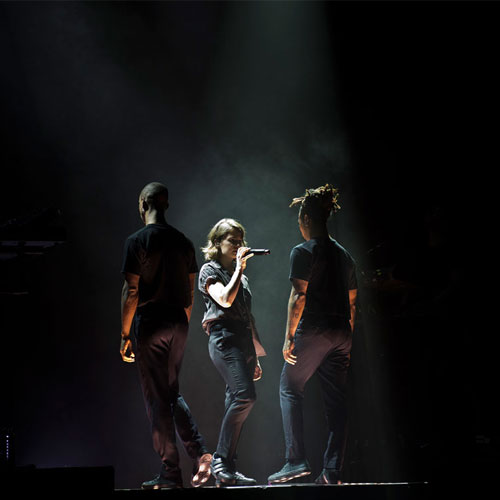 The stage set-up was also very different to what I am used to with synths and keyboards mounted on plinths at the rear of the stage along with a couple of guitars. This left a huge expanse of space on the empty-looking stage. When the lights dimmed there was one of the loudest crowd roars I have ever heard. It was at that point that I wondered just how a young, French new singer/songwriter had managed to attract such a massive following. Héloïse Letissier is already very popular in France but here in the UK she's only had limted airplay and broadcast visibility. Her debut album CHALEUR HUMAINE, released in the UK in 2016 (although released in France over two years ago), received a positive critical response in the UK and will certainly feature in Shakenstir's best albums of 2016. But enough to generate this massive level of public support? I found it extraordinary before her performance…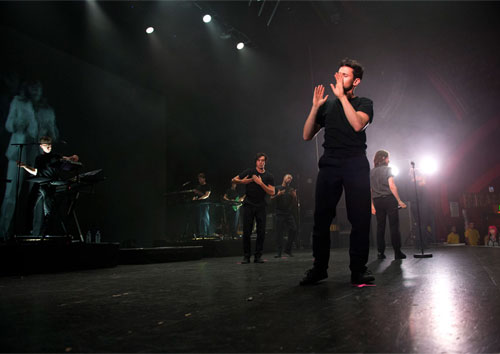 The overhead bright, white lights beamed down on the space at the back of the stage between the various keyboads. Under the pin-sharp shafts of light were three figures with their backs to the audience. They slowly turned to face it to reveal the small figure of Letissier with mic in hand flanked by her opening set of two dancers. 'Starshipper' built gradually to a glorious finale and was a dramatic but simple opening. It was also one of the most startling introductions I've seen in many years of reviewing and photographing.