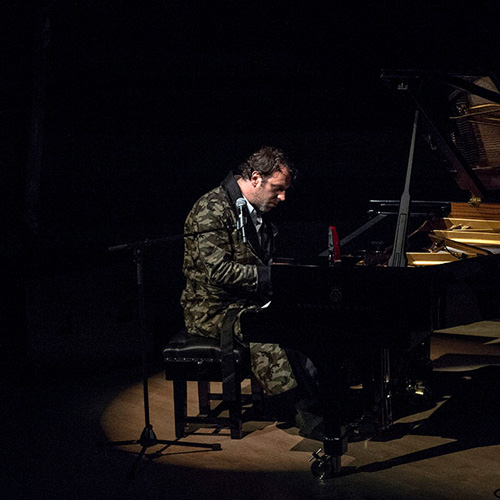 Chilly Gonzales On THE SECRETS OF SOLO PIANO-III
The first secret that, you may not know, is that all three SOLO PIANO albums begin in the key of D minor (plays). On SOLO PIANO-I it was 'Gogol' (plays). On SOLO PIANO-II it was 'White Keys' (plays). And on SOLO PIANO-III it's 'Treppen' (plays). Treppen means steps in German and it got me thinking about scales so if you grew up playing piano you might know this C major scale - 8 notes (plays). Now it's not really music is it. Scales themselves aren't music and yet music is made up of scales. Classic melodies (plays) that use maybe 5 notes at a time or 6 notes at a time, there's even an old Christmas carol 'Joys To The World' and the melody is basically the 8 notes to the scale going downwards (plays). I mean it's not the best melody in the world is it and I think it's because when you play a scale you always know what's coming next.
So how do you build in surprise into a scale and I thought what about a 9th note. What about if you go farther than where the scale would stop and that's what gave birth to the 9 note phrases of 'Treppen' (plays). The secret of 'Prelude In C Sharp Major', which is the third piece on the album, is that it's actually an answer to a much more famous piece of music - 'The Prelude In C Major' by Bach (plays) - a piece so iconic you don't you don't really even hear it as music anymore, and yet it inspired me. I thought I could sort of put my own twist on this style of writing. So first of all I bumped it up from C major to C sharp major (plays)- sort of opening up some harmonic space above the original prelude. Also the original is in a fairly standard 4-4 time (plays) - 1-2-3-4, 1-2-3-4, 1-2-3-4, 1-2-3-4. My 'Prelude In C Sharp Major' is 5 beats to the bar (plays) - 1-2-3-4-5, 1-2-3-4-5, 1-2-3-4-5, 1-2-3-4-5.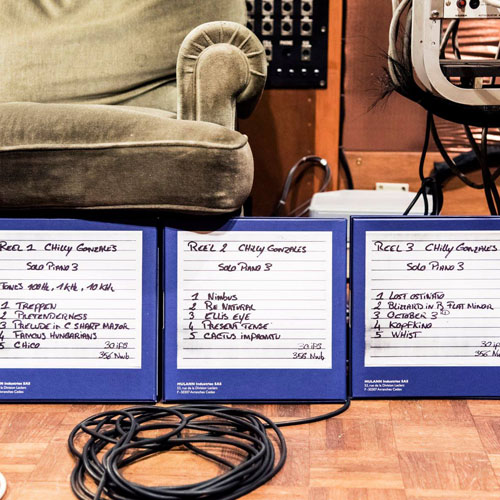 The next two pieces 'Famous Hungarians' and 'Chico' really belong together. In fact they share the same melody - these 4 notes (plays). In the case of 'Famous Hungarians' it's a slow piece that sort of asks the question and that means that last note, that blue note, that note of tension, just kind of hangs there (plays). And the whole piece is kind of a slow boil. And then we finally get a bit of resolution because when the piece 'Chico' starts it's much faster but more important than that it takes those 4 notes and adds a 5th resolving note (plays). And with these two pieces I hope you'll have the impression of the second piece being kind of a fast answer to a slow question.
As I composed THE SOLO PIANO-III pieces I realised I had become much more comfortable with dissonance, with notes that almost sound wrong and on B natural I decided to see how far I could push the idea of what is musical resolution anyway? In the piece we're basically in a world of major chords (plays). And then normally when you would resolve the end of the phrase (plays) so I take this note, which happens to be a B natural, I believe most composers would resolve it (plays). But I decided to just let it hang there (plays). And because I'm a student of pop structure I thought if I repeat this, this same idea of landing on the wrong note, maybe by the forth or fifth time the ear becomes trained. And so when they hear me building towards the end of the last phrase (plays) at some point the wrong note feels like the right note (plays). And we've redefined what a resolution really feels like (plays).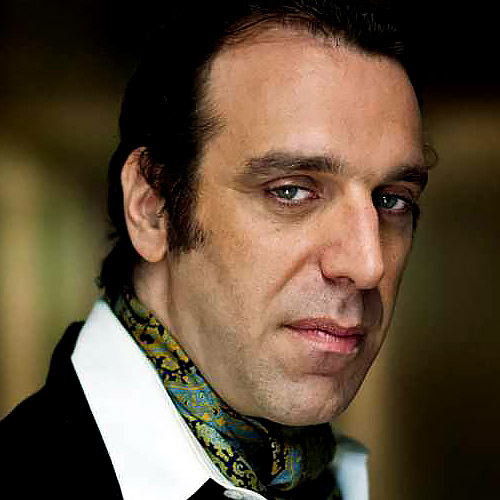 One secret to PIANO SOLO-III is how much rapp music still influences me when I'm writing instrumental piano music. For example I kind of fell in love with the triplet flow in rap popularised by the group Migos. So you may have a beat, a typical rap beat always based on 4 beats to the bar - 1-2-3-4, 1-2-3-4, 1-2-3-4, 1-2-3-4, che che che che che che che… But the rapping will be in triplets - 1-2-3. 1-2-3, 1-2-3, 1-2-3, 1-2-3, 1-2-3, 1-2-3…and the beat's still che che che che che…So you kind of have this co-existing che che che together with 1-2-3, 1-2-3, 1-2-3…and you get two time signatures at the same time which is kind of mind-blowing and really fun for the human ear, the process.
So I tried to add that into my piece 'Ellis Eye'. Here's the left hand (plays) 1-2-3-4, 1-2-3-4, and here's the melody (plays) 1-2-3, 1-2-3, 1-2-3, 1-2-3, 1-2-3. I did some other rhythmic exploration on the piece 'Present Tense'. It's a piece about anxiety and tension, obviously, and when I first wrote it a few years ago I loved the harmonies and the driving energy of it (plays). But something about it was still flat for me and I couldn't work out how to solve the problem of this piece. It just wasn't really tense enough for a piece called 'Present Tense'. And I realised one night when I was quite anxious that the feeling of tension means that you're always a little bit ahead of yourself and you're not really in sort of the same synchronisation as the rest of the world - you're ahead of reality - and so I shaved off one of the beats and instead of this 8 (plays) 1-2-3-4-5-6-7-8 I put it into 7 (plays).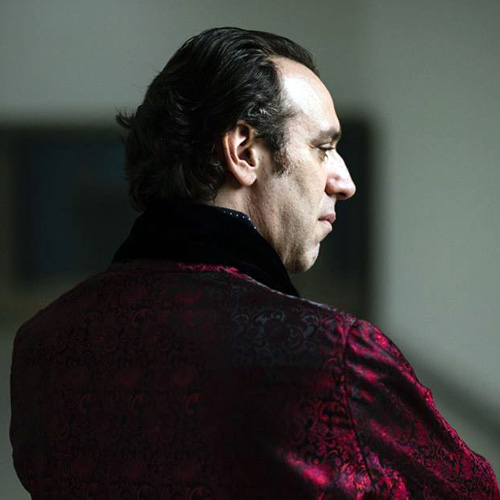 In the piano room where I'm recording this there is a cactus right in front of me. This cactus was on top of the piano and was watching over the entire SOLO PIANO -III process and inspired the piece 'Cactus Impromptu'. It is a true impromptu in that it is improvised. I had really no plan before putting my fingers down on the keys other than looking at this cactus. True improvisation with no plan is the sound of someone searching and I suppose that the sound of a finished composition is the sound of what the composer found, and maybe I wasn't comfortable enough with reality to put something on an album that was just me searching. Of course every day when I sit at the piano I improvise - it's the first thing I do - and every piece on this album was at some point the fruit of an improvisation. But this is the first time I've allowed that process of searching to be heard as a finished piece on one of my albums.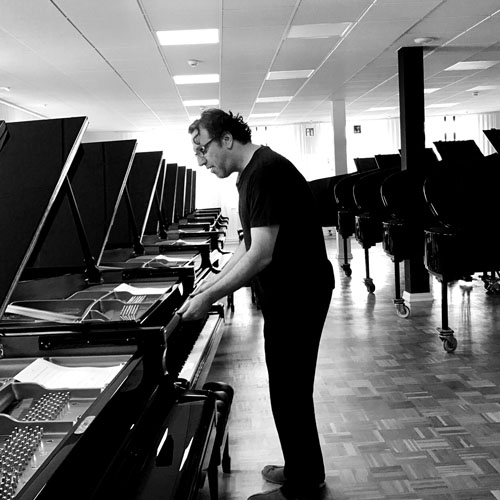 I don't have a favourite song on this album but I do have one little passage in the song 'Lost Ostinato' that somehow thrills me to play each time - it makes me feel like I've progressed, it's something I probably wouldn't have dared to do on the other albums. It has something to do with using chords that normally shouldn't go together. So, you're taught in music school that if you have 1 chord, say this B flat major (plays), that if there's anything close to the absolute opposite, in fact a chord that has nothing in common with that B flat a music teacher would tell you it's E major (plays). It almost sounds like science fiction when you play the chords one after the other, but what would happen if you played those chords together? And this is the passage from 'Lost Ostinato' (plays), B flat (plays) E (plays) G minor (plays) and its opposite, D flat major. For someone as harmonically conservative as I am, this represents some new kind of dangerous territory. Let's see what happens on SOLO PIANO IX.
These are just some of the secrets and techniques and ideas and feeling and what I was looking at while I composed and recorded SOLO PIANO III. The last secret I would like to share is that all three albums end in C major - on a happier note (plays). It means we travel from the sadder melancholy D minor (plays) and then end in relative happiness. It was the ending of one note at a time on SOLO PIANO-I (plays) - it was a bit more orchestral - to the sort of sweet and jazzy 'Papa Gavotte' ending on SOLO PIANO-II (plays), and here it's even lighter with the song 'Whist' ending SOLO PIANO-III (plays).
Thank you for listening.