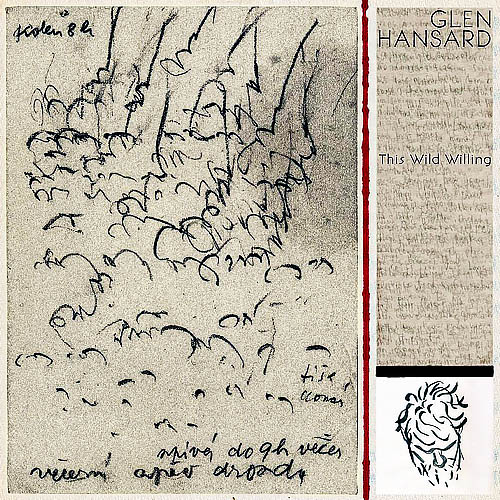 Glen Hansard THIS WILD WILLING. Plateau/ANTI
I first played this album in my car a when I had great difficulty in listening to it. A few days later I played it on my decent quality audio equipment and was surprised to find the same sound quality. With all the artist's past recordings in solo, duet and band guise I have never experienced this before and certainly not with David Odlum at the production helm. Now this problem did not appear with all tracks but primarily with some of the heavily instrumental ones (which must have been difficult to record). I then set about checking other album reviews and not one mentioned this problem.
However, it also became clear that all reviewers felt that this amongst Hansard's best work, and I tend to agree. No other singer/songwriter writes and performs with such passion, expression and gut-wrenching emotion. And it's all here from the first track to the last. 'I'll Be You, Be Me' opens slowly with Hansard in whispering, intimate mode before thee instrumental cacophony  enters to end the song in a crushing climax. 'Don't Settle' is next and opens in the slow, deliberate whispering way with keyboard dominating the instrumental introduction. The melody is typically strong, the lyrics poetic and heart-breaking: "When you climbed the hill of vision/As above so it was below/Through the apathy and derision/Each step ascending you took alone/And when they pin you in the corner/Pay no heed to their droning on/'Cause you're not going back where you belong." Eventually the whispered vocal changes to an angry and emotional journey as the instruments step up several gears. The final climax is Hansard at his pleading, angry and passionate best and has to be heard to be believed. It's stunning and I feel privileged to have witnessed this exhibition of raw power and passion live many times.
'Fool's Game' follows so closely that it could easily be mistaken as a continuation of the previous song, it even sounds similar. The vibe is contemplative, quiet, sincere, and true. The melody is strong while Hansard delivers another set of beautiful lyrics: "It's a leap of faith/Lover, that we blindly take/I'm taking it with you and no other/No hesitating." The song for me is one of the album's major highlights with its crushing middle rush and, for the first time, Hansard's falsetto moments. Hell, it's  masterpiece.
'Race To The Bottom' sounds as though Hansard's hushed vocal is too close to the recording mic but the effect is to make this one of the most intimate songs here. 'The Closing Door' opens with a collection of threatening, dark instrumental moments and continues with some distinctly Eastern influenced sounds. 'Brother's Keeper' is like a sonic cloud has lifted. The sounds of clean guitar riffs and piano together with a more restrained Hansard vocal, gathering pace and a very strong melody render this as a potential radio single.
'Mary' hustles along in mid-tempo with distinct hints of a country/folk vibe. Again the sounds are clear and defined with clarity in the separation of instruments and vocal. The strings which enter eventually hint strongly at an Eastern influence. 'Weight Of The World' opens in barely audible sounds with Hansard's soft and intimate vocal eventually emerging while instrumentals are impossibly subtle. Fragmented and distant piano notes add much poignancy to the song's deeply private and personal vibe. A more traditional folk vibe dominates 'Who's Gonna Be Your Baby Now' as the song trundles along with distant orchestral sounds and another whispered vocal. 'Leave A Light' completes the album on a distinctly Celt folk style with lyrics to match: "And leave a light on in your lonely window/And a heartfelt welcome in your eye/From far away on a deep, black ocean/You're the one I'll come back to find."
Hansard has created his finest and most adventurous work to date, and with two distinctive sonic halves. However, the Hansard fingerprint is all over this record: the expressive vocals going from whispered to angry desperation; the huge building climaxes; the meaningful, accessible and often poetic lyrics; the live and communicative ambience; the musical integrity and passion; the melodic strength; the independent and distinctive attitude. It's all here in abundance. Now this is extraordinary for a man who has been making great music since the late 80s. While I may question some of the audio quality here this does not diminish the masterpieces that are exposed in the CD's grooves.  The record reveals more of itself with every listen, and, yes, it deserves every accolade going. Potentially album of the year - without question.
5/5