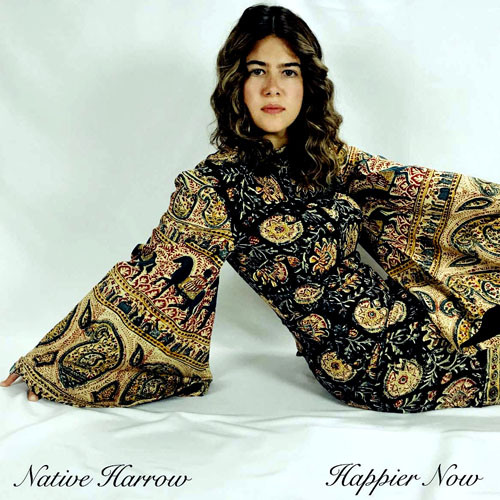 Native Harrow HAPPIER NOW. Loose
Devin Tuel may consider herself to be an artist meant for a different time, but she now finds herself inhabiting her own true place. The singer-songwriter is at home in Newburgh, NY reflecting on her third album, Happier Now, released under her nom de plume, Native Harrow, as well as the difficult sojourn the former ballerina and classically trained singer has had to traverse to become the writer and performer she was meant to be. "This record is about becoming your own advocate. Realising that maybe you are different in several or a myriad of ways and that that is okay. And further, it is about me becoming a grown woman," Tuel says. After nearly two decades of rigorous training in ballet, theatre, and voice, Tuel needed to break out of the oppressive rules of academia and find her natural voice, write from her heart, and figure out what kind of performer she truly was rather than the one she was being moulded into from the age of 3. "I spent my early twenties playing every venue in Greenwich Village, recording demos in my friends kitchen, and making lattes. I felt very alive then. I was on my own living in my own little studio, staying up all night writing; the dream I had of being a bohemian New York City artist was unfolding. I wanted to be Patti Smith. I was also heartbroken, poor, and had no idea what I was getting myself into. My twenties, as I think it goes for most, were all about getting up, getting knocked down, and learning to keep going. I never gave up and I think if I told 20 year old me how things looked 9 years later she'd be so excited". Happier Now (out 2nd August on Loose), is a set of nine songs recorded and mixed by Alex Hall (JD McPherson, The Cactus Blossoms, Pokey LaFarge) at Chicago's Reliable Recorders. The album was co-produced by Hall, Tuel, and her bandmate, multi-instrumentalist Stephen Harms. Native Harrow cuts out clear and vibrant narratives on fear, love, the open road, ill-fated relationships, and coping with the state of the world.
In sharp contrast to the previously reviewed albums, this adopts an altogether more contemplative, softer and more melodic folk/pop style. Tuel's voice provides sufficient range and expression to solidly convey the personal messages contained herein. Opener 'Can't Go On Like This' is one of the most upbeat songs here and is boosted by one of the strongest melodies. There's an alt-country vibe with minimal but highly effective instrumental support. This could easily emerge on radio airwaves with its strong choruses featuring superb guitar riff. 'How You Do Things' is a romantic narrative which Tuel seeks more communication from her lover. The vibe is optimistic and full of hope. 'Blue Canyon' slows the pace with Tuel taking on a highly contemplative tone and one is compelled to listen to her story such is the expression and sincerity employed: "My heart is like a clear blue canyon…I've spent years longing to tell my truth."
'Happier Now' takes on a rockier tone while I sense a voice that is distinctive and of the highest quality with so much future potential. 'Hard To Take' moves along at snail pace but delivers a strong message and another prime example of that distinctive and wide ranging voice. Every song here hits the mark with performances that match any of the very best female singer/songwriters around at the moment. She is shortly to tour the UK and on the strength of this album I have every intention of attending her show.
4/5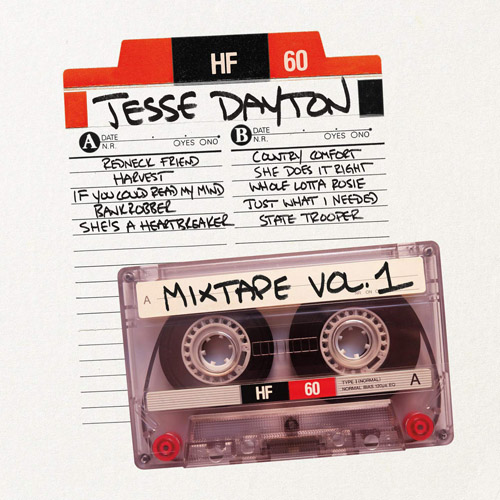 Jesse Dayton. MIXTAPE VOL. 1. Blue Elan Records
The outlaw country guitar slinger draws on an eclectic range of influences on this 10-song cover album, delivering his unique take on tracks from Jackson Browne, Neil Young, The Clash, Elton John, AC/DC, and more.
"If you open your arms to the world, it's amazing what will come back atcha," drawls East Texas native, singer/songwriter/filmmaker/author Jesse Dayton, who has a bunch more homespun wisdoms where that came from. A veteran of more than 30 years as a musician, Dayton was discovered as a young teenager playing "a toilet dive" in his hometown of Beaumont by legendary club owner Clifford Antone, who booked him into his famed Austin venue, then immediately shifted him over to the honky-tonk Broken Spoke, where the likes of Willie Nelson, George Strait and Ernest Tubb have had residencies. "When I first got to Austin, everybody else sounded like Stevie Ray Vaughan, but I sounded more like Jerry Reed. I didn't think I was cool, either, because this was before every punk sported that image of Johnny Cash flipping the rod."
Equally steeped in Texas/Louisiana blues, old-school country and punk-rock, Dayton is the music world's best-kept secret, hiding in plain sight as a guitarist for Waylon Jennings, Johnny Cash, Ryan Bingham and L.A. punk pioneers X, as well as touring alongside Social Distortion, the Supersuckers and John Doe.
If you're into good, traditional country and western then this album will please the hell out of you. Dayton's powerful voice and accompanying instrumentals yell country. Add to these assets classic songs like Neil Young's 'Harvest', 'If You Could Read My Mind' by Gordon Lightfoot, 'Bankrobber' by The Clash, 'State Trooper' by Bruce Springsteen  and 'Country Comfort' by Elton John and you'll have the whole box of dice. Covers also include songs by Jackson Browne, ZZ Top, Dr Feelgood, AC/DC, and The Cars. Dayton's interpretations are vibrant, worthy and beautifully executed.
3.5/5