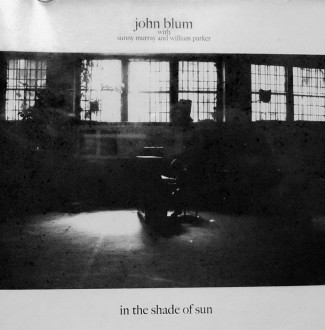 John Blum (piano), William Parker (bass), Sunny Murray (drums)
IN THE SHADE OF SUN is released on 4 October 2009 on Ecstatic Peace!
John Blum was born in New York City on April 15, 1968 and has been a mainstay of the free-jazz community there for over 15 years. While in Europe in 1992, he recorded with clarinetist Tony Scott's Trio which included Antonio Grippi on alto sax. Upon returning to NYC, Blum became a member of the Improvisers Collective (1993-1995) and initiated projects as a soloist and a group leader. In early 1998 he joined together with Antonio Grippi on sax, Willia, parker on bass, and Denis Charles on drums to form the Astrogeny Quartet. A CD by the group ws released on Eremite Records in 2005. In 2001 Blum recorded a solo piano CD for Drimala Records entitled NAKED MIRROR, and also featured on Butch Morris' CONDUCTION 117 released on JumpArt Records. In 2003, Blum recorded with Sabir Mateen on tenor sax in Sunny Murray's Trio and is featured on Murray's CD PERLES NOIRES VOLUME 2 on Eremite Records. He joined the Steve Swell Quintet in 2005 and a CD was released on NotTwo Records of their 2006 NYC Vision Festival performance. In addition to his solo CD WHO BEGAT EYE recorded for Konnex Records in 2008, Blum also recorded this trio album, IN THE SHADE OF SUN with William Parker and Sunny Murray to be released on Ecstatic Peace Records in 2009.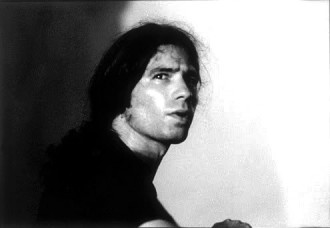 Not only is he a master musician - if a pitcher were this fast and pinpoint-precise, he'd be out-earning Johan Santana and C.C. Sabathia combined - but his playing seems to encapsulate the whole history of jazz piano: if you listen hard, you'll catch bits of Harlem stride, Art Tatum, Bud Powell, Monk and Taylor. The titles of his pieces allude to the context of struggle in which this world exists; but the music itself, sometimes majestic, sometimes frightening, sometimes witty, many-colored and ceaselessly inventive, is an ideal universe of freedom. John Blum and his collaborators [William Parker and Sunny Murray] have created work of enduring value and endless fascination. As many times as I listen to these pieces, I always hear something fresh and surprising: further revelations, deeper interconnections. It's a gift from generous spirits, straight from their hearts and minds to yours - David Gates (David is a Senior Writer for Newsweek Magazine Book and Music Review and an Award-Winning Author)
For me, music is not something to be categorised and shoved in some convenient generic box. Music, any music, either inspires me, moves me, excites me or leaves me cold and uninterested - regardless of its generic label. I have never heard John Blum before receiving this album which I've now played several times since it arrived. It came with a bunch of Ecstatic Peace! (Thurston Moore's label) CDs which also included other instrumental albums - a welcome and interesting label development. 
I've included a brief biography in this review as I think it's important to understand where the artist is coming from and to put this album in context. Blum's primary interest, it seems to me, is in communicating observation and feeling into music for anyone who will listen, and creating it with those he feels shares his vision. IN THE SHADE OF SUN provides solid evidence of of all of the above. David Gates observed: "…the best free jazz players, like the ones on this record, have rigorous technical command, a strong sense of jazz tradition and an almost telepathic ability to collaborate in a spontaneous, continuously developing musical creation. Without set chords, bar lines, tempos or any other guidance system, they rely only on themselves and each other: it's a trust exercise, a wilderness experience, a quintessentially human transaction, and the ultimate exercise in making order out of chaos. Naturally - and the size of the audience reflects this - it's not easy on the ears… Here everything is happening at once, and changing by the instant. It's music that needs - and rewards - your complete attention. It will never be popular. On the other hand, it will never get old."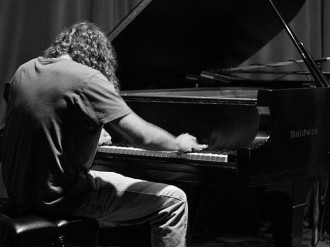 Gates continued: "The titles of Blum's pieces, as he explained to me in an email, reflect both the joys and the travails of a life dedicated to the only calling that makes sense to him: that is, to creating music that makes sense only to the minority of jazz listeners - an open-eared minority even within a minority ("If quitting music was an option for me," he once told an interviewer, "I would have done it a long time ago."). 'Out Of This Nettle,' he explained, "refers to the feeling I had when I tarted playing with Sunny and William in the studio. Playing music was so comfortable and easy compared to the world outside. 'First And Last' refers to the small victories I have had in my musical life that were the first and last time. My (2005) Astrogeny Quartet CD is an example of this - the group played once, made a recording and then Denis Charles (druummer) died. 'Misanthrope's Dream' refers to what I have become and my dream to quit my day job and be able to play the music I want for a living. 'Transmigration' refers to my travels to Mexico for the last six years. I have been living there because food is cheap and I am able to live alone. And 'In The Shade Of The Sun' is dedicated to Sunny Murray. His drumming feels like 'shade' in that it protects the music and makes it strong."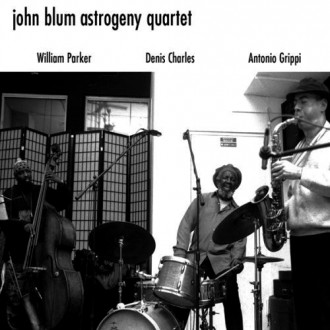 With music that is so personal, so intimate it is hard for me to offer a meaningful critique. But I can say that what I've heard is rivetting, exciting, moving and inspiring. The playing skills displayed here are awesome, the unity of musical purpose, in my experience, unparalleled; the ambience created is open and sometimes terrifying  in its brutality; at other times it's deeply moving. It's a turbulent musical journey but one that I can relate to in my own life, which like most people is made of ocean-deep lows and soaring highs. In my view, it's the essence of what the greatest music and art generally should be. And in this age of instant gratification and idolatry we need to be challenged more than ever before, we need to question more than ever before. This is the proposition and challenge that John Blum (intentionally or unintentionally) has brought to the table so brilliantly and graphically with IN THE SHADE OF SUN.
Ed
4.5/5