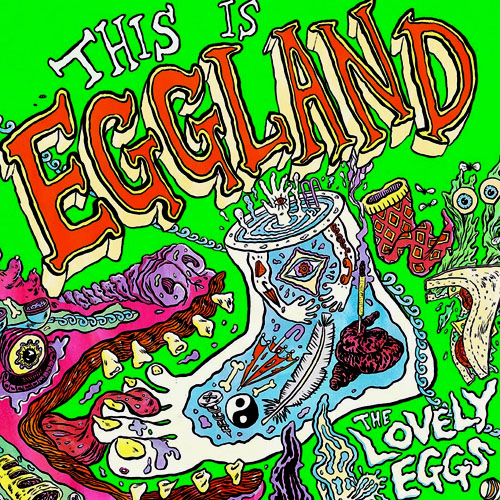 The Lovely Eggs THIS IS EGGLAND. Egg
The album was self-recorded at Lancasters Musician's Co-op (a non-profit making recording studio and rehearsal rooms, where Holly Ross and David Blackwell - The Lovely Eggs - met and where David works.
It was also recorded at the Eggs' own house, while their three-year-old son was in bed. Recordings were sent back and forth to producer Dave Fridmann (Mercury Rev, Flaming Lips) in the States.
"It's pretty relentless. It kind of sounds like a chip shop on fire. We still write about everyday life and the stuff that goes on in ouir world, it's just the new album is more fierce and really tells it like it is." - Holly Ross
'Hello I Am Your Sun' explodes pout of the speakers and immediately one can sense the spic Fridmann production magic at play. It's a wild track featuring frantic drumming which provides the relentless rhythmic base, and multi-layered vocals that shout repeating a single line of lyric (the song title). 'Wiggy Giggy' featured the same thumping bass line but with greater emphasis on the detached Ross vocal. There's distinctive punk rock vibe with a tangible melody that renders the song radio-friendly (well sort of…). 'Dickhead' boasts a darker, slower vibe  before transforming into a pure punk rock song that takes no prisoners. It fairly rushes along at breakneck speed for a couple of minutes before introducing 'I Shouldn't Have Said That' with another fractious vocal display from Ross. At this point I'm convinced that you're going to love or hate this album. I find it refreshingly adventurous and actually rather clever.
'Return Of Witchcraft' is pure, epic and exciting rock with drums and guitar providing a seductive and frenetic intro before calming down marginally to allow Ross's vocal some breathing space - but not much! The pace changes a couple of times and at one point Ross takes on a soft, calm persona as she sings "Witchcraft, witchcraft" befoe the song returns to its explosive path. The song is both inventive and compelling. 'I'm With You' is another hard rocker wih a stronger melody and lyrics that a simple and direct. 'Repeat It' is again dominated by rock instrumentals and the continuing refrain of "Repeat it" which could be sop boring to listen to but not by this pair of musicians. 'Big Sea' calms proceedings dramatically and takes a more conventional pop path. 'Let Me Observe It' goes electronica while closer 'Would You Fuck' returns to this band's punk rock roots with a song that should have the mosh pit steaming and joining in the angry and rude chorus.
This album is a riot and I feel a little guilty in decalring my affection for it. Fans will adore it and I feel it's good enough to tempt new admirers who are tired of the same old, same old that's peddled on UK radio. Hope to see them peform in Manchester…
4/5
2018 Tour
February
Thu 8 The Yorkshire House, Lancaster
Fri 9 The Brudenell Social Club, Leeds
Sat 10 The Cluny, Newcastle
Sun 11 The Mash House, Edinburgh
Mon 12 Stereo, Glasgow
Tue 13 The Adelphi, Hull
Wed 14 Clwb Ifor Bach, Cardiff
Thu 15 The Cellar, Oxford
Fri 16 The 100 Club, London
Sat 17 Band On The Wall, Manchester
http://www.thelovelyeggs.co.uk/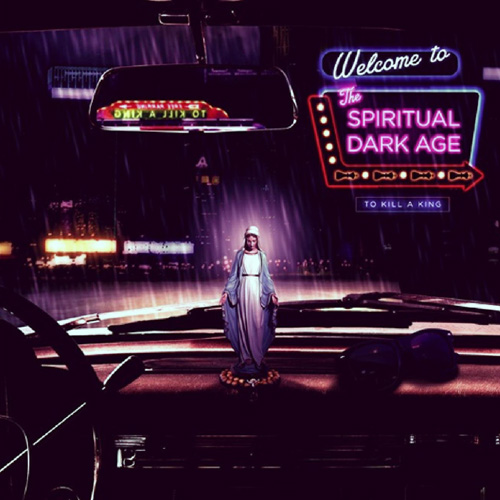 To Kill A King THE SPIRITUAL DARK AGE. These Are My Bones
The Band
Ralph Pelleymounter - guitar, lead vocals
Ben Jackson - keys, vocals
Grant McNeill - guitar, vocals
Josh Taffel - drums, vocals
James Ball - bass, vocals
"THE SPIRITUAL DARK AGE is the last three years of my life painstakingly distilled into 40 minutes of music.It has ballads for my single friends watching everyone else gradually pair off, and deities and fables getting drunk in bars. It has moments of anger and disgust at characters like Peter Popoff and their parasitic feeding of the most vulnerable people, and it has folk songs about two gods who'd rather burn down the world than admit they still love each other. But hopefully, in amongst the chaos and darker tales, it has an underlying message that compassion being such a beautiful and complex thing may just save the day." - Ralph Pelleymounter (frontman)
The album opens with the album's title track and in a style that bodes well for the rest of the album. It's bright, breezy, highly rhythmic and as melodic as hell. It's also a hugely radio-friendly mix of pop and rock (and probably a riot live). 'The Inspeakable Crimes Of Peter Popoff' is next and adds a strong hint of adventure and innovation. The spoken opening is followed by a rap-style rock that's jagged and very likeable.
'Compassion is A German Word' takes a more conventional pop/rock route which highlights Pelleymounter's excellent vocal quality and range. 'Cherry Blossom Falls' slows the pace and darkens the vibe with a song that gathers pace as it progresses adding a rather novel instrumental flavour as it travels along. 'Oh Joy'is the first stripped down and most emotional song here. The vocal is expressive and believeable. The simple instrumental back drop allows the voal to dominate underpinned by a solid melody.
'The Good Old Days' opens with swooning background vocals in a song that is both emotive and contemplative with choruses that should be dominating the airwaves. Listen to 'The One With Jackals' and hear moments of Jeff Buckley at his most passionate and emotive. Wherever you look here the album offers a diverse range of pace, mood and sounds underpinned always with strong melodies. Highly recomended.
4/5