Another Time… blends Warnes' originals with covers of songs by Mark Knopfler, John Legend, Warren Haynes, the Tedeschi Trucks Band, Lonnie Johnson and Mickey Newbury - played by an all-star corps of musicians that includes Blondie Chaplin, Sonny Landreth, Ruthie Foster, Vinnie Colaiuta, Lenny Castro and more. Warnes estimates that she and Beck considered between 30 and 50 songs, some suggested by collaborator Mary Martin, all having to live up to the pair's exacting standards. "I'd been with Leonard too long," she notes. "Leonard aimed for your heart. I wanted these songs to be useful and functional. Especially in these precarious times we are living in."
'Just Breathe', from Pearl Jam's 2009 album Backspacer, opens Another Time… and serves as a kind of overture for a set of songs that mine the themes of loss and mortality Warnes was feeling at the time. "Eddie Vedder's so great. There's just a few like him," Warnes says. "Mary Martin advised me to keep my choices personal, and it's really hard to find a narrative for someone who's been around as long as me, and who's female. It was hard to find a realistic narrative among the songs that were sent to me in the first six months of this idea. I was looking for somebody who was thinking like me, and I couldn't really find that many, so if I found any sentiment that even came close to how I was really feeling, I would demo that and see if it stuck and was something that felt right. And 'Just Breathe' is a beautiful little song that fit exactly what I wanted to do."
Warnes is hoping to play some live shows to support Another Time… but says that her "state of recovery" may limit what she does. "I've seen the inside of a lot of airports and hotel rooms," Warnes says. "I'd rather go in the studio and make another record because Roscoe and I are on a roll now." Meanwhile she's been enjoying seeing a bit of her past; her Dirty Dancing duet "(I've Had) The Time of My Life" turned into an NFL Super Bowl ad with New York Giants players Eli Manning and Odell Beckham Jr. re-enacting the iconic dance finale scene.
"I loved it," Warnes says. "I tweeted to the NFL telling them I couldn't stop watching it, it was so adorable, so inspired. It didn't really sell anything; It's just something that was really fun. I love that. It's beautiful, and our world needs some moments of joy, pure joy like that. It's sure hard to come by these days."
Visit http://www.jenniferwarnes.com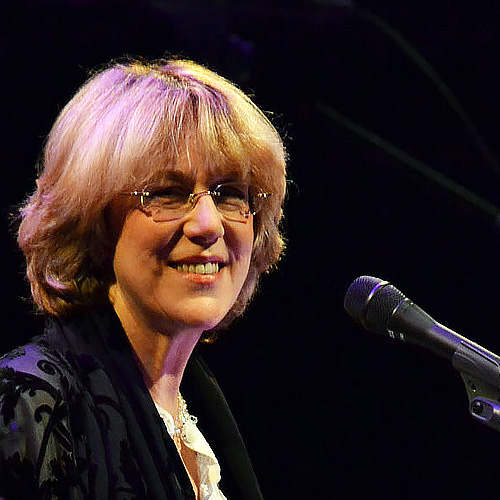 Biography
"Her voice is like the California weather, filled with sunlight. But there's an earthquake behind it." – Leonard Cohen
Jennifer Warnes is an American singer and songwriter. She is best known for her rich distinctive voice, her interpretations of work by James Taylor, Leonard Cohen, and Buffy Sainte Marie, and for her association with the soundtracks of a number of popular films during the 1970s, '80s and '90s. Her biggest hits were "Up Where We Belong" (a duet with Joe Cocker, from the 1983 film An Officer and a Gentleman) and "(I've Had) The Time of My Life", (a duet with Bill Medley from the 1988 film Dirty Dancing), both of which topped the Billboard pop singles chart, and "Right Time of the Night", which reached the top ten in 1976. Her desire and ability to sing came early and at age seven she was offered her first recording contract, which her father turned down. However, she did make a spectacular professional debut. Wrapped in the American flag, and accompanied by 350 accordions, nine-year-old Warnes sang The Star Spangled Banner at the Los Angeles Shrine Auditorium. She was raised and schooled in North Orange County California. In high school, she was offered a college opera scholarship but chose to begin her career singing folk songs, popular at the time. In 1968, she signed with Parrot Records (a Decca subsidiary) and recorded her first LP. That same year, she joined the cast of the television show, The Smothers Brothers Comedy Hour. In November 1968, Warnes signed on to play the female lead, "Sheila" in the Los Angeles production of the stage musical Hair. In 1970, she met Canadian poet/songwriter Leonard Cohen who profoundly influenced her career and became a life-long friend. She would eventually tour Europe with Cohen's band as a back-up singer and would record guest vocals for Cohen's albums Live Songs, Various Positions, I'm Your Man, and The Future. Cohen's Recent Songs included a duet on The Smokey Life.
In 1972, Reprise records released her third album, Jennifer produced by John Cale. Her breakthrough single "Right Time of the Night," released in 1976, brought her worldwide acclaim with the song hitting No. 1 on Billboard's Adult Contemporary chart and No. 6 on the Hot 100. It just missed the million-selling mark (selling over 900,000 copies). The song also plays in the background of a scene from the film When Harry Met Sally. In 1979, she sang the Academy Award winner for Best Original Song 'It Goes Like It Goes' from the motion picture Norma Rae. Warnes' 1981 song 'One More Hour,' written and composed by Randy Newman and recorded as part of the soundtrack album from the motion picture Ragtime, was nominated for an Academy Award. The following year she teamed with Joe Cocker to sing 'Up Where We Belong'. Written by Buffy Sainte-Marie, Will Jennings and Jack Nitzsche for the motion picture An Officer and a Gentleman, the song would be released as a single and hit No. 1 (for three weeks running) on Billboard's Hot 100 chart and stands as Warnes' biggest selling disc ever, being certified 'Platinum' for sales of 2 million in the United States alone.
In 1983, she and Cocker won the Best Pop Performance by a Duo or Group with Vocal for 'Up Where We Belong', while earning the songwriters (Buffy Sainte-Marie and Will Jennings) the Golden Globe Award and the Academy Award for Best Original Song. The same year she recorded a moving performance of James Taylor's "Millworker" in the American Playhouse production of Working, based on the book written by Studs Terkel on PBS.  In January 1987, Warnes released her critically acclaimed album Famous Blue Raincoat: Songs of Leonard Cohen. Cohen himself performed with her as a guest vocalist on two of the songs featured. In 1988, at the Coconut Grove in Los Angeles, she sang background vocals with k.d. lang and Bonnie Raitt for Roy Orbison's television special A Black and White Night. This program still is played on PBS several times each year, because of its timelessness and because PBS fans request it.
That same year, her duet with Bill Medley, '(I've Had) The Time of My Life' was included on the Dirty Dancing motion picture soundtrack album and reached No. 1 on the Billboard Hot 100 and spent four consecutive weeks at No. 1 on the Adult Contemporary chart. The song won the 1988 Grammy Award for Best Pop Performance by a Duo or Group with Vocal and the Academy Award for Best Original Song. It was also certified 'Gold' for 1 million U.S. sales. She performed many songs for film and sang a duet with B. J. Thomas, 'As Long As We've Got Each Other' as the theme for the TV series Growing Pains. In 1992, she released the audiophile's dream album The Hunter to rave reviews and critical acclaim.