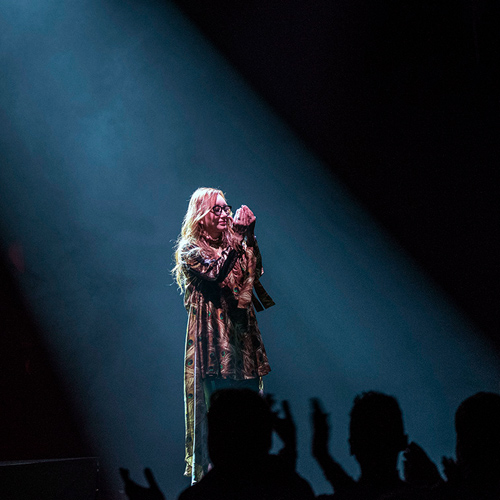 Tori Amos
I'm encouraged by the excellent sound quality and lighting of the venue so far, at a time when the standards at so many other venues has declined (even in some of the country's best venues).  With the auditorium now at full capacity, the lights dim and Amos appears from stage-right to position herself under a strong beam of light at the front-centre of stage. She looks great in her peacock-printed kaftan and shiny gold stilettos - a distinctly Asian look tonight. The audience erupts and Amos stands there soaking up the acclaim and atmosphere before moving to sit in between her favoured Nord electronic keyboards and shining gloss black Bösendorfer grand piano located to stage-left.
Opening on the electronic keyboards with 'iieee' from her 1998 album FROM THE CHOIRGIRL HOTEL, it's a moody, dark and rhythmic opening. 'Space Dog' (from 1994's UNDER THE PINK) signals Amos using both instruments with a song that offers substantially more melody and a little more light. It's starting to look like the show is going to feature a best-of setlist which the audience is already responding to big-time. Amos has one of the industry's most distinctive voices but it's also one of the most expressive, similar to a violin which played at its best reflects every dramatic and emotive moment.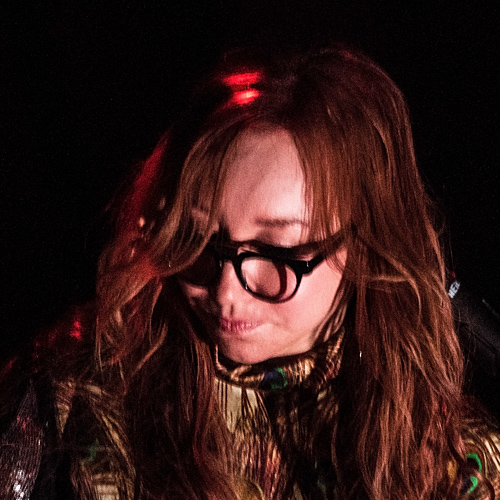 Her first dip into brand new waters comes at about a third of the way through the show with 'Climb' from the album NATIVE INVADER. Now I've yet to hear this album but on the strength of this song it seems that powerful melodies and simpler vibe are back on the menu. Another new track reveals itself a little further down the line ('Reindeer King') and together with encore 'Cloud Riders' seals the deal for me to acquire the new record.
Mid-set in a segment entitled FAKE MUSE NETWORK Amos adds some worthy cover interpretations (including a lovely 'Boys In The Trees' by Carly Simon) from a diverse range of artists before reverting to her back-catalogue but not before honouring Manchester by slotting in some Oasis 'Don't Look Back In Anger' into proceedings. LITTLE EARTHQUAKES is my favourite Amos album and 'Mother' one of my favourite tracks from it, so I was delighted when this appeared together with encore 'Tear In Your Hand'.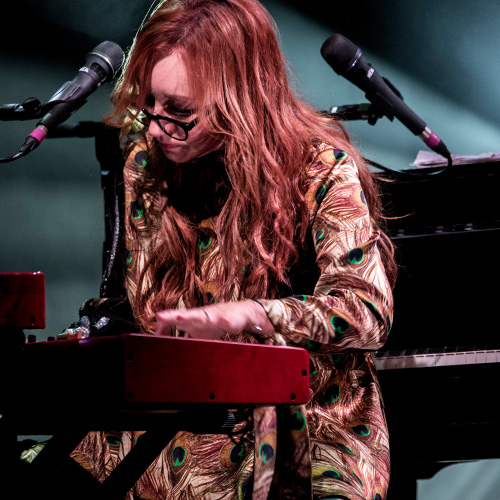 A standing ovation was inevitable at the end of one of the great live performances of 2017 and the final encore song 'Cornflake Girl' provided not only one of my highlights of the evening but something to recite endlessly on my way home. This was a masterclass in every way; great setlist, great staging, and great performances by a unique and enduring singer/songwriter.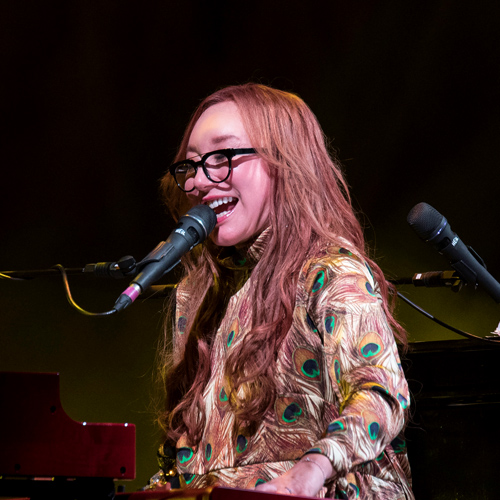 SETLIST
iieee
Space Dog
Suede
Jamaica Inn
Sister Janet
Climb*
Toast
FAKE MUSE NETWORK (covers)
Boys In The Trees (Carly Simon)
Upside Down 2 (with elements of Oasis 'Don't Look Back In Anger)
Reindeer King*
Mother
Flavor
Martha's Foolish Ginger
Almost Rosey
Tear In Your Hand
Cloud Riders*
Cornflake Girl
* INTERNAL INVADER album