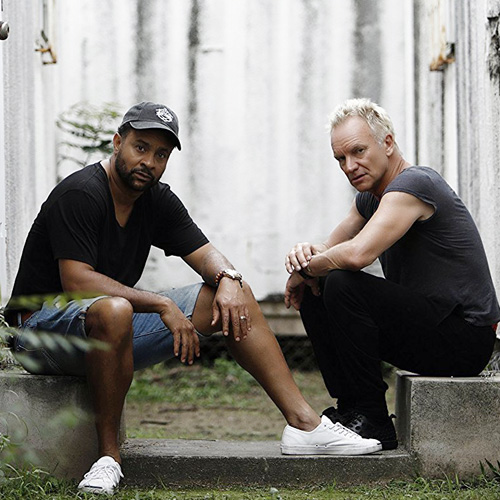 Sting Background
Gordon Matthew Thomas Sumner CBE (born 2 October 1951), known as Sting, is an English musician and actor. He was the principal songwriter, lead singer, and bassist for the new wave rock band the Police from 1977 to 1984, and launched a solo career in 1985.
He has included elements of rock, jazz, reggae, classical, new-age and worldbeat in his music. As a solo musician and a member of the Police, he has received 17 Grammy Awards, including Song of the Year for "Every Breath You Take", three Brit Awards, including Best British Male in 1994 and Outstanding Contribution in 2002, a Golden Globe, an Emmy and four nominations for the Academy Award for Best Original Song. In 2002, he received the Ivor Novello Award for Lifetime Achievement from the British Academy of Songwriters, Composers and Authors and was also inducted into the Songwriters Hall of Fame. He was inducted into the Rock and Roll Hall of Fame as a member of the Police in 2003. In 2000, he received a star on the Hollywood Walk of Fame for recording. In 2003, Sting received a CBE from Elizabeth II at Buckingham Palace for services to music. He was made a Kennedy Center Honoree at the White House in 2014, and was awarded the Polar Music Prize in 2017.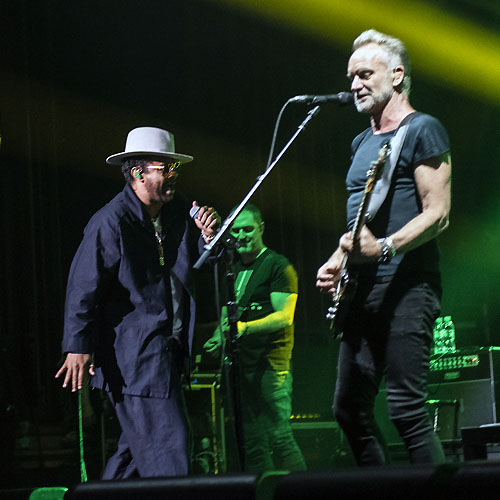 With the Police, Sting became one of the world's best-selling music artists. Solo and with the Police combined, he has sold over 100 million records. In 2006, Paste ranked him 62nd of the 100 best living songwriters. He was 63rd of VH1's 100 greatest artists of rock, and 80th of Q magazine's 100 greatest musical stars of the 20th century. He has collaborated with other musicians on songs such as "Money for Nothing" with Dire Straits, "Rise & Fall" with Craig David, "All for Love", with Bryan Adams and Rod Stewart, "You Will Be My Ain True Love" with Alison Krauss, and introduced the North African music genre raï to Western audiences through his international hit "Desert Rose" with Cheb Mami. In 2018, he released the album 44/876, a collaboration with Jamaican musician Shaggy, which won the Grammy Award for Best Reggae Album in 2019.
Sting Full Biography Here: https://en.wikipedia.org/wiki/Sting_%28musician%29
Shaggy Background
Orville Richard Burrell CD (born October 22, 1968), better known by his stage name Shaggy, is a Jamaican musician, singer, DJ and actor, who scored hits with the songs 'It Wasn't Me', 'Boombastic', 'In The Summertime', 'Oh Carolina' and 'Angel'.
Shaggy Full Biography Here:  https://en.wikipedia.org/wiki/Shaggy_(musician)
Sting Website: https://www.sting.com/
Sting & Shaggy Website: https://stingandshaggy.com/
Shaggy Website: https://www.facebook.com/Shaggy/