Live Rooms, Chester, 3 October 2018
The current line up of Spear is the longest serving to date and features Adrian Portas (New Model Army/Sex Gang Children - guitar), Craig Adams (Sisters of Mercy /The Cult/The Mission - bass guitar) and Phil Martini (Jim Jones and the Righteous Mind - drums). Long time Brandon cohort Steve Allan-Jones will be covering the keyboards.
On April 6th 2018 SPEAR OF DESTINY released their 14th studio album TONTINE. The album will be officially released for Brandon's own Eastersnow Recording Company label imprint and is available on CD, Vinyl and Download. As 2018 is the 35 anniversary of the band's debut long player GRAPES OF WRATH, shows throughout the year will most certainly feature a good smattering of these tracks for sure.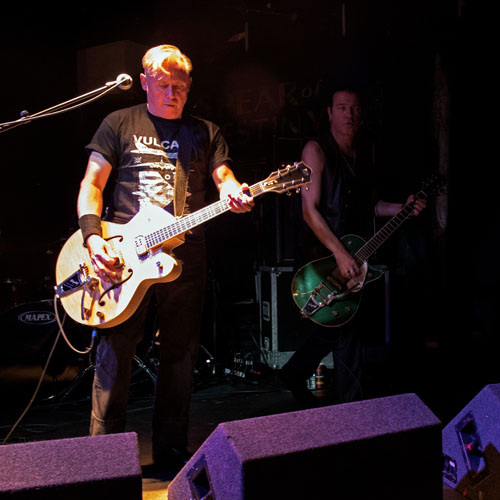 Comments on Kirk Brandon and Spear of Destiny:
"Spear of Destiny are criminally underrated and are one of Britain's best, Boys Own, punch the air, grandiose Rock'n Roll bands." - John Robb's Louder Than War
"Kirk Brandon is on of the UK's best kept secrets" - Mojo.
"Thirty one years together makes for flawless instrumentals, a unique sound, and some remarkable riffs and harmonies." - Aberdeen Voice
It was many moons ago that I last witnessed Kirk Brandon in concert - the Dead Men Walking concert in Wrexham, North Wales. It was a truly great concert which he played alongside other vintage rockers like Mike Peters of The Alarm. On that occasion he took something of a back seat on guitar while Peters majored on lead vocals. Tonight was a story about two important things. First the emergence of an excellent, and badly needed, live concert venue in Chester able to cope with explosive rock music. It's taken several years for this venue to blossom but its promoter has wisely taken a longer term view and built its music programme in a planned and clever way. At judicious intervals top quality acts get their feet on the stage while middle level acts keep the pot boiling. As a result audiences and act management have the venue firmly in their sights.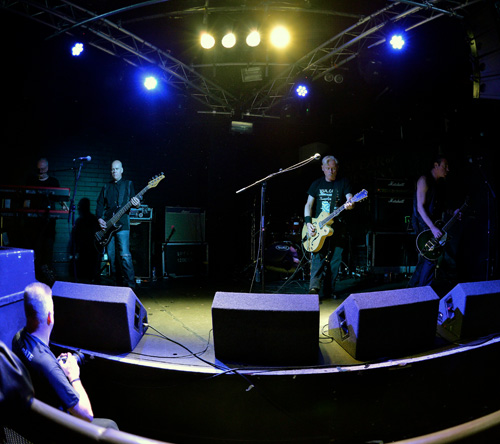 The second important item is tonight's band. Spear Of Destiny has been around since 1983 and although their have been numerous band changes, the one constant has been lead-man and song-writer Kirk Brandon. Many studio, live and compilation albums have been created including the band's latest opus TONTINE which has just been released. Many would say that the band and its main protagonist are the UK's best kept secret and I would tend to agree. The fact that TONTINE is the band's 14th studio album speaks volumes but that's not all…add to that 5 live albums and 6 compilations records. But there's more…Brandon in the form of Theatre Of Hate has released another 5 studio recordings, 11 Live recordings and 16 compilations. To have prospered since 1983 cannot just be put down to persistence and fan loyalty for without Brandon's talent and passion I wouldn't be standing here for the latest in thousands of live shows.
Looking around me the almost sell-out crowd is mostly middle-aged and buzzing with anticipation. The tour manager wanders over to the laptop located by a set of keyboards and pushes a key for the show instrumental intro ('This Is Your Life') to play. The lights dim and out comes the full Spear line-up and they immediately look relaxed and confidant as Brandon shoulders his guitar and 'Strangers In Our Town' strikes up (from 1991's OUTLAND) followed by another popular vintage song 'Come Back' from 1985's WORLD SERVICE album. So far so good but my attention is brought fully into focus with the explosive, riffing, punk rock of 'MK Ultra'.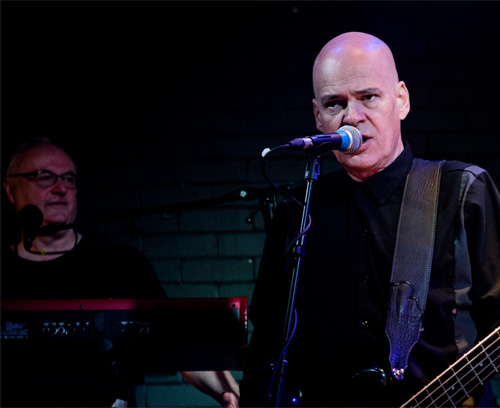 TONTINE contributes 7 songs to the gig including the next song 'Medievilists' which drops the pace to a crawling dark vibe with huge bass line and spitting  Brandon vocal. The acoustic quality of the venue shines as each instrumental note and vocal lyric is heard with great clarity. Adrian Portas on guitar is spectacular and through the night sustains his dominance. No less than 6 albums are covered tonight with the other main contributor being 2012's GRAPES OF WRATH, but it's TONTINE that for me shines the most brightly.
I have witnessed many shows over a few years at The Live Rooms but this one has to be the very best so far. The show had great instrumental playing, great vocals in tune with song sentiments and vibe. In addition, every meaningful song hit the bulls-eye while offering a diversity of pace and mood. This was rock at its UK best and the crowd loved every second.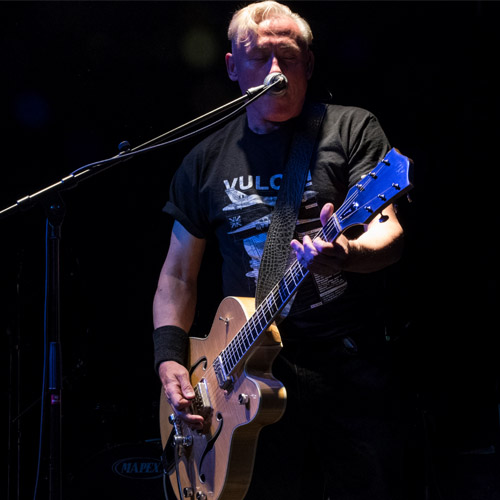 Setlist
Intro - This is Your Life
Strangers in Our Town
Come Back
MK Ultra
Medievalists
Flying Scotsman
The Preacher
The Wheel
Second Life
Afrikan Proverb
Land Of Shame
Roof of the World
The Murder of Love
Brighton
World Service
Mr Livingston I Presume
Mickey
Encore:
Grapes of Wrath
Solution
Liberator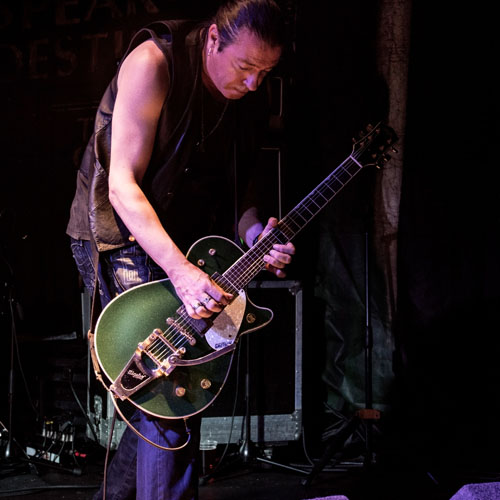 2018 Spear Of Destiny, Kirk Brandon, Theatre Of Hate Tour
Saturday, October 6 @ 7:00PM The Assembly, ABERDEEN
Sunday, October 7 @ 7:00PM GB Alternative Festival, SKEGNESS
Tuesday, October 30 @ 7:30PM KIRK BRANDON aKoustiK 81 Renshaw, LIVERPOOL
Wednesday, October 31 @ 7:00PM KIRK BRANDON aKoustiK Music & Arts Centre, BARNOLDSWICK
Thursday, November 1 @ 7:00PM KIRK BRANDON aKoustiK The Square Centre, NOTTINGHAM
Friday, November 2 @ 7:00PM KIRK BRANDON aKoustiK Gorilla, MANCHESTER
Saturday, November 3 @ 7:00PM KIRK BRANDON aKoustiK Brudenell Social Club, LEEDS
Sunday, November 4 @ 7:00PM KIRK BRANDON aKoustiK The Victoria, SWINDON
Saturday, November 10 @ 3:30PM THEATRE OF HATE Live Het Depot, LEUVEN
Saturday, November 17 @ 2:00PM THEATRE OF HATE Live Ink Mas Party, ST BRIEUC (F)
Wednesday, November 21 @ 7:00PM KIRK BRANDON aKoustiK The Dockyard Club, PORTSMOUTH
Thursday, November 22 @ 7:30PM KIRK BRANDON aKoustiK Subscription Rooms, STROUD
Friday, November 23 @ 7:30PM KIRK BRANDON aKoustiK The Fleece, BRISTOL
Saturday, November 24 @ 7:30PM KIRK BRANDON aKoustiK Cheese and Grain, FROME
Sunday, November 25 @ 7:30PM KIRK BRANDON aKoustiK The Globe, CARDIFF
Saturday, December 15 @ 7:00PM THEATRE OF HATE Live Academy, MANCHESTER
Sunday, December 16 @ 7:00PM THEATRE OF HATE Live Islington Assembly Hall, LONDON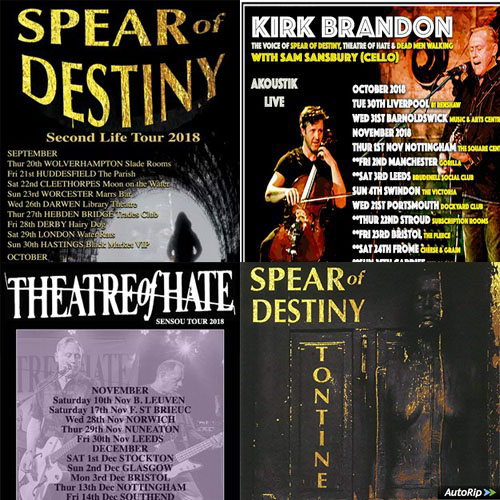 https://www.kirkbrandon.com/