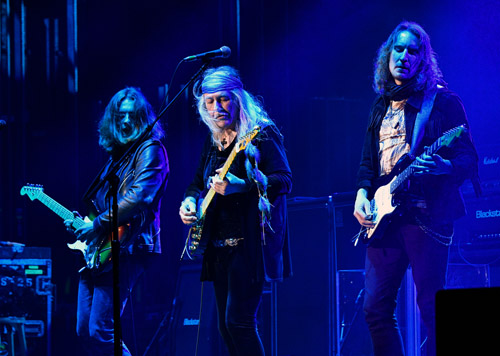 Biographies
Uli Jon Roth
Uli Jon Roth (born Ulrich Roth, 18 December 1954) is a German guitarist, who became famous as Scorpions' lead guitarist, and is one of the earliest contributors to the neoclassical metal genre. He is also the founder of Sky Academy and inventor of the Sky Guitar. He is the older brother of fellow guitarist and artist Zeno Roth (1956 - 2018).
In the early 1970s, Roth formed a band called Dawn Road. In 1973, guitarist Michael Schenker left the Scorpions to join UFO. The two remaining Scorpions members, Rudolf Schenker and Klaus Meine merged with the four members of Dawn Road, (Uli Jon Roth, Achim Kirschning, Francis Buchholz, Jürgen Rosenthal) using the name Scorpions as they were more well known than Dawn Road. During his tenure as lead guitarist, main songwriter and occasional lead singer for the Scorpions, the band released four studio albums between 1974 and 1977. In 1978, the Scorpions released the live album Tokyo Tapes, which was recorded in Japan and sold nearly one million copies and went gold in several countries. However, Roth had left the band in 1978 following the end of the Taken by Force tour and before the Tokyo Tapes release.
Roth formed his own band named Electric Sun, which released three albums. The first, Earthquake (1979), was dedicated to the spirit of Jimi Hendrix. A second album released two years later, Fire Wind (1981), was dedicated to Anwar Sadat (the assassinated President of Egypt who had tried to make peace in the Middle East), and featured a song called "Enola Gay (Hiroshima Today?)" about the atomic bombing of Japan by an airplane of that name. In 1985, Roth released his third and final Electric Sun album, Beyond the Astral Skies, dedicated to Martin Luther King and to Roth's fans.
After Electric Sun, Roth entered a new phase of creative work, composing four symphonies and two concertos, and sometimes performing with symphony orchestras throughout Europe. Roth used the name 'Uli Jon Roth' for all subsequent album releases and concert appearances. The G3 European tour of 1998 featured Roth playing with Joe Satriani and Michael Schenker. The tour show at London Wembley Arena also featured a jam with Brian May. Roth played at the outdoor rock festival at Castle Donington in 2001 (also featuring original Scorpions lead guitarist Michael Schenker on the bill), and this was filmed and subsequently released on DVD.
Roth appeared in concert with the Scorpions onstage at the Wacken Open Air Festival in 2006 along with two other former members of the band. Billed as "A Night To Remember, A Journey Through Time", the Scorpions played four songs from the Roth era, most of which they hadn't played live since Roth had left in 1978. The concert was filmed and released on DVD. Although this was meant to be a 'one night only' special event, its success meant that the format was repeated on several tours afterwards.
On 2 June 2007 at the Rock am Ring festival in Germany, Roth joined The Smashing Pumpkins on stage for their epic closing song "Gossamer". He made another appearance with the Pumpkins upon their return to Germany on 26 February 2008. In 2007, Roth had begun working on a new full-length studio album, which was to be released the following year. The title of the album would be Under A Dark Sky and was going to be the first official release in the long-awaited series of Symphonic Legends - a cycle of music written by Uli for his all-encompassing Sky of Avalon project. Roth debuted songs from Under A Dark Sky on 18 July 2008 in his headline set at the G-TARanaki Guitar Festival in New Zealand, Roth's debut concert in the country. In the week previous Roth had taken his "Sky Academy" tuition classes to regional Taranaki towns in Waitara, Inglewood and Opunake with guests Vernon Reid and Gilby Clarke.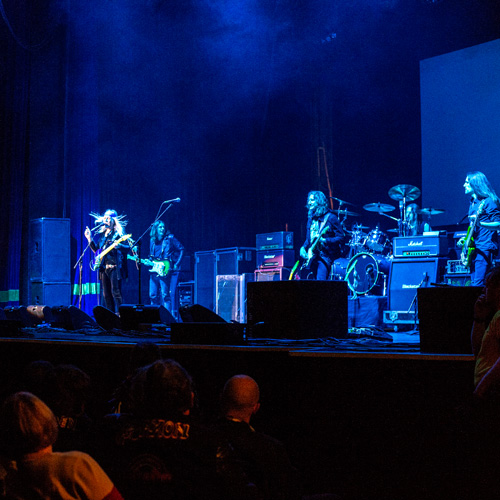 In early 2015, Uli Jon Roth released a 2-CD studio album entitled Scorpions Revisited recorded in 2014 in Hannover, Germany, in which Roth revisited his personal favourites from the early Scorpions period. This CD was highly successful and led to a world tour by Uli with a full electric rock band. Following the success of this tour, Uli then led a tour called, "The Ultimate Guitar Experience," with fellow guitarists Jennifer Batten and Andy Timmons. This tour was met by critical acclaim. Seemingly without much rest, Uli soon thereafter embarked on another world tour, this time playing "The Tokyo Tapes," songs from the Scorpions 1978 tour of Japan and ensuing live album. In December 2016, a double CD and Blu-ray/DVD were released of a concert Uli and his band played in Japan in 2015 commemorating the anniversary of "The Tokyo Tapes." In March, 2017, Mr. Roth concluded a short, but very successful North American tour, highlighting songs from both "Scorpions Revisted" and "Tokyo Tapes."