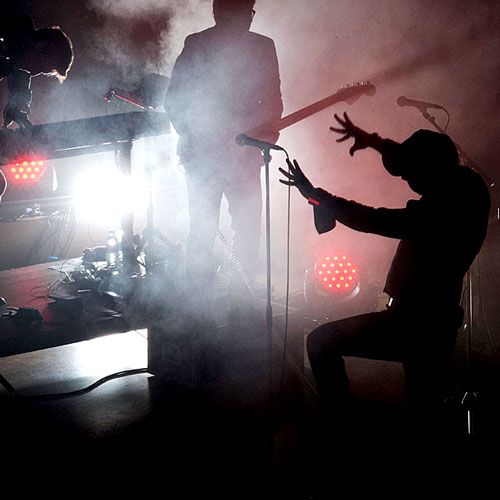 RNCM Manchester, 23 November 2015
I last witnessed a Mercury Rev performance back in 2008. It was in Manchester and I clearly remember cursing the awful stage lighting which made picture-taking virtually impossible (and it's never great on the best of shows). It was a good show rather than a great one. With an excellent new album, THE LIGHT IN YOU, which comes extremely close to the quality of classic DESERTER'S SONG, they are back. It's time for me to revisit…
The Royal Northern College of Music's concert hall is a beauty and, no doubt because of its classical music activities, the acoustic quality is wonderful. I entered the auditorium to find instruments laid out not on the stage but on the auditorium's floor. With seating encircling on three sides it was like a gladatorial arena with nowhere to hide and unrivalled audience connection potential.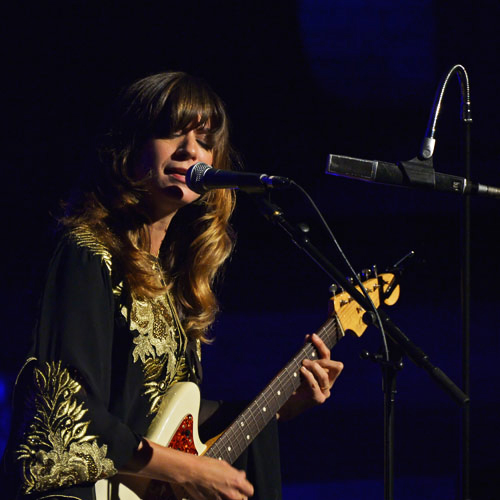 But first an Amercian singer/songwriter who I have neither seen nor heard. Dressed handsomely in long, flowing black and gold Nicole Atkins entered teh darkened arena and for a moment seemed to disappear from sight as she stooped very low to fix something. When the lights glowed again she appeared tall and quite beautiful with the white electric guitar in sharp contrast against her black and gold. She seemed at total ease immediately and within seconds I wondered why on earth I had never seen nor heard this young lady before (unlike many in the audience who behaved like long lost friends). Nicole's voice immeduiately struck me like a bolt of lighting. It was powerful, clear and able to tackle the scale with ease. It was also very expressive which endowed her romantic songs with depth and credibility.
As she chatted with the audience I wondered whether I could grab a few words with her and perhaps an album but as she stood behind her merch stand her fans' enthusiasm made that impossible. This was a fine performance ending with a superb and emotional version of Roy Orbison's 'Crying' which lifted the venue's roof. A storming show from an artist that I need to get to know musically.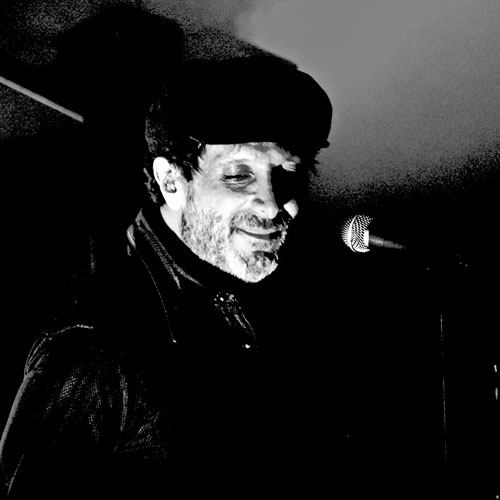 Mercury Rev
Jonathan Donahue - vocals and guitar
Sean "Grasshopper" Mackowiak - guitar
Carlos Anthony Molina - bass
Jason Miranda - drums
After a generous intermission the venue filled to capacity as Mercury Rev's instrumentalists arrived on stage followed by Donahue who immediately commented on the colisium-type performance scenario. He sememd a little unsure about the arrangement but the audience response was positive as he signalled to his amigos to commence proceedings.
The band opened with the glorious new song 'The Queen Of Swans' with its glacially paced build-up and thunderous crescendo. It sounded perfect and signalled one of the best concerts I witnessed in 2015. Donahue was his usual animated self but miore in touch with his fellow players than last time I saw him.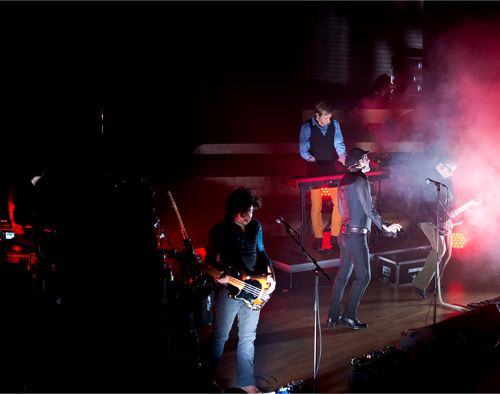 After too many years, Mercury Rev were back and with a vengeance!
Last time I criticised the lighting but this time, while not exactly camera-friendly, it was designed to echo song sentiments such as the bright orange glow which accompanied 'Autumn's In The Air' - another lovely new song reflecting on the past and personal.
Donahue was magnificent as he encouraged and inspired his band through a setlist of four new songs and from several albums including five from 1998's DESERTER'S SONG and several from ALL IS DREAMS. Jason Miranda on drums was truly superb along with Molina on bass - the band's rhythm section was dominant during the night's proceedings.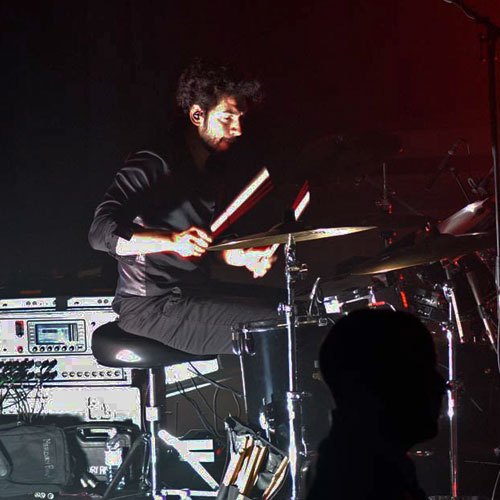 After the main setlist which took the audience back to as early as 1991 ('Car Wash Hair'), 'Goddess on a Highway' opened the inevitable encore with audience backing vocals provided. The symphonic 'The Dark Is Rising' closes the night's entertainment with the audience rising to their feet in tune with the song's hopeful message. The staging, the band, the performance, the songs, the audience all combined to make this my gig of the year.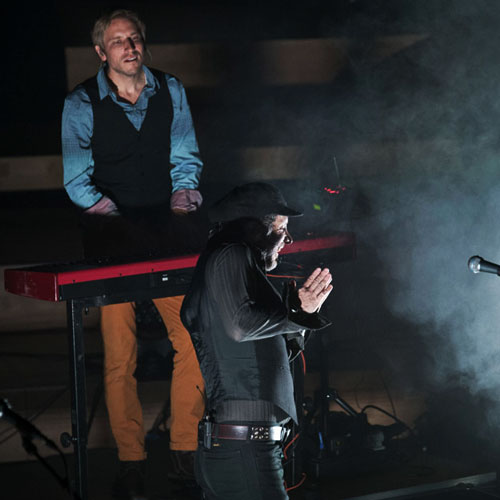 SETLIST
The Queen of Songs
The Funny Bird
Car Wash Hair
Autumn's In The Air
Endlessly
Frittering
Are You Ready?
You're My Queen
Diamonds
Central Park East
Holes
Tides of The Moon
Opus 40
Goddess On A Highway
The Dark Is Rising