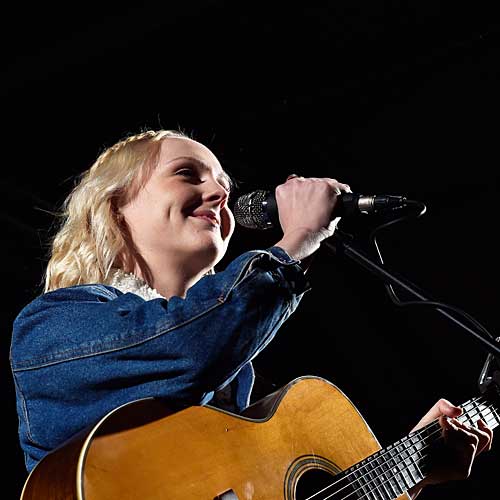 Laura Marling Live
Wrexham Central Station, 25 March 2017
"For anyone dying to know Laura Marling's favourite self-written song, it's 'Rambling Man', from I Speak Because I Can, which has never been off her touring setlist. "It's very satisfying to sing and it's quite fun to play," she explains with a smile on her face; "I'm probably playing it in my sleep now, I suppose!"
I haven't taken much notice of Marling until I recently received her latest album promo, SEMPER FEMINA - the first time I've received any of her music. I was impressed with the songs, her voice and the record's production. Marling sounds very natural, relaxed and supremely confident. I was then given two opportunities to see her live - once with her band in Manchester and then solo in Wrexham. I chose the latter thinking a stripped-down solo performance would reveal all…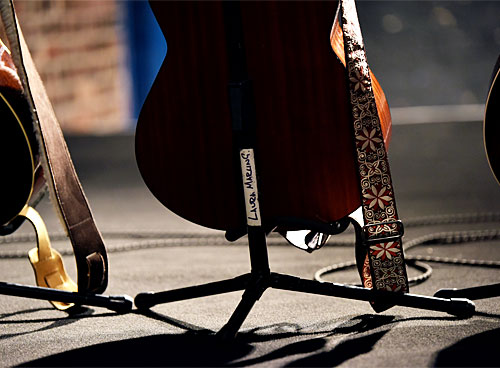 Wrexham's Central Station venue was sold-out and and while the guitar technician worked on Marling's three acoustic guitars the auditorium began to noisily fill. The stage was brightly lit and unadorned. A mic stand stood at the ready flanked by those three upright guitars. At the alloted time Marling wanders onto the stage dressed in a long flimsy flowered dress and leather bomber jacket. She's an attractive young lady who appeared not to use makeup over porcelaine white skin topped with matching blonde hair. I pondered for a moment why an important artist would play solo in a hick North Wales town called Wrexham. It then struck me that playing solo, without support acts or band, and without stage props meant that Marling could perform anywhere and everywhere - a sort of white van musician…
What was to follow was one of the most extraordinary gigs I've witnessed in twenty years of reviewing and photographing live shows.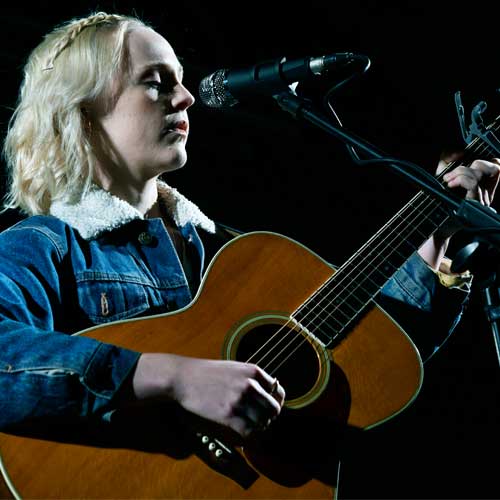 Marling opened with 'Wild Fire' from her latest album. It's sung in a gentle yank accent which suits a country tinged tune that reminds me of a song by Lou Reed. It's a slow-paced song that quickens during the choruses and possesses truck loads of melody. Marling looks upwards while singing in the smoothest, easiest manner one can imagine. Hell, I'm impressed! But not only with her delivery but by her guitar-playing.
Next is another new song. 'Nothing, Not Nearly' is another slice of Americana and I'm reminded by how good the new album is. This has another huge melody and is an object lesson in how to accompany oneself on guitar. Her voice is immaculate and distinctive as it seamlessly and fluidly changes key. Her setlist was also brave in that the opening salvo was made up of brand new songs including the next one, 'Nouel'. It's one of my favourites off the new album and is wondrously beautiful. Marling's voice by this point is nicely warmed up and gorgeous.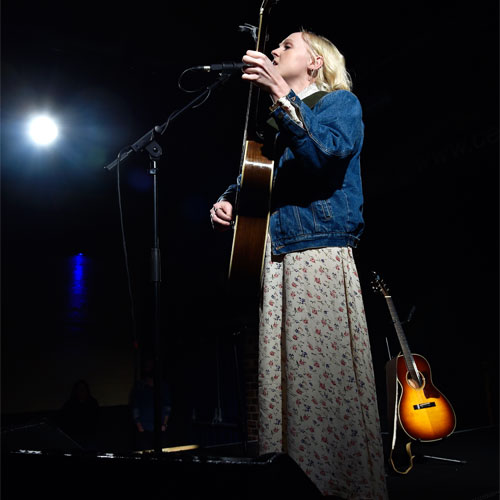 Her first guitar change arrives with the first of her older songs. This one's called 'Goodbye England (Covered In Snow)' from 2010 and with it comes the loudest acclaim so far from an audience that is as transfixed as I am. The guitar sounds mellower; more bass tuned. Then it's back to today with "Next Time' with an upbeat song that rolls along and I'm wondering what award nominations the lady will garner with this great album.
Another new song, 'The Valley', arrives with arguably one of her most expressive performances of the night. The song has a sort of ghostly, ethereal presence with her guitar which gently sings alongside that heavenly voice. Then another change of guitar with an even lower bass tone. It's this song or the next that possesses a guitar riff chorus that reminds me of Pink Floyd's 1971 'Fearless' (from MEDDLE). It's by far the longest song of the night and my highlight of the evening. It's an epic song where the harmonisation of guitar and voice is perfect and very dramatic [I subsequently discovered that this was a suite of opening songs from the ONCE I WAS AN EAGLE album from 2013].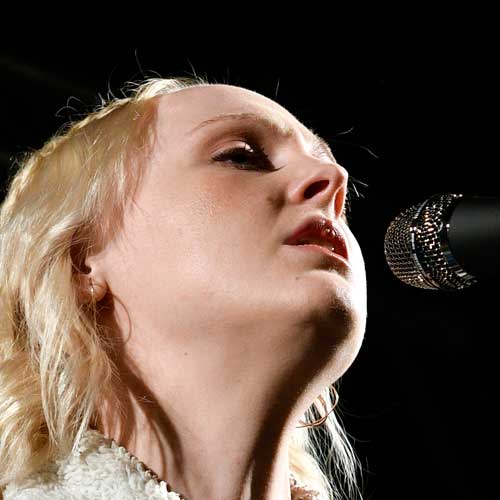 The setlist is perfect as it the trawls through the best of her back-catalogue with a couple more guitar changes. Marling doesn't talk much but does thank the audience for turning up and later explains the song 'Daisy' which is about a single mother who's also a prostitute. She also advises the crowd that she doesn't do encores and finishes on her favourite composition from 2010 called 'Rambling Man'.
This was an understated performance, where occasionally Marling seemed detached and distant. But it was one of the finest and bravest performances I've witnessed in many years. It was an object lesson in self-awareness, concentration, songwriting, singing and guitar playing. Marling is very special with a beautiful, mature, distinctive voice, and this show nothing less than a memorable masterpiece.
Setlist
Wild Fire
Nothing Not Nearly
Nouel
Goodbye
Next Time
The Valley
Avalanche
The Suite: Take The Night Off/I Was An Eagle/You Know/Breathe
Sophia
Once
What He Wrote
How Can I
I Speak
Daisy
Rambling Man
More Images Here: http://www.shakenstir.co.uk/index.php/gallery/?album=3460&gallery=1988