Bring It On 20th Anniversary Tour
Ritz Manchester, 2 September 2018
Gomez are an English indie rock band from Southport, comprising Ian Ball (vocals, guitar), Paul "Blackie" Blackburn (bass), Tom Gray (vocals, guitars, keyboards), Ben Ottewell (vocals, guitars) and Olly Peacock (drums, synths, computers). The band has three singers and four songwriters, employing traditional and electronic instruments. Their music covers the genres blues, indie, alternative, rock, folk, psychedelic and experimental. Their first album, Bring It On, won the Mercury Music Prize in 1998. Later awards came from the NME and Q Magazine along with a Brit Awards nomination.
Gomez began their career on Hut records (Virgin), signing in 1997. Just before their third album release In Our Gun Hut records was forced to downsize and on the following record, Split The Difference, Hut records was disbanded by Virgin/EMI Records. The band were so dismayed by the music industry that they decided to go on alone and asked Virgin Records to let them go in 2004. The following year American label ATO signed the group, releasing their first live album Out West and their most successful records stateside How We Operate and A New Tide.
The band members are split between the UK and US with Ian Ball residing in Los Angeles, Olly Peacock in Brooklyn, New York, and Paul Blackburn, Tom Gray and Ben Ottewell in Brighton, England. Ball has released two solo records entitled Who Goes There (2007) and Unfold Yourself (2013). Ball and Peacock worked on the side project Operation Aloha. The experimental project designed by photographer Christopher Wray-McCann brought together 14 of his friends, living in tree houses making songs with whatever they could bring to the island of Maui, Hawaii.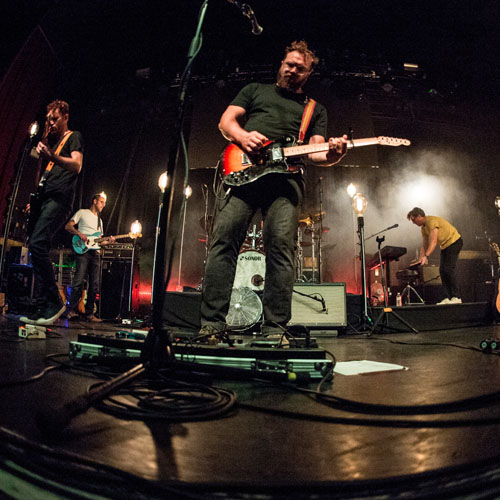 Ball, Ottewell, Peacock and Pattison (engineer) created the Final Keep Me Up in 2009. They recorded an album using only iPhones in the back lounge of the tour bus from Calais to Köln, on 2 May 2009. The album exists only in streaming form. Ben Ottewell has released three solo records: Shapes & Shadows (2011), Rattlebag (2014) and A Man Apart (2017).
Review
The first and only time I've witnessed Gomez live was back in 1999 in Ireland' Witnness Festival when their setlist featured songs from their debut breakthrough record BRING IT ON. The album had caused quite a stir when released a year earlier with its strong blues undercurrent so beautifully captured by Ben Ottewell's gravely baritone voice. In song-writing, vocally and instrumentally it broke new rock ground and still sounds original and distinctive. Twenty years later here I am at Manchester's iconic Ritz theatre to witness the guys reprise the album as part of the band's BRING IT ON 20th Anniversary Tour.
The sell-out audience pretty well mirrors the album's vintage with mostly late thirty-somethings, forty-somethings but with a notable minority of twenty-somethings. Supporting tonight is LA's Russo.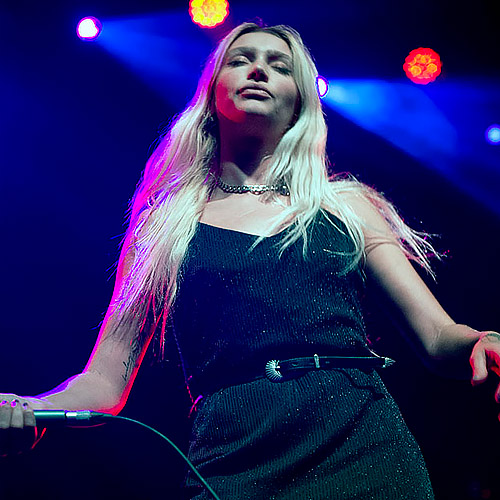 Russo
"RUSSO's sound is fast, honest and high." - Cailin Russo
Formed in Los Angeles in 2018, Russo consists of singer/songwriter (and model) Cailin Russo on lead vocals, Tyler McCarthy on guitar, Hayley Brownell on drums and backing vocals and Sean Ritchie on bass. The band recently supported singer, songwriter Jessie Ware and Madison Beer during their North American tour. Now the Ritz in my experience is a venue where sound management is critical - bands can sound terrific and bloody awful. Tonight the latter is the case which is unfortunate because a hint of melody was just visible underneath the cacophony, and the band looked animated, enthusiastic and good.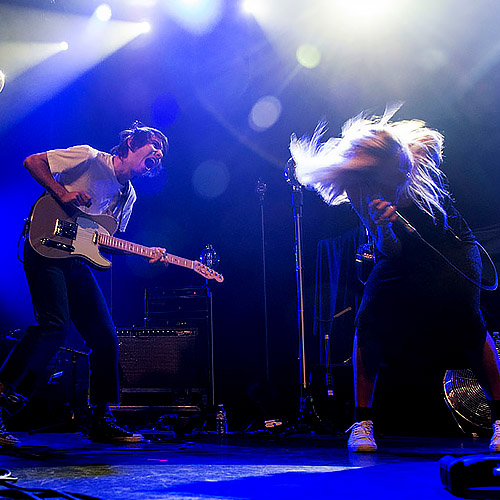 Russo's voice struggled to be heard above the over-amplification but she certainly looked the part while guitarist McCarthy gave the most animated display I can remember from a guitarist - he looked to be connected to an electric current with his constant body and facial contortions (which distracted somewhat from the band's performance). Lead-woman Russo communicated easily and well with her audience which no doubt generated at least part of the crowd's enthusiasm. Drummer Brownell provided a solid foundation for the band's punk-pop renditions. Despite dreadful sound the audience greeted each song with whoops and cheers. I was left wondering what the band really sounded like…