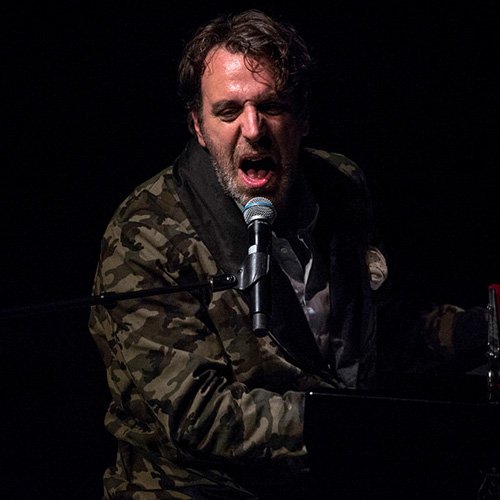 RNCM Manchester, 11 September 2018
Chilly Gonzales, the Grammy-winning Canadian pianist and entertainer, is known as much for the intimate piano touch of best-selling SOLO PIANO albums as for his showmanship and composition for award-winning stars. Gonzo, as he is known to close collaborators, aims to be a man of his time, approaching the piano with classical and jazz training but with the attitude of a rapper.  He performs and writes songs with Jarvis Cocker, Feist and Drake, among others, and holds the Guinness World Record for the longest solo concert at over 27 hours.
2018 sees the return of Chilly Gonzales to the stage with an intimate hour of pieces from the Solo Piano album cycle, after which he is joined by Stella Le Page on cello and Joe Flory on drums to perform hits and hidden surprises from the rest of his repertoire, interspersed with his playful explanations about how music works.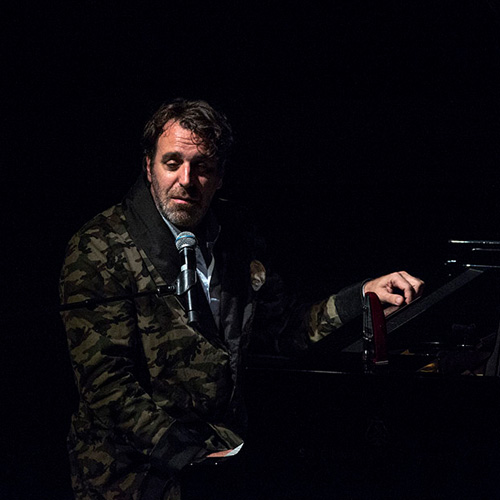 Review
I have been reviewing concerts (selectively) for over twenty years but on this night I experienced something new, different and uniquely entertaining. I should explain. Many acts I see represent great talent, excellent songs and the ability to connect like super-glue to their audiences. Some are humorous, some very animated, with the very best offering a distinctiveness and originality that sets them apart. When I think back certain acts have represented landmarks in my concert coverage: Radiohead at Manchester's Apollo, Ani DiFranco at Manchester University, Metallica's secret gig at the Download festival, Damien Rice at Liverpool's Philharmonic, the Frames at Ireland's Witnness Festival (and several other gigs in the UK), Martha Wainwright at Liverpool University, B.B. King at Manchester's MEN, and Roger Waters at Liverpool's Echo Arena, Nick Cave and The Dirty Three at Liverpool's Philharmonic are just some of the concerts that inspired and entertained me royally over the years. They represent indelible memories (and always will). While these acts and others utilised most of the above named artistic assets few, if any, have performed exhibiting all the skills and attributes mentioned, plus some, in a single performance package.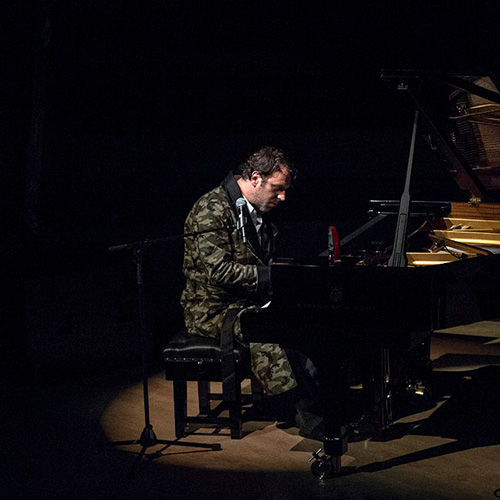 Enter Mr Chilly Gonzales! Now while my first experience of the man came via his latest album, SOLO PIANO-III, I had established his performance 'eccentricity' in, for example, the way he dressed and expressed himself through photographic imagery. I also found his musical thoughts expressed through 'The Secrets Of Solo Piano -III (transcribed here: http://www.shakenstir.co.uk/features/the-secrets-of-piano-solo-iii/). However, none of this prepared me for his performance on the night.
Manchester's Royal Northern College of Music (RNCM) seemed awfully quiet when I arrived (after another horrendous night trying to find parking in this now God-awful city that is in the process of banning car travel), so quiet in fact that I was concerned I'd picked the wrong night! But as the very friendly staff assisted me to find the most appropriate and legal spot to photograph from, fans began to trickle into the venue until eventually the whole of the lower level of this great venue was full. In front of stood a grand piano stage-left, cello at stage-centre and a set of drums at the extreme stage-right. A dim light picked out the piano stool in the darkened surrounds.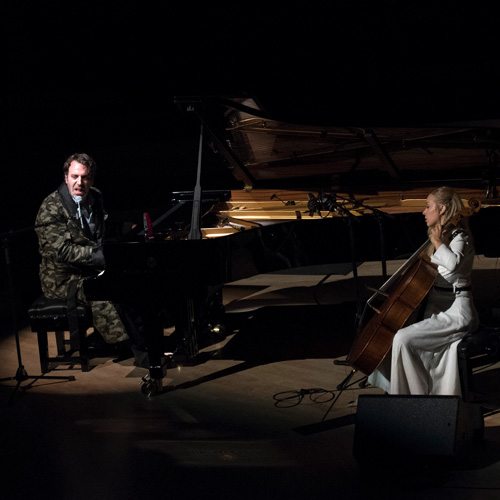 Gonzales walked briskly onto the stage from the right sporting a dressing gown and carpet slippers - very smartly I have to say. He's a tall, imposing figure and slightly scary until a mischievous smile appeared when greeted by huge and genuine applause as he settles himself behind the piano. He briefly looks around to the audience and without a word begins to play. It's a flowing, slow, thoughtful sounding start featuring the opening songs from SOLO PIANO-III and ending in the delightfully melodic, rapid tempo of 'Chico'. With a flourish he ends his opening gambit…
More songs from SOLO PIANO-III and with them a tad more drama before the utterly beautiful 'Be Natural' arrives, played at glacial pace with one hand appearing to control melody and the other controlling rhythm. The period ends with the diverse pace and nervous vibe of 'Present Tense'. Gonzales turns around to the audience, still seated, hands on knees and looks intently at the audience. Suddenly a recorded voice says "I think this is working…a couple more pieces than talk." The audience laughs before he turns back to the piano and starts to play again opening with the combination of darker and lighter tones from 'October 3rd'. He then begins to hammer the key with 'Koptkino' but before he begins 'Dot' from SOLO PIANO, he turns and counts down using his fingers until he hits 1 signalling that we may shortly actually hear him speak…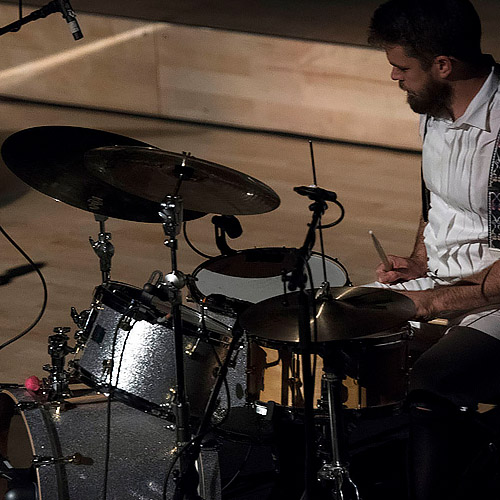 The jazzy, jagged tones of 'Dot' represent some of the most exciting moments on the night. When it's finished he gain turns to his applauding audience and speaks! "I take my duty to entertain very seriously…You have been carefully vetted…" We all laugh, "Thank you for being here and now on with the show." And what a show! a whimsical piece which becomes very physical is followed by Gonzalez explaining rhythm using a bright red metronome standing on the piano. His cellist, Stella Le Page, enters the stage and he explains that it's a special day (9/11?) but then explains it's the cellist's birthday before he and her play rather sad versions of 'Happy Birthday' (in D Minor). It's another special moment on a night of many. He explains that 'The Cello Song' was one of his first compositions and plays it along with his cellist - it's another very special moment.
Then the drummer (Joe Flory) sneaks onto the stage and is quickly enlisted, along with Le Page, by Gonzales to stand at each end of the piano's keyboard while he goes over to the drums. But just before this his walks into his audience and asks for a couple of ladies to site a fortunate and unfortunate event which happened today. "Unfortunately the printer stopped today" and with that with Le Page one-fingering a high note, Flory one-fingering a low note, and Gonzales hammering out a rap rhythm on a drum the rap song "Fortunately-Unfortunately" is born to massive applause and laughter.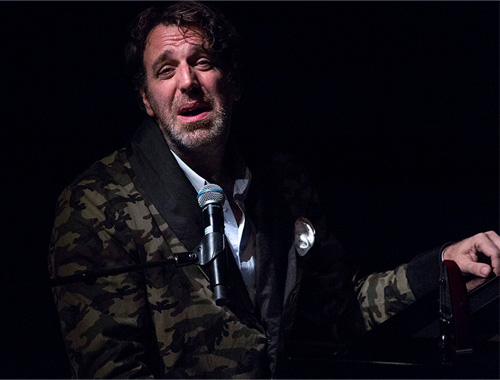 Then comes a 'masterclass' opening with "Scales themselves aren't music, and yet music is made up of scales…" (http://www.shakenstir.co.uk/features/the-secrets-of-piano-solo-iii/). It's another moment that distinguishes this concert from all others I have witnessed. During the course of the show Gonzales travels through his back-catalogue in addition to performing almost all pieces from his latest SOLO PIANO-III. Not only has he played beautifully and occasionally with explosive gusto, but he has involved the audience in a way few others have. Add to this plenty of humour and teamwork, and I'm left with the impression that I have just witnessed a superb, adventurous entertainer. It is indeed a Masterclass.
Setlist
Pretenderness/Famous Hungarians/ Chico (from SOLO PIANO-III)
Nimbus/Be Natural/Present Tense (from SOLO PIANO-III)
Voiceover
October 3rd/Kopekino (from SOLO PIANO-III)
Bermuda Triangle/Oregano (from SOLO PIANO-I)
Dot (from SOLO PIANO-I)
Cello Gonzales (from CHAMBERS)
Metronome Rap
The Grudge (from IVORY TOWER)
Fortunately/Unfortunately
Masterclass
White Keys (from SOLO PIANO-II)
Voiceovers
Knight Moves (from IVORY TOWER)
Supervillain Music (from THE UNSPEAKABLE CHILLY GONZALES)
Smothered Mate (from IVORY TOWER)
ENCORE
Meischeid (from SOLO PIANO-I)
Prelude To A Feud/Blizzard In B Flat Minor (from CHAMBERS/SOLO PIANO-III)
Why Don't We Disappear (from UBER ALLES)
Take Me To Broadway (from PRESIDENTIAL SUITE-GONZALES III)