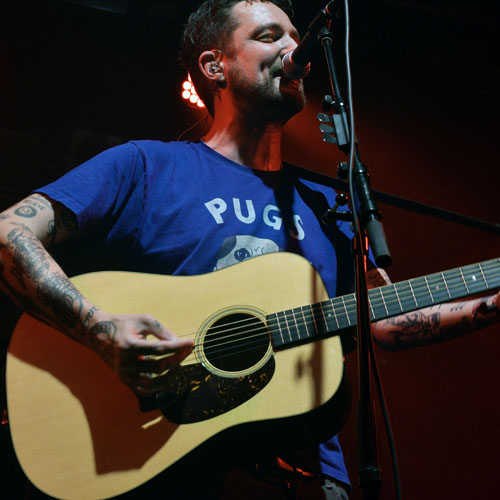 The heat, the people, my tired legs, my aching shoulder (carrying a couple of sets of heavy camera equipment) forced me to rest opposite The Ballroom to wait for the next show. While I stood leaning heavily against a wall, several drug deals were transacted right next to me, and the queue for the next performance was forming. In fact so long was the queue that I even wondered whether I would be able to access the venue before Frank Turner took to the stage…Security were letting people in as others left which impressed me in that it showed that crowd numbers were being controlled for safety's sake. Luckily, security recognised me and let me in quickly.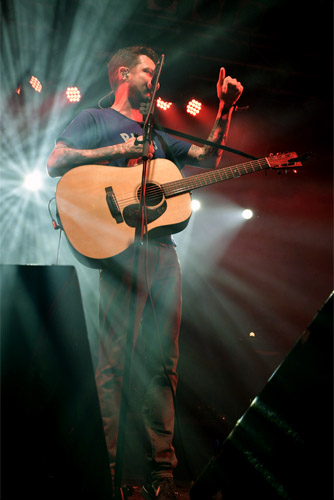 The scheduled start time of 8:45pm at The Electric Ballroom came and went without Turner's on-stage presence and the huge number of fans began gently complaining while singing Turner's songs - something I have not witnessed before. Eventually a shirt-sleeved Turner arrived and without delay launched into his set solo with the opener from his latest album called 'Don't Worry'. It was the perfect, optimistic opening for a show that showcased several new songs and many Turner classics. Turner is a true showman who effortlessly connected with his audience with the evocative, passionate, punk rock songs and powerful, expressive vocal delivery. He promised a surprise to fans and that was revealed at the end when The Virginmarys joined him during the fabulous encore.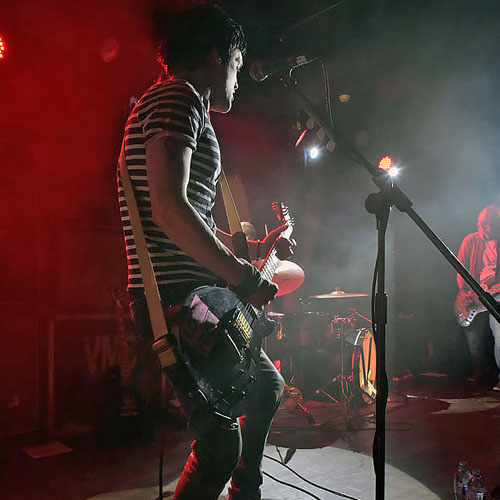 Turner rightly deserved to headline the first day of this excellent festival. In fact it's an extraordinary festival covering twenty venues and well over three hundred acts from the new to the established, from the famous to the unknown. Organisation was excellent and the strong security presence firm but friendly and fair. I hoped the weather would cool a tad for day two and perhaps the crowds would thin a little. Well, here's hoping…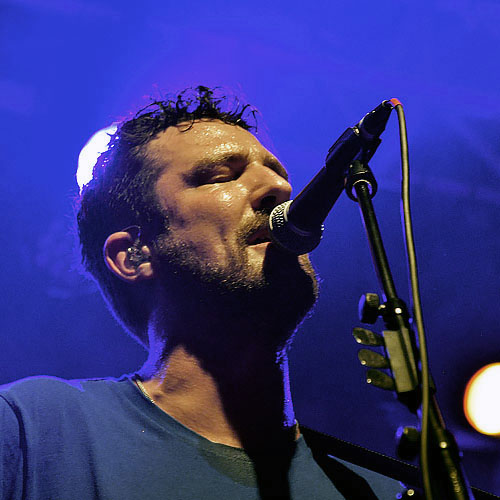 Setlist
Don't Worry, Recovery, Long Live the Queen, If Ever I Stray, Back In The Day, Little Changes, Be More Kind, Jinny Bingham's Ghost, The Opening Act of Spring, I Knew Prufrock Before He Got Famous, The Road, The Way I Tend to Be, 1933, Photosynthesis, The Ballad of Me and My Friends, The Next Storm, I Still Believe, Get Better, Encore: Pretty Vacant (Sex Pistols cover) (with The Virginmarys), Teenage Kicks (The Undertones cover) (with The Virginmarys), London Calling (The Clash cover) (with The Virginmarys), If The Kids Are United (Sham 69 cover) (with The Virginmarys).
https://en-gb.facebook.com/montytaftofficial/