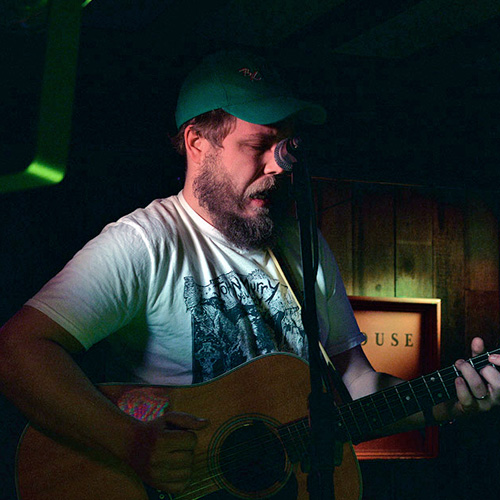 Telfords Warehouse Chester, 18 September 2018
One of the very few live venues in Chester stands next to the city's attractive and well-used Chester Canal, Telfords Warehouse is popular with local resisdents and visiting singer/songwriters. The focus of my attention tonight is Benjamin Folke Thomas whose last two album releases have impressed me greatly. Tonight he is supporting highly acclaimed singer/songwriter John Murry who I know nothing about and certainly have not heard any of his music.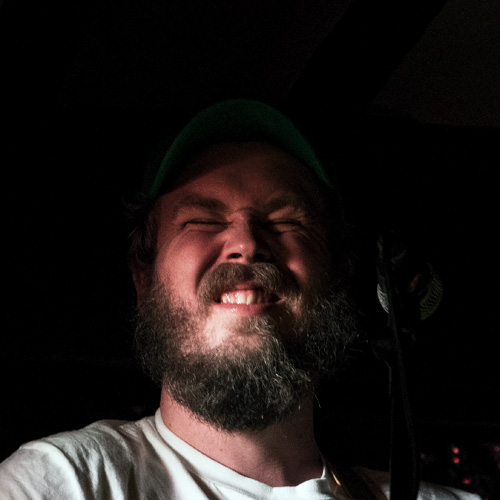 Telford Warehouse looks full with around 100 seated people in front of a small and crowded stage. Folke Thomas is first to perform and stands to the left of the stage in its only uninhabited space. The challenge for any artist performing at this venue is sound management and I'm immediately impressed by the clarity of Folke Thomas's voice with each lyric as clear as a bell. Bearded and dressed for comfort, Folke Thomas is relaxed and content as he starts one of several conversations with his audience. Perhaps his relaxed demeanour is at least partially due to this being the last gig of a long tour with home and family beckoning…
Folke Thomas's songs are homespun folk and deeply personal. He explains the meaning of songs before each recital with a particularly moving explanation and performance revolving around a much-missed grandfather ("I wish he was still alive…") with engagement and marriage also on the menu.. 'Stuff Of Dreams', a song about Paul Newman' is my highlight of the night with its moving content and sincere, passionate performance.  He talked about his favourite Paul Newman movie The Hustler and said the remake/follow-up Color Of Money would have be great if Tom Cruise hadn't featured in it. His voice is deep and expressive, his guitar playing is excellent, his songs hit the mark with wonderful, simple lyrics and strong melodies. I'm impressed with his live quality and his ability to connect so quickly and effectively with his audience - the ideal, classic singer/songwriter. Tonight he arrived as a stranger but left leaving many friends. I'm convinced now that Folke Thomas is set for much greater things…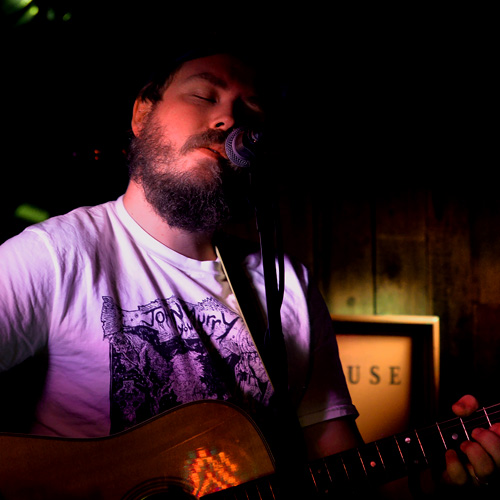 Benjamin Folke Thomas Biography
Ten years into his music career, two landmarks loomed large in the life of Benjamin Folke Thomas. He was about to hit 30 and he was about to get married. BFT took stock of the situation and did what he always did with his thoughts – he turned them into songs. The ten songs on MODERN MAN draw from folk, country and the blues to reveal the inner thoughts of a songwriter torn between supreme self-confidence and fear of the future. You might even call it a mid-life crisis, if it weren't a little early for that.
Perhaps it's those long winter nights in Sweden, to where BFT recently returned after almost a decade in London. "I'm but a worn-out troubadour," he sings on 'One Day', a slow piano ballad that represents a musical departure for a musician whose finger-picking guitar style is his signature. "I go from bar to bar and I sing for room and board. Sometimes, when the going gets tough, I try to sing a sad song to shut the people up." MODERN MAN is full of sad songs, written over a three-month period and recorded in just two days in Gothenburg with a tight-knit band of Henning Sernhede (guitar), Johannes Mattsson (bass) and Erik Berndtsson (drums). But it's not a sad album. "I think it's a happy album" insists BFT, who was born in the coldest winter recorded in modern-day history in Gothenburg and grew up on a secluded island off the coast of Sweden, populated mainly by evangelical Christians.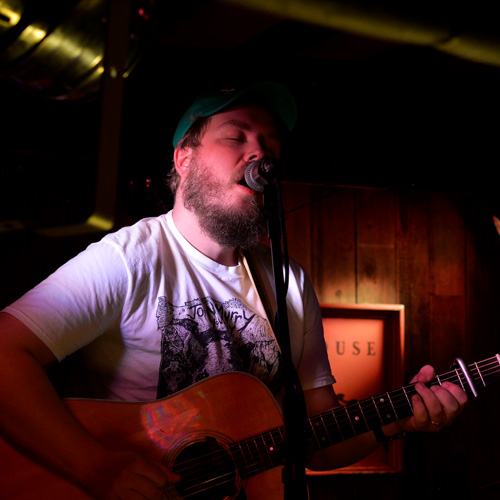 He never found God but he did find Nirvana. Inspired by grunge music, by the age of 11 he was playing drums in a punk band, before turning towards folk, blues and Americana music after seeing Kurt Cobain's devastating acoustic performance of the folk song In The Pines (aka Where Did You Sleep Last Night) on TV. Steeping himself in Lead Belly, Dylan, and Leonard Cohen, by his late teens Ben was an accomplished finger-picker, confident performer, and mature songwriter, building an audience in the bars and clubs of London with self-penned songs drawn from his own experiences.
BFT released his first studio album TOO CLOSE TO HERE in 2013 and its follow-up ROGUE STATE OF MIND came two years later. Recorded with the same Swedish band in their studio in an old warehouse, and released on Bucketful of Brains, it caught the ear of BBC Radio 2's Bob Harris who invited Ben to Nashville as part of BBC Introducing. His third studio album COPENHAGEN, released in 2017, won rave reviews and was followed with a live album, ACOUSTIC CLASSICS, later last year.
This time he adopted a different approach. "I wanted it to be recorded quickly and I wrote a lot of songs on the piano for the first time. I wanted to get away from just writing about myself and my broken heart and all that sort of thing – or at least to do it by taking the piss out of myself with sardonic humour."
He recalls his early days in One Day ("I admit I wasn't very good, I was trying too hard to be misunderstood"), and imagines how he would deal with pop stardom ("I'll become right wing and forget about the poverty and the troubles I've been in"). 'Stuff Of Dreams' is a wistful tale of a chance encounter in a pool hall with Hollywood superstar Paul Newman, who offers Ben a role in his next film, while 'One More Chance' looks at his impending nuptials through less than rose-tinted glasses. "It's about me getting married and thinking my wife is going to leave me for someone with loads of money," he laughs drily.
'Lily' is a country-flavoured murder ballad told from the unusual perspective of a wife who has just shot dead her abusive husband. "All the ones I know involve male violence against women so I wanted to put that right," says BFT. "I suppose it's inspired by thinking about my male privilege, and definitely by the whole #MeToo movement." One of the album's major departures is the seven-minute guitar epic 'Dead Horizon', filled with heavy riffs and screeching solos, suggesting that inside this melancholy acoustic guitarist with a halo of blond curls beats a heart of rock.
For BFT the ten songs on MODERN MAN are linked by a common thread. "Taken as a whole, they look at the inevitable narcissism of being an artist. I've always written autobiographically before so it was different and difficult to detach myself and write some songs from a different perspective – especially when English is not my first language. The most important bit for me was to be as concise as possible and for the songs to have a common thread."
https://www.facebook.com/pg/benjaminfolke.thomas/about/
https://benjaminfolkethomas.bandcamp.com/