Deaf Institute, Manchester, 9 March 2016
I am not and never have been a 'music historian' who knows every twist, turn and influence of an artist's history/background. Perhaps that's because I'm more interested in the music of the moment; its quality and meaning. Although I am aware of Adamson's name my only past connection with him is an album (I think which featured movie music) received many moons ago that I think I liked…The benefit of this shortage of knowledge is that I'm discovering new music and artists a lot of the time. And this occasion is no exception.
Adamson's new album (KNOW WHERE TO RUN) was recently delivered and I loved its song-writing, performances and production. Then and only then did I try to find out more about the artist. I also discovered that he was performing at one of my favourite little Manchester venues - The Deaf Institute - favoured by many quality performers/writers.
The Deaf Insitute is full on the night and the small stage is packed full of instruments. At 9pm four band members mount the stage including bass and lead guitarists, keyboard player and drummer. Moments later a handsome and tall Adamson wanders in to huge applause and after a short greeting he launches into his new album with "Up In The Air". Now I have read that Adamson is a formidable bass player who has graced the stage with many great bands, but tonight he seems to have forsaken this weapon in favour of his voice - for now.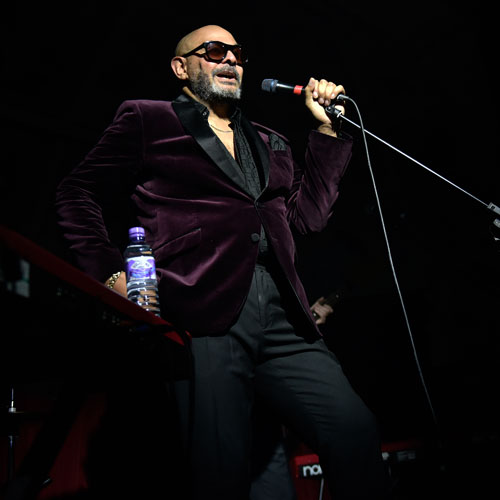 It's an explosive start to the show featuring one of the best songs off the new album. What's interesting is that Adamson has opted for a song that includes strong instrumentation (as well as a powerful and expressive vocal), rocky vibe and rampant pace - the chance maybe for his band to warm up early. The overall effect was stormingly good. Adamson is a well-honed artist who knows his audience only too well so for the next two songs he's back to his glorious past with "You Sold Your Dreams" and "The Sun And The Sea" from two much older albums. I thought it interesting that on Amazon the two albums are two of the lowest ratings but these two songs are extremely popular highlights (I would guess for him also).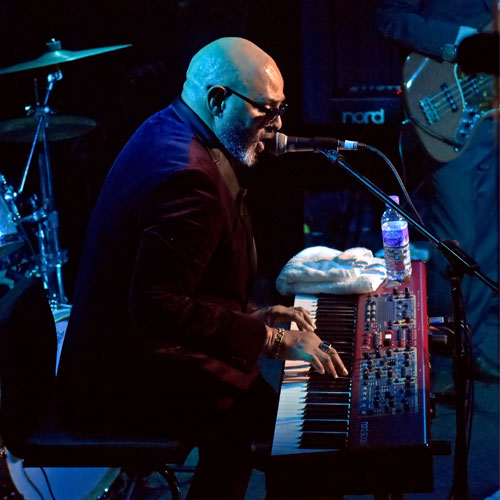 The new "Evil Kind" wanders more gently along with a wistful, contemplative vibe and some nice backing vocal touches. The guy knows a good melody when he hears one and this is arguably one of the strongest on the new record. Love it! By now he's moved to his keyboards and seated trotts out another powerful new tune, "Come Away", a clear, folk-tinged song of huge quality and emotion. Hunched over his keyboard he gave the performance of the night, and of a song that should be bombing the airwaves of BBC Radios 1 & 2. Adamson joked about musical genres (or their lack of importance - he has been involved with many of them including Alternative rock, Post-punk, Electronica, Post-rock, Acid jazz, Soul jazz and Lounge music) and that he had been asked to perform at a massive venue but opted for this very small one…There's a distinct warmth to this performance and an almost childish enthusiasm which connects solidly with his audience.
Up to that point I had already established that Adamson was pretty special but the next song floored me. "Claw And Wing" repeated the contemplative, emotive and beautiful sound with a song of glacial pace and huge melody. It's a jazzy ballad that could so easily have been on a Frank Sinatra record and Adamason's performace is just as good. The artist's band is so perfect with backing vocals and instrumentals in total tune with the song's gentle, rolling vibe.
The new "Mr Greed" is next and a sure sign that the new album is autobiographical. It's a jagged song with bustling bass line and underpinend by relentless keyboard notes. "Cine City" is no doubt a reflection on his past soundtrack experiences mixed with life's more pleasurable (and worrying) things ("We're headed south to New Orleans/We were spending more money than the Black-Eyed Peas"). It's a rocky interlude with those drums dominating proceedings.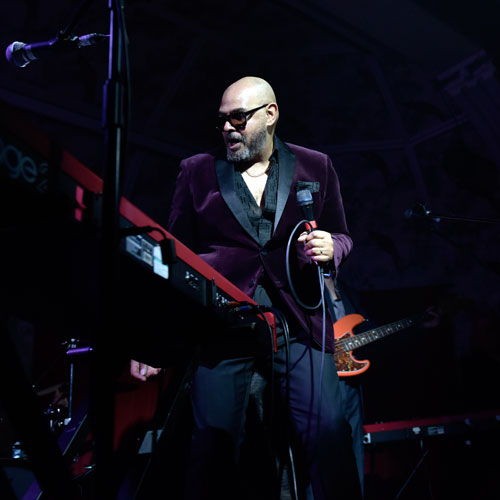 Adamson could have played for several hours more judging by his mood and audience reation but an hour and a bit later and after two encores (including the only Magazine song - 'Thank You') it was over. This was a hugely accomplished performance by a mature artist and song-writer that almost seen it all and come out the other end with arguably one of his very best albums, and a show to remember.
SETLIST
Up In The Air
You Sold Your Dreams
The Sun And The Sea
Evil Kind
Come Away
Claw And Wing
Mr Greed
Cine City
Death Takes A Holiday
Straight Till Sunrise
Civilization
The Beaten Side Of Town
Jazz Devil
Thank You