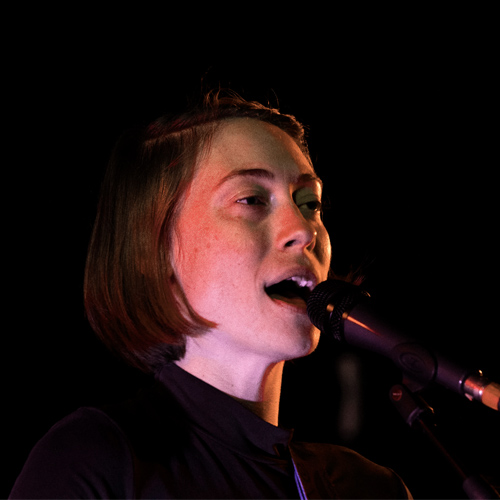 St Mary's Creative Space, Chester, 22 June 2018
"Detroit's Anna Burch presents her debut album, QUIT THE CURSE. Out on Heavenly Recordings. The nine songs that comprise QUIT THE CURSE come on sugary and upbeat, but their darker lyrical themes and serpentine song structures are tucked neatly into what seem at first just like uncommonly catchy tunes. Burch's crystal clear vocal harmonies and gracefully crafted songs feel so warm and friendly that it's easy to miss the lyrics about destructive relationships, daddy issues and substance abuse that cling to the hooky melodies. The absent lover being sung to in '2 Cool 2 Care', the exhaustion of 'With You Every Day' or even the grim, paranoid tale of scoring drugs in 'Asking 4 A Friend' sometimes feel overshadowed by the radio-friendly sonics. Though the deceptively complex pop of QUIT THE CURSE marks the debut of Anna Burch, it's anything but the green first steps of a fledgling new artist. "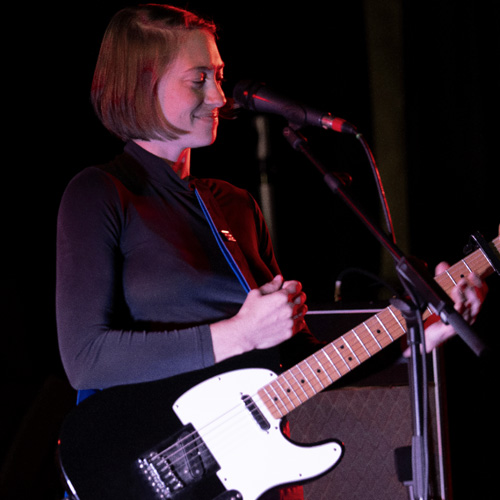 Growing up in Michigan, her fixation with music transitioned from a childhood of Disney and Carole King sing-alongs to more typically angsty teenage years spent covering Bright Eyes and Fiona Apple at open mic nights. "To me this album marks the end of an era of uncertainty. Writing songs about my emotional struggles helped me to work through some negative patterns in my personal life, while giving me the sense of creative agency I'd been searching for." Emerging from years spent as a supporting player, QUIT THE CURSE represents a liberation from feeling like Burch's own song-writing voice was just out of reach.
Review
It's been pretty miserable over the last few months with the dire political debate and impending disaster of Brexit, Trump, rising violent crime, environmental damage, Russia and so much more. Now it's rare for me to cover a live show just a couple of miles from my home in Chester, and by an artist who is totally new to me. I love discovering good new music and artists so maybe things are looking up (at last) if at least for just one balmy summer night. The venue is a beautiful, bijou church now converted very sympathetically to a performance space which maintains the church's stained glass windows, stone mullions and much more. It's a lovely venue whose acoustics are more than satisfactory and tonight it's pretty full of quite lively Chester residents, who are so starved of class live popular music.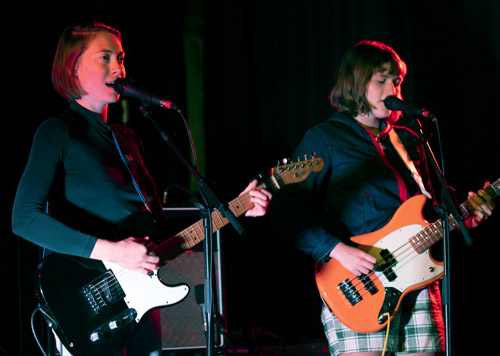 While in London Burch gathered together an English band consisting of a drummer, bass guitarist/backing vocal, and rhythm guitarist/backing vocal. There's a tangible sense of anticipation as the players wander towards their play-ready instruments, with Burch arriving last from the wings. She looks tentative but as the gentle and slow introduction 'Yeah You Know' is sung she seems to look right at home. I confess that I am not the debut album's biggest fan but live the songs take on a more interesting character and Burch's voice sounds less child-like. At its completion Burch introduces herself and thanks the people of Chester for turning up - she seems genuinely grateful.
'Quit The Curse' is the debut album's contemplative title track which comes with a stronger melody and radio-friendly choruses. I like Burch's performance style which is modest and quite seductive with her furtive glances to the audience and her band members. Then arrived one of my best moments of the night with the rendition of '2 Cool To Care' which majors on melody, catchy choruses and pleasant harmonies - this one deserves radio airplay. 'With You Every Day' introduces a welcome rockier element to songs which so far has sounded very similar. With most songs there's an introduction including the nostalgia of 'Belle Isle' which describes a place where Burch used to go swimming (she even asks the audience if there's anywhere in Chester where her team can go for a swim).
The upbeat 'Tea-Soaked Letter' is another rockier interlude and signals the end of what has been an enjoyable and relaxing set. The audience genuinely demand an encore which Burch duly obliges with a solo (which he band has not rehearsed) and for me is the performance of the night. In fact I began to wonder why she needed a band at all going on the vibe and quality of this emotional solo effort.
Burch had played every song from the debut album (released in January 2018) in a style that is uniquely hers - innocent, young - although I would gently comment that some of the rather harder subject matter could translate more accurately with darker musical arrangements. However, in these dangerous and uncertain times, Burch provided welcome respite for forty minutes.
SETLIST
Yeah You Know
Quit The Curse
2 Cool To Care
Asking 4 A Friend
With You Every Day
Belle Isle
What I Want
Tea-Soaked Letter
In Your Dreams