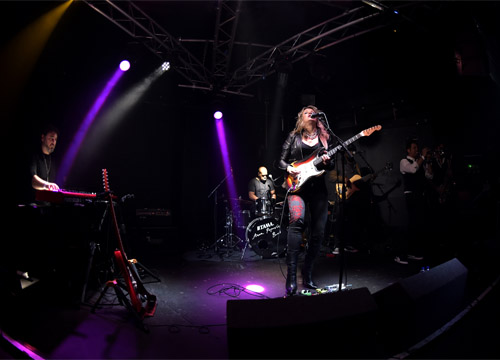 Ana Popovic Band
Band
Ana Popovic - guitars, vocals
Michele Papadia - keyboards,
Claudio Giovagnoli - sax
Davide Ghidoni - trumpet
Buthel Burns - bass
Cedric Goodman - drums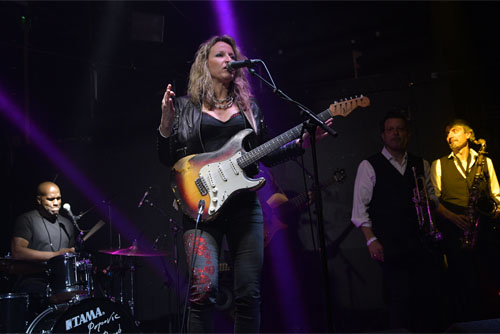 Equipment
Fender
1964 all original Stratocaster
Custom Shop 1960 Relic Stratocaster
Reissue 1957 Stratocaster
1971 Telecaster
D'Angelico Guitars
Hollowbody
Ovation Guitars
12-String Custom Legend
Jim Dunlop guitar products
slides, picks and electronics
DR Strings
Popovic is exclusively using Hand Made DR strings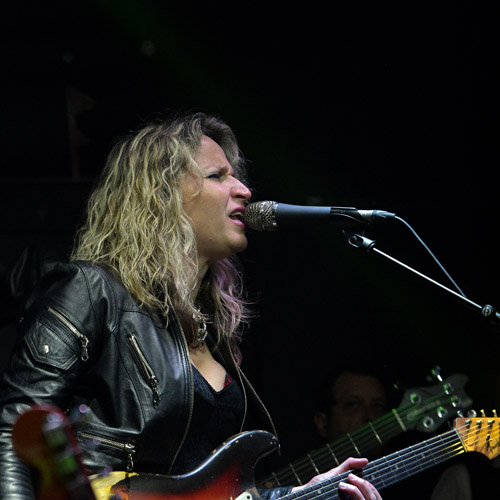 For some unknown reason the city of Chester and surrounds has always been a centre for regional blues music, so it should not have been a surprise that the city's primary live venue, The Live Rooms, was sold-out for this event. It's also gratifying to know that non-mainstream, radio-friendly artists can still enjoy healthy patronage. Popovic is an interesting musician who originated in Eastern Europe and now lives in the home of blues, via the Netherlands. Great blues guitarists/singers/writers are few and far between but those that exist (on both sides of the pond) are exceptional talents with a real love for their craft and chosen genre, while enjoying the respect and admiration of their male counterparts.
The venue was packed as drummer, bass player, keyboardist, trumpet and sax players mounted the stage, followed shortly by Popovic with her beloved Fender guitar. I had earlier asked one of the band for a setlist but was informed that it didn't exist in written form while intimating that the songs were in Popovic's head, and therefore unknown to anybody else. Initially I felt that it didn't really matter to her band who had worked with her extensively and needed just the smallest clue to work out what to play. It all looked great but then there was a problem. Whoever had managed her sound had messed up badly. I was at the front of the audience but couldn't hear a single word she sang although her excellent guitar work was clearly seen and heard.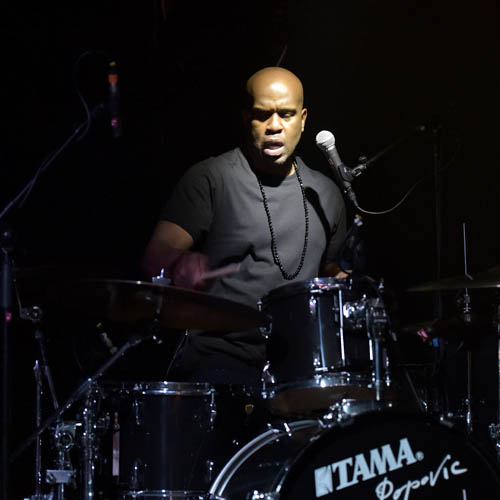 I have tried to establish the songs she sang but there is no record of previous setlists on the Internet (and no names for her fellow players). So trying to provide a precise critique was impossible. In the end her audience responses, her on-stage actions and guitar-playing were all I had to go on and I can only guess that it was a wonderful performance. I could establish that her rhythm section was something pretty special while her brass section added additional drama. Having read many album and a couple of live reviews I knew that I was witnessing a special artist at play, while the extensive tour gigs around the world (more than I've seen from any other artist - see below)  indicates an artist with live performance in her DNA. I just wish I could have heard more…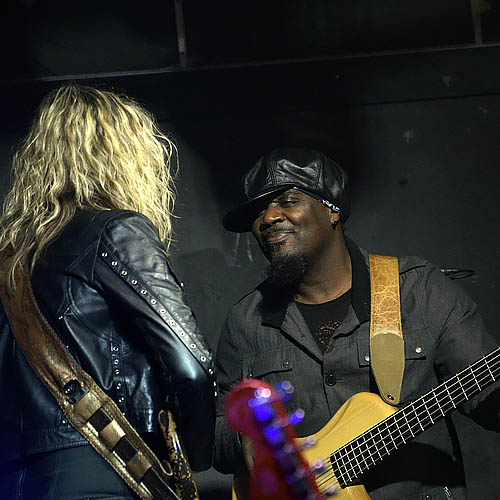 Biography
The award-winning, hard-touring, guitarist and singer Ana Popovic is back on the road promoting her new album LIKE IT ON TOP, that focuses on empowered, successful, inspiring female role models. Like It On Top opened #2 at the iTunes most downloaded US blues albums. The album peaked at #2 of the Billboard Top Selling blues albums chart. Recorded in Nashville, TN and produced by four-time Grammy winner Keb' Mo', the blues influenced album features guest appearances from Kenny Wayne Shepherd, Robben Ford and Keb' Mo'.
A trending theme in today's world is women overcoming obstacles and breaking through the glass ceilings to reach the top. LIKE IT ON TOP celebrates those that take initiative, develop, inspire and motivate. But it also credits the men who are motivated and enlightened enough to support women in their quest to be their best versions of themselves.
"I hope that my music inspires others to motivate ladies all over the world to be successful, energetic, empowered women on a mission, and to motivate men to give them that chance," Popovic says. "The majority of women need to work harder than men to prove themselves or need to cope with a feeling of constant pressure to never make a mistake and be perfect. I believe that women no longer only have the right to earn a living and to take care of themselves and their families. The time has come to step it up. Becoming the outstanding leaders of tomorrow. Corner-office ladies in business, politics, and the electric guitar!"
Moving West
Ana has been moving west all her life. She fell in love with American blues as a kid, starting back home in Belgrade, Serbia (ex-Yugoslavia), then moved to the Netherlands to study at the conservatory of jazz and world-music. She lived in Amsterdam for over ten years, and then in a single-minded pursuit of her art and career, she relocated to Memphis, TN to record and work with Southern musicians. Finally, two years ago, she moved her family to Los Angeles, California where she now lives.
Called "one helluva a guitar-player" by Bruce Springsteen and nominated for six Blues Music Awards, Ana has appeared on the covers of Vintage Guitar and Guitar Player magazine. Her albums CAN YOU STAND THE HEAT and UNCONDITIONAL were USA Today Picks-Of-The-Week and featured on NPR Weekend Edition, who praised her "Fiery technique on the Stratocaster." Nearly all of Ana's albums reached the top of the Billboard Blues Charts. She and her six-piece band have toured tirelessly, sharing stages with B.B. King, Buddy Guy, Jeff Beck, Joe Bonamassa and many others.