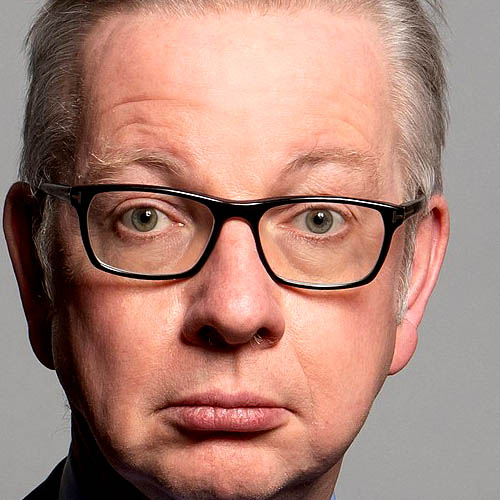 Michael Andrew Gove born Graeme Andrew Logan - Chancellor of the Duchy of Lancaster and Minister for the Cabinet Office
In 1997, Gove wrote in support of the restoration of hanging as capital punishment, which was abolished in the UK in 1965.
Gove proposed that the 2003 invasion of Iraq would bring peace and democracy both to Iraq and the wider Middle East. Tariq Ali once recalled how, at the time of the Iraq War, he "debated the ghastly Gove on television and found him worse than most Bush apologists in the United States."
Gove's proposal for a new Royal Yacht costing £60 million was made public in January 2012.
In May 2020, Gove was criticised after his wife Sarah Vine shared a bookcase picture "as a very special treat for my trolls" which featured a book by the Holocaust denier David Irving, and a copy of The Bell Curve, which controversially claims that intelligence is highly heritable and that median IQ varies among race
Gove's interview [of President Trump] and consequent defence of it has been seen by some as praising the President-elect unduly, and a photograph of Gove giving a "thumbs-up" to Trump was widely mocked on social media.
In a controversial article about the First World War centenary in January 2014, Gove criticised academic and television interpretations of World War I as "left-wing versions of the past designed to belittle Britain and its leaders."
During the Cameron–Clegg ministry, Gove was the subject of repeated criticism for alleged attempts to avoid the provisions of the Freedom of Information Act. Gove and his advisers believed they could avoid their correspondence being subject to Freedom of Information requests, as they believed that their private email accounts were not subject to the Freedom of Information Act.
Over a five-month period between December 2005 and April 2006, Michael Gove claimed more than £7,000 on a house bought with his wife Sarah Vine, a journalist, in 2002. Around a third of the money was spent at OKA, an upmarket interior design company established by Viscountess Astor, PM David Cameron's mother-in-law. Shortly afterwards he reportedly 'flipped' his designated second home, a property for which he claimed around £13,000 to cover stamp duty. Gove also claimed for a cot mattress, despite children's items being banned under updated Commons Rules. Gove said he would repay the claim for the cot mattress, but maintained that his other claims were "below the acceptable threshold costs for furniture" and that moving house was necessary "to effectively discharge my parliamentary duties."
Gove described his decision to campaign for Britain to leave the EU in the EU referendum as "the most difficult decision of my political life." He and his family spent Christmas with the Camerons at Chequers where, according to Craig Oliver, Cameron got the impression that Gove would support remaining in the EU. He argued Britain would be "freer, fairer and better off" for leaving. When in an interview it was claimed that there was no expert opinion to support this, Gove remarked that "the people of this country have had enough of experts from organisations with acronyms saying they know what is best and getting it consistently wrong." However, interviewer Faisal Islam interrupted Gove after the word "experts", causing some sources to report that he had made a general statement that "the people… have had enough of experts."
In December 2016 Gove repeated the controversial Vote Leave claim that an additional £350 million a week could be spent on the NHS when Britain left the EU but said it was up to the Government to decide how to spend it.
In his memoir For the Record David Cameron described Gove during this period as "mendacious", adding: "One quality shone through, disloyalty. Disloyalty to me and, later, disloyalty to Boris [Johnson]".
In the aftermath of the referendum, Gove was accused by Nick Clegg of being the source of a claim by The Sun that Queen Elizabeth II made comments supportive of Brexit in a private lunch at Windsor Castle. Clegg told a BBC documentary that Gove "obviously communicated it – well, I know he did". Gove declined to deny leaking the Queen's comments.
In September 2013, news that the DfE did not maintain a register of children's homes in the UK came to light as a result of an article Gove wrote for The Daily Telegraph. Gove asserted his prior ignorance and surprise that the department did not hold this information and claimed that "Ofsted was prevented by 'data protection' rules, 'child protection' concerns and other bewildering regulations from sharing that data with us, or even with the police."
Gove's claim was refuted the same day by the Information Commissioner, Sir Christopher Graham, who pointed out there was "nothing" in data protection legislation that prevents vulnerable young people from being properly protected in care homes. Graham noted that "this law covers information about people so it has no bearing on the disclosure of non-personal information like the location of care homes", and said he would be writing to both Gove and Sir Michael Wilshaw about the matter.
He remains on good terms with Rupert Murdoch, whom Gove described in evidence before the Leveson Inquiry as "one of the most impressive and significant figures of the last 50 years."
On 30 June 2016, Gove, who was campaign manager for Boris Johnson's leadership bid to become Prime Minister, withdrew his support on the morning that Johnson was due to declare, and announced his own candidacy in the leadership election.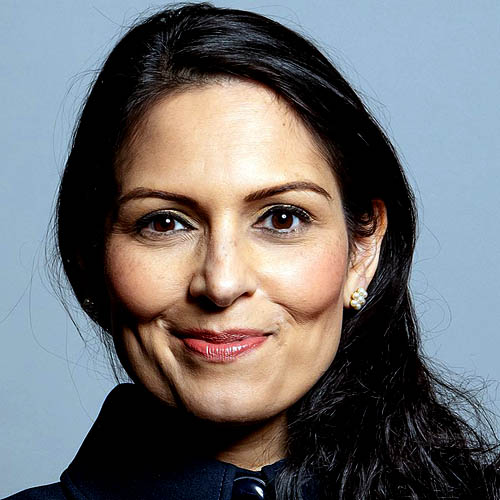 Priti Patel - Home Secretary
In 2000 Patel left the employment of the Conservative Party to work for Weber Shandwick, a PR consulting firm. According to an investigative article published by The Guardian in May 2015, Patel was one of seven Weber Shandwick employees who worked on British American Tobacco (BAT)—a major account. The team had been tasked with helping BAT manage the company's public image during the controversy around the Burma factory being used as source of funds by its military dictatorship and poor payment to factory workers. The crisis eventually ended with BAT pulling out of Burma in 2003. The article went on to quote BAT employees who felt that though a majority of Weber Shandwick employees were uncomfortable working with them, Patel's group was fairly relaxed. The article also quoted internal documents specifying that a part of Patel's job was also to lobby MEPs against EU tobacco regulations. She worked for Weber Shandwick for three years.
In October 2015 a junior employee at the Department for Work and Pensions was dismissed from her role. In response, the employee brought a formal complaint of bullying and harassment against the department, including Patel. In 2017 a settlement was reached for £25,000 after the member of staff threatened to bring a legal claim of bullying, harassment and discrimination on the grounds of race and disability against the department and Patel.
Following Cameron's announcement of a referendum on the UK's continuing membership of the European Union (EU), Patel was touted as a likely "poster girl" for the Vote Leave campaign. Patel said that the EU is "undemocratic and interferes too much in our daily lives". She publicly stated that immigration from elsewhere in the EU was overstretching the resources of UK schools. She helped to launch the Women for Britain campaign for anti-EU women; at their launch party, she compared their campaign with that of Emmeline Pankhurst and the Suffragettes, for which she was criticised by Emmeline's great-granddaughter Helen Pankhurst.
On 3 November 2017, the BBC's Diplomatic correspondent James Landale broke the news that Patel had held meetings in Israel in August 2017 without telling the Foreign Office. She was accompanied by Lord Polak, honorary president of Conservative Friends of Israel (CFI). The meetings, up to a dozen in number, took place while Patel was on a "private holiday". Patel met Yair Lapid, the leader of Israel's centrist Yesh Atid party, and reportedly made visits to several organisations where official departmental business was discussed. The BBC reported that "According to one source, at least one of the meetings was held at the suggestion of the Israeli ambassador to London. In contrast, British diplomats in Israel were not informed about Ms Patel's plans."
It was also reported that, following the meetings, Patel had recommended that the Department for International Development give international aid money to field hospitals run by the Israeli army in the Golan Heights. Although these hospitals have been described by the British Prime Minister's official spokesman as "provid[ing] medical support for Syrian refugees", Israeli officials have refused to identify who they treat in them, and whether they are regime forces, rebels or civilians. Western media reports suggest that Israel is aiding and funding Syrian opposition organisations in the Syrian civil war.
Patel faced calls to resign, with numerous political figures calling her actions a breach of the ministerial code, which states: "Ministers must ensure that no conflict arises, or could reasonably be perceived to arise, between their public duties and their private interests, financial or otherwise." Labour MP Jon Trickett said, "She met with the prime minister, and all sorts in Israel, with a lobbyist—I don't think it is good enough to apologise as I really think this is a serious breach of the ministerial code. The Prime Minister really should be sacking her, or at the very very minimum referring it to the Cabinet Office for investigation."
On 6 November, Patel was summoned to meet the Prime Minister Theresa May, who then said that Patel had been "reminded of her responsibilities" and announced plans for the ministerial code of conduct to be tightened. Patel released an apology for her actions, and corrected her remarks to The Guardian, which she said gave the false impression that the Foreign Secretary knew about the trip before it happened, and that the only meetings she had had were those then in the public domain. According to Downing Street, May learned of the meetings when the BBC broke the story on 3 November. When May hosted Netanyahu the previous day for the Balfour Declaration centenary, she was not aware that her minister had had meetings with him in August.
In the days after Patel's meeting with the Prime Minister and public apology, there were further revelations about her contacts with Israel, including details of two more undisclosed meetings with Israeli officials in Westminster and New York in September 2017, that Patel had not disclosed when she met the Prime Minister on 6th. As a result of these further revelations Patel was summoned to Downing Street once more on 8 November, where she met with the Prime Minister and subsequently resigned from her cabinet position, after 16 months in the post. She was replaced by pro-Brexit MP Penny Mordaunt the following day.