But what is it about her voice and performances that makes so special? For me, the theatrical and expressive delivery of songs are no doubt important components, but above all it is her vocal phrasing and tone that so accurately reflect the music's messages, mood and feeling that makes her so special. On seeing her Back To Brooklyn show from 2012 the power and fluidity of her voice also became clear. But something else also struck me during the performance: her voice seems to have become even smoother and more effortless, her transition from lower to higher octaves and progression to crescendos are totally seamless and natural. Streisand, like a fine wine, has matured to the finest vintage. During this performance her son Jason proved that he has his mother's artistic genes when he sang with his mother in a distinctly jazzy vocal style.
I understand that she can be difficult. She demands complete control - direction, writing, lighting, camerawork, hairdressing. She costs a fortune. Working with her can be hell. She's a perfectionist, without respect for feelings and reputations. During her Brooklyn concert she informed the audience that during the 1967 Concert In The Park she forgot the lyrics of a song. As a result she stopped concert performances for 27 years (her next performance was in 1994). For films she has won an Oscar, for television the Emmy, for records the Grammy, for theatre the Tony. And only one person has ever won them all: Barbra Streisand. By the age of 27!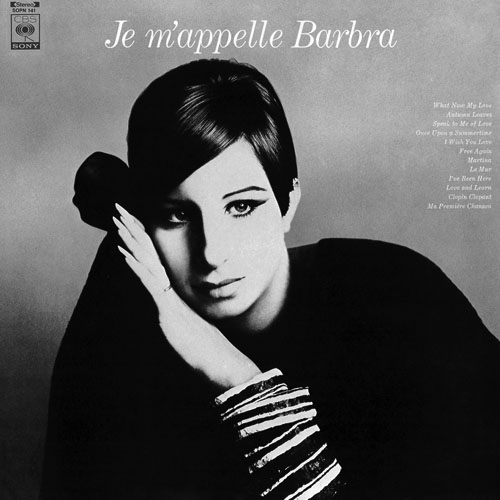 My favourite record? JE M'APPELLE BARBRA. Produced by Ettore Stratta, arranged and conducted by Michel Legrand, Streisand sings major French songs which are handled with affection, care and respect. Most of the songs are classics and include 'Free Again' (where her theatrical and vocal delivery, for me, sum up her unique talent), 'Autumn Leaves', 'What Now My Love', 'Ma Premiere Chanson', 'Clopin Clopant', 'Le Mur' (if I was to pick a favourite song from the record it would be this - 2 versions in French and English - which was originally written for Edith Piaf who died before she could sing it), 'I Wish You Love', 'Speak To Me Of Love', 'Love And Learn', 'Once Upon A Summertime', Martina, and 'I've Been Here' ('Le Mur' in English). Writers include Jean Lenoir, Charles Trenet, Gilbert Becaud, and Michel Legrand.
I'll finish this homage with Streisand's own words on the cover of her 1969 LP, WHAT ABOUT TODAY:
"This album is dedicated to the young people who push against indifference, shout down mediocrity, demand a better future, and who write and sing the songs of today. With my deepest admiration, Barbra Streisand."
https://barbrastreisand.com/home/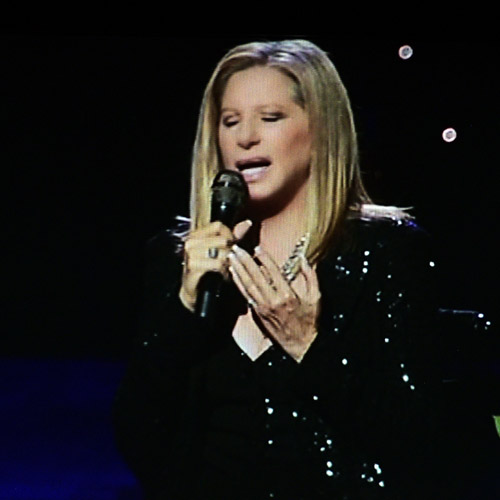 Biography
Actress/singer/director/writer/composer/producer/designer/author/photographer/activist Barbra Streisand is the only artist ever to receive Oscar, Tony, Emmy, Grammy, Directors Guild of America, Golden Globe, National Medal of Arts and Peabody Awards and France's Légion d'Honneur as well as the American Film Institute's Lifetime Achievement Award. She is also the first female film director to receive the Kennedy Center Honors.  In 2015, President Barack Obama presented her with the highest civilian honor the United States bestows, the Presidential Medal of Freedom.
She won Oscars for both Best Actress (Funny Girl) and Best Original Song (for her composition of 'Evergreen' which has since become a standard.) She was also nominated for Best Actress for The Way We Were. The three films she directed received 14 Oscar nominations and 13 Golden Globe nominations. Her recordings have earned her 10 Grammy Awards, including the Grammy Lifetime Achievement and Legend Awards.
She is the only recording artist or group to achieve #1 albums in 6 consecutive decades. She has a total of 11 #1 albums.  Her last two studio albums, the 2016 Grammy-nominated Encore: Movie Partners Sing Broadway and her Grammy-nominated 2014 Partners, entered the Billboard 200 at No. 1. She holds the record for the longest span of #1 albums in history – over 52 years.
Billboard Magazine sums up Streisand's recording achievements as follows:
"BARBRA STREISAND MAKES HISTORY WITH PARTNERS" – Ms. Streisand is the best-selling female recording artist in history. She is the only woman to make the All-Time Top 10 Best Selling Artists list. She first landed at the top of the chart in October 1964 with her People album.
With the Grammy-nominated Encore: Movie Partners Sing Broadway having become Ms. Streisand's 34th album to enter the Top 10 on the US charts, Streisand has moved from a tie with Frank Sinata into sole possession of the number two spot in that category. Only the Rolling Stones are ahead of her. With 11 #1 albums and 34 Top 10 placements, Streisand has now widened her lead over all female artists in those significant Billboard chart categories .  Billboard also notes her 11 #1 Albums now tie her at 3rd with Bruce Springsteen. They are preceded only by The Beatles with 19 and Jay Z with 13.  Moreover, with Partners increasing her number of Top 10 albums, she is tied with Frank Sinatra in that category, with only The Rolling Stones ahead.
Within the first few months of its release, Partners sold over one million CDs, becoming her 52nd Gold Record and 31st Platinum, widening her lead over all other female artists. In addition, she has recorded 13 multi-platinum albums. In the sixth decade of her career, Barbra Streisand maintains her unfailing popularity and relevance.  Her successful 2016 concert tour, The Music… The Mem'ries… The Magic! broke all box office attendance records and resulted in the global success of her Netflix concert special.
Barbra Streisand's civil rights activism and philanthropic pursuits are just as impressive as her album sale statistics. THE STREISAND FOUNDATION has given millions of dollars in grants to over 2100 non-profit organizations. She has donated many millions more from her live performances.
Barbra Streisand's career has been paved with bold, creative achievements and highlighted by a series of firsts:
For her first motion picture, Funny Girl, she won the 1968 Academy Award for Best Actress, the first of two Oscars. With 1983's Yentl, her first film as a director, she became the first woman to produce, direct, write and star in a major motion picture. Yentl earned 5 Oscar nominations and also earned her Golden Globes for both Best Director and Best Picture.
The Prince of Tides, her next directorial feature in 1991, was the first motion picture directed by its female star to ever receive a Best Director nomination from the Directors Guild of America as well as 7 Academy Award nominations. Streisand also produced the heralded drama. In 1994, she was the first woman to win the DGA award (Best Director Music/Variety Television Program) for her television special, Barbra Streisand: The Concert, which she co-directed with Dwight Hemion.
For her very first Broadway appearance in I Can Get It For You Wholesale, she won the New York Drama Critics Award and received a Tony nomination. For her very first solo recording, The Barbra Streisand Album, she won two 1963 Grammy Awards. One for Best Female Vocal Performance and for Album of the Year. At the time, she was the youngest artist to win that award. For 'Evergreen', the love theme from her 1976 hit film, A Star Is Born, she became the first female composer to win a Best Song Academy Award.  She was nominated again in 1997 as co-composer of 'I Finally Found Someone', based on her love theme for her 1996 film The Mirror Has Two Faces, which she directed, produced and starred. The film was nominated for two Oscars, and co-star Lauren Bacall won the Golden Globe for Best Supporting Actress.
She is the recipient of 5 personal Emmy Awards. Her first television special, My Name Is Barbra (1965), received 5 Emmy Awards, including one for her Best Performance, as well as the distinguished Peabody Award, the first of two. This achievement was repeated 30 years later with Barbra: The Concert, which won 2 additional Emmy Awards for Ms. Streisand, among the 5 for the production. That show was also accorded the Peabody Award, the Directors Guild of America Award and three CableACE Awards. It became the highest-rated musical event in HBO's history. Her 2001 television concert special, Timeless. Live in Concert, also co-directed by its star, won 4 more Emmys, including one for Ms. Streisand's performance. She is also a 2001 Emmy recipient for her Barwood Films' documentary on pioneering women directors in the early decades of motion pictures, Reel Models: The First Women of Film.
DVD releases of her concerts have achieved notable recent firsts. In 2009 her three-disc offering, Barbra Streisand – The Concerts, held the #1 position on the Billboard's Music DVD charts for 3 weeks. A year later, One Night Only, capturing her heralded performance at the Village Vanguard before an audience of 100 lottery-picked fans and some of her notable friends, opened at #1 as well. Her sold out 2012 10-city North American concert tour garnered unmatched critical acclaim.