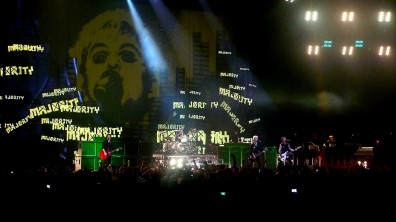 2009, WHAT A YEAR!
At the moment Big Ben rings out at midnight at the start of every New Year, I close my eyes tight-shut wishing and hoping for a year of great record releases and live shows. To say that 2009 has delivered is frankly a dramatic understatement! It's been the best album release year in my memory, and a groundbreaking year for Shakenstir.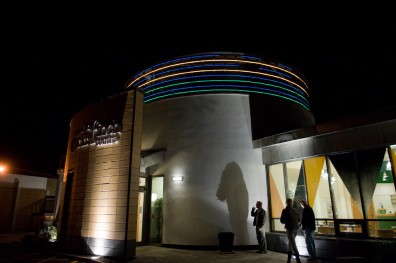 2009 saw the start of our weekly four-hour live, presented FM and Internet radio broadcasts, and to coincide with it I prayed for a truckload of albums good enough to play, week-in, week-out. My prayers were answered literally from day one, with the quality and diversity of music released during the year nothing short of extraordinary. The vast majority of what we've played has been album tracks (rather than singles) taken from what we deemed the best releases. Often we have played several tracks from an album, and on one occasion played ALL the tracks from an album… We've also presented some very special shows, including the 3-hour Jeff Buckley tribute to mark Sony's release of GRACE AROUND THE WORLD - effectively a 3-disc of GRACE LIVE with amazing documentary and live footage. The shows featured both signed and unsigned acts with just one single, key criteria for playlisting - music quality. In addition we featured artists talking about their albums, interspersed with their songs. With our website 'under new technical and design management' our scope for content has widened beyond our wildest dreams and attracted support from the USA, and Eastern Europe with releases that we have played and been heard in those source countries. The crowning glory for us in 2009 was our first 'Shakenstir CFC Sessions', our first live session at a new and magical studio theatre right here in Wrexham on the university campus. And rather appropriately it was Wales' own Mike Peters of The Alarm that started the ball rolling. His performance of '21 SONGS' - his new album release that features tracks taken from every one of his 21 years in the business. The show was recorded and filmed with the audio recording played out on all major Welsh Community Radio Stations attracting an audience conservatively estimated at 150,000.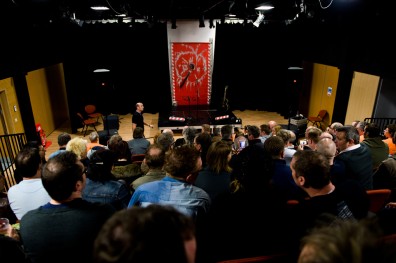 Shakenstir eats and drinks great music, and not the massive hype that follows some artists like an obedient dog. We recently attended an AIM (Association of Independent Music - constituted by all the UK's major and minor Independent Record Labels) function in London. During the open mic session we had just 2 minutes to introduce ourselves. I held up a CD and in no uncertain terms said that it was where we started and finished, regardless of hype. With all the major radio stations and print magazines present, we were the ones approached most by small labels and unsigned artists desperate to be heard. We drove back to North Wales in the early hours with a ton of new music, the best of which was played the following Sunday on our radio show. It's moments like these that make what we do worthwhile, and so very rewarding.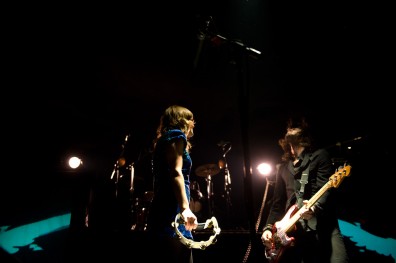 One of the first truly great recordings we received in 2009 was by USA band The Airborne Toxic Event. It blew us away and it was one of the first albums featured on our radio shows, following our most favourable review. But it took another ten months to witness the band perform live (we always follow up good album reviews with live coverage) at the Ritz in Manchester. In short, TATE gave us one of our best albums of the year, and one of the best live performance. My associate JJ went through exactly the same process with Green Day's 21st CENTURY album, and witnessed what he rated one of the best live performances - ever (and believe me he's seen history's greatest rock 'n' rollers in live action!).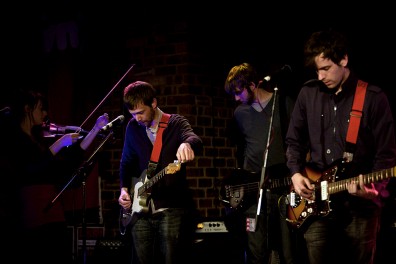 Other great shows came from My Latest Novel, Metallica, The Low Anthem, Soil, Shinedown, Wallis Bird, Rodrigo Y Gabriela, Muse, Hjaltalin, The Maccabees, The Enemy, The Answer, Airbourne, Elbow, Simple Minds, BB King, The Portico Quartet, The Tragically Hip, Juliette Lewis, Black Stone Cherry, Metric, Mumford & Sons, The Hours, Delta Spirit, Thursday, Hjaltalin, Elbow, The Acorn, Lost Prophets, Parlor Mob, Rise Against, The Low Anthem, Bloc Party, The All-American Rejects, Catrin Finch & Cimarron, The Used, The Chapman Family, Soft Toy Emergency, Twisted Wheel, The Grammatics, The Alarm, Portico Quartet, The Tragically Hip and Enter Shikari - quite a list!
It's music that dominates everything we do and so it's where our review of 2009 starts. And what a year it's been! In fact it's been so good that we've had to leave our Best-Of 2009 lists to the very last minute to ensure that no stone is left unturned, with albums and live performances still surfacing well into December. It's also the longest list of great records we have ever produced…
THE BEST ALBUMS OF 2009, EDITOR'S CHOICE - A CELEBRATION
I've been in and around music for more years than I can remember, and I've heard music which has stunned me, but 2009 will go down as the year of all years for record releases. The diversity, writing quality, production and performances have generally been outstanding - truly, the best year ever. There are so many in my 2009 list that to provide a brief summary for each is virtually impossible, however, there are some notable releases that require explanation.
My Latest Novel DEATHS AND ENTRANCES is my album of the year as it meets every one of my criteria, in addition to being an emotional rollercoaster. But it also illustrates what is so wrong about the UK's music industry, particularly in the area of broadcasting. As far as I know, we are the only non-Scottish radio show that's played this brilliant record, and that is unforgivable. The same applies to my second selection, The Airborne Toxic Event's eponymous record, and the third by Rachael Yamagata (like The Antlers HOSPICE, this describes the loss of a loved one but in much clearer and more emotional terms), and I could go on down this list… John Blum, freestyle jazz pianist virtuoso supreme, has two albums in my selections, and from someone struggling to make a full-time living out of his life's passion, his music moved me beyond words. Glen Hansard and Marketa Irglova (The Swell Season) could have painted a second album by numbers to exploit their Oscar success, but instead created, along with the Frames band members, one of Hansard's best ever records. Another Irish act, Wallis Bird, blew me away with her virtuosity and spirit, while Eileen Rose retreated to her native USA and produced her finest record yet. Praise must also go to Sony and Susan Boyle for creating, arguably, the most beautiful album of the year.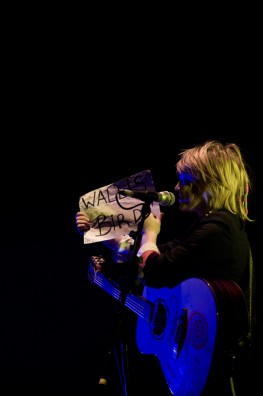 Shinedown produced the best record of their career, Green Day go from strength to strength while British Indie rock bands had their best year ever with The Enemy, The Maccabees, and Elliot Minor producing their best work yet. But there are also new UK bands that produced stunning debut records, including Serpico, Telegraphs, Phantom Limb, The Gilded Palace Of Sin, The Lea Shores, and Absent Elk. Then back to Ireland and The Answer who have taken trad heavy rock to new heights, and Fight Like Apes who released one of the most flamboyant, riotous and rude rockers in 2009.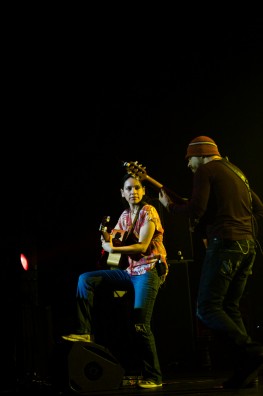 Instrumental albums from British group Portico Quartet and Mexican duo Rodrigo Y Gabriela, on record and live, proved supremely entertaining. Chad Smith's Bombastic Meatbats rock instrumental debut stunned me while singer/songwriters of virtually every genre excelled in 2009, especially in the pop genre (arguably for the first time in a long time). Moby returned in 2009 with a brilliant album that comes dangerously close to his classic PLAY, and in young blues singer/guitarist Davey Knowles the UK has found a new star (check out his interpretation of 'Hear Me Lord' and believe!). Synth rock/pop made a fabulous comeback with great records from Metric and The Year Yeah Yeahs, while Chris Cornell (somewhat controversially and riskily) worked with producer Timbaland and came up trumps.
Even the old timers like Seasick Steve, Nancy Griffith, Bob Dylan and Barbra Streisand released their best for several years, while Buble chose 2009 to release fabulous live and studio records (including an enlightening DVD). Juliette Lewis came back with her new band, a new label and a new record that is as eclectic as it is great.
I must also mention must three acts that independently sent me their records for review. pndc&housework are based in Serbia and Greece, and I frankly couldn't believe how good the album was, in fact so much so it ranked above everything else in the electronic genre I heard in 2009. Then there was Chris Hickey from the USA who set about writing and home-recording a song per day, and impressed me with his final product which was both simple and very effective. OSKAR hail from the UK and their second album LP:2 was one of the most moving I heard in 2009. Within Temptation, a Symphonic/Goth rock band from Holland who stepped up to the plate with a live acoustic interpretation of their songs, came away victorious, and threw in one of my favourite singles of the year in the process ('Utopia'). Béla Fleck came back from Africa with musical gold and Steve Martin (the actor and comedian) produced our first DELIGHT & SURPRISE album of the year with his album of five-string banjo songs, THE CROW. There were also a number of high quality EPs released by brand new artists as well as established ones. For the first time we have selected the Best EPs of the Year, and Carina Round heads the list with some of her best ever songs.
Is the fact that individual songs can be heard and downloaded which has driven acts to leave out the fillers and major on the killers? Whatever the reason it's been an extraordinary year. So here's my (long) eclectic best-of list for 2009, made up of records that made my reviewing year very special indeed.