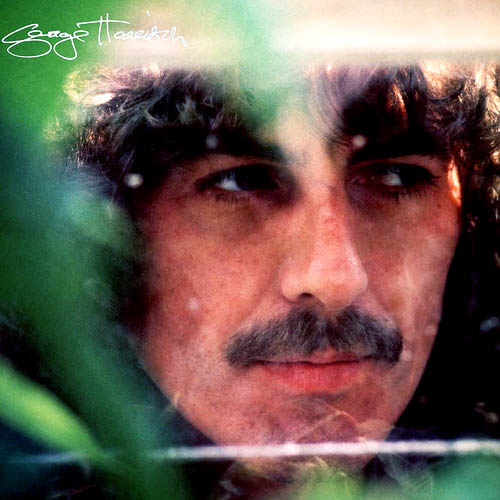 The ALL THINGS MUST PASS sessions began just six weeks after the April 1970 announcement of The Beatles' break-up. Two days were spent recording thirty demos in Studio Three at EMI Studios, Abbey Road in St. John's Wood, London. The first day, May 26, saw Harrison record fifteen songs backed by Ringo Starr and his long-time friend, bassist Klaus Voormann, beginning with 'All Things Must Pass.' The next day, May 27, George played an additional fifteen songs for co-producer Phil Spector. The All Things Must Pass Uber and Super Deluxe Editions collect all 30 of these remarkable demo recordings, including 26 tracks never before officially released and several songs that didn't make the album like 'Cosmic Empire,' 'Going Down To Golders Green,' 'Dehra Dun,' 'Sour Milk Sea,' and 'Mother Divine.'
The scope of Harrison's song-writing remains breathtaking - his deeply personal introspection and striking wit are matched by the album's boldly extravagant production. With its densely orchestrated textures and eclectic embrace of myriad genres, Harrison and Phil Spector's groundbreaking sonic approach set a grand blueprint for countless artists to follow.
George had been stockpiling material for nearly half a decade, with a number of songs - including 'Isn't It A Pity' and the title track - rehearsed with, but not recorded by, The Beatles. Further songs evinced Harrison's growing frustration over those preceding years, including 'Wah-Wah,' the dramatic 'Beware of Darkness,' and 'Run Of The Mill,' the latter named by both George and Olivia Harrison as one of their all-time favourites.
Written by George while producing Billy Preston's 1969 Apple Records solo debut but saved for his own album a year later, the glorious 'What Is Life' highlights the artist at his most exultant. At the album's heart were songs like 'My Sweet Lord,' 'Awaiting On You All' and the impassioned 'Hear Me Lord', each of which epitomised Harrison's lifelong inner journey.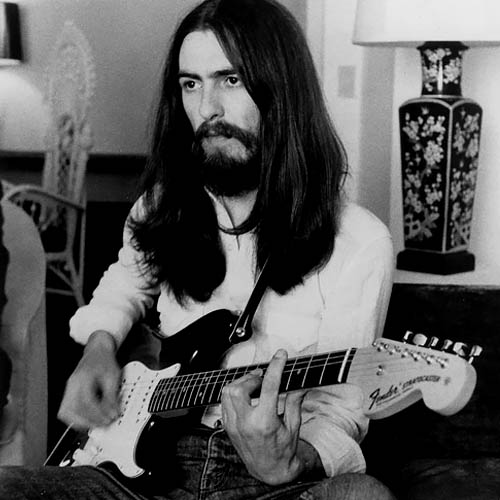 An anthem weaving a chant of the Hare Krishna mantra and "hallelujah," 'My Sweet Lord' proved a worldwide smash upon its November 1970 single release, making history as the first solo single by a former Beatle to reach #1 in the UK or the US. Inducted into the GRAMMY Hall of Fame in 2014, the indelible anthem of spiritual and religious unity has remained one of the world's most beloved songs, named among the "Greatest Songs of All Time" by both Rolling Stone and NME. Last year saw a limited edition clear vinyl 7″ of 'My Sweet Lord' released by the George Harrison Estate in partnership with Record Store Day's Black Friday event on November 27, 2020 - the official 50th anniversary of ALL THINGS MUST PASS original release.
Harrison's close friendship with Bob Dylan begot two songs: the album-opening 'I'd Have You Anytime' was co-written with Dylan, while the classic 'If Not For You' was at the time an unreleased Dylan composition. The ALL THINGS MUST PASS Super Deluxe Edition includes previously unreleased demo recordings of both songs as well as 'Nowhere To Go' and 'I Don't Want To Do It,' another original Dylan song later recorded by George for a 1985 soundtrack but remains unrecorded by Dylan himself.
George brought together a stunning roster of friends and fellow musicians to record ALL THINGS MUST PASS, including Ringo Starr, Klaus Voormann, and Billy Preston, along with Eric Clapton and his new American bandmates, Carl Radle, Bobby Whitlock, and Jim Gordon (soon to be known collectively as Derek and the Dominoes). Badfinger's Pete Ham, Tom Evans, Joey Molland, and Mike Gibbons contributed additional acoustics and percussion. Phil Spector's desire for multiple pianos, layers of acoustic guitars, and more drums saw the addition of Peter Frampton and Jerry Shirley from Humble Pie, Spooky Tooth's Gary Wright, Plastic Ono Band veteran and future Yes drummer Alan White, Traffic's Dave Mason, Procol Harum's Gary Brooker, and the in-demand horn section of Bobby Keys and Jim Price. Pete Drake, legendary Nashville session musician provided pedal steel guitar on several tracks. Arrangements for strings and horns came from long-time collaborator John Barham.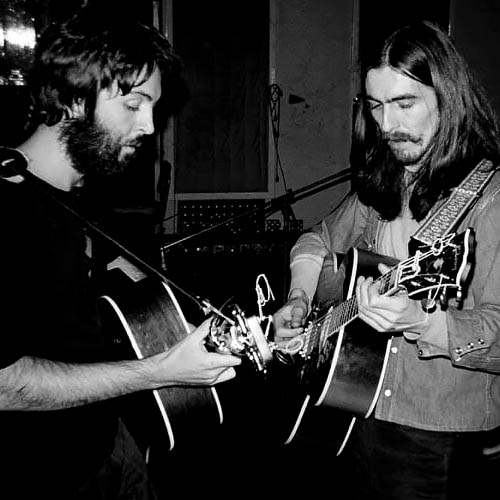 The original release of ALL THINGS MUST PASS collected 18 songs over two LPs alongside a third LP - dubbed 'Apple Jam' - showcasing four improvised instrumentals including a pair recorded as part of Derek and the Dominoes' first-ever official recording session in June 1970. In addition, the 'Apple Jam' disc includes 'It's Johnny's Birthday,' sung to the tune of Cliff Richard's 1968 hit 'Congratulations' and recorded as a gift from Harrison to mark John Lennon's 30th birthday.
The ALL THINGS MUST PASS session tapes created in 1970 include over twenty-five hours of music on forty-nine 1″ eight-track tapes, four 2″ sixteen-track tapes, and forty-four ¼" stereo tapes. Richard Radford, Archivist for the George Harrison Estate oversaw the preservation of the tape collection, with the original analogue multi-track and stereo tapes transferred to 192 KHz/24bit digital preservation copies.
Hailed by Rolling Stone as "the War and Peace of rock and roll" and "an intensely personal statement and a grandiose gesture," ALL THINGS MUST PASS was met with unanimous critical acclaim and spectacular commercial success, spending seven weeks at #1 on Billboard's "Top LPs" chart and eight weeks atop the UK's official albums chart (though chart records until 2006 mistakenly stated that it had peaked at #4). Currently certified 6x platinum by the RIAA, All Things Must Pass later received a 1972 GRAMMY Award nomination for "Album of the Year," while 'My Sweet Lord' earned a GRAMMY nod for "Record of the Year." 'What Is Life', the album's second single, also became an international hit, reaching the top 10 in the US and Canada as well as #1 in Australia and Switzerland.