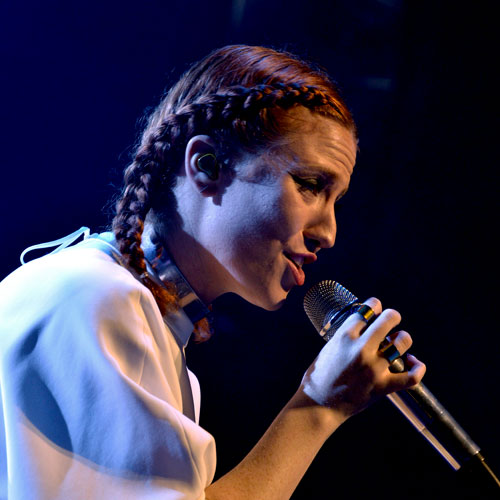 Apollo Manchester, 18 February 2016.
I don't listen/look to the largely musically-mediocre UK radio and TV. I don't buy and read advertiser-friendly music mags. I don't keep emails that invite me to listen to something BBC Radio or 6 Music is playing 24 hours a day and thinks is better than sliced bread (I delete immediately!). I don't listen to music on my computer when I can hear music at its full strength on my heavily-invested audio set up (if available, downloads are transferred to CDR).
I don't watch UK talent reality contests that are overblown, over-loud and judged by the least talented. But one Saturday evening I accidently wafted past the X Factor when a flame-haired and rather distinctly handesome young female performed alone on that massive stage. Her name was Jess Glynne and the song she most passionatly and skillfuly performed was the mature pop of 'Take Me Home'. Now you will understand why I would never have heard about this young lady were it not for this rather fortuitous slip of a button…
Some months later I received an email which gave the 2016 tour schedule of one Jess Glynne and, after weeks of trying to secure a review/photo pass, here I am at Manchester's iconic Apollo theatre. As I headed for the car park it was pretty obvious that this was a sellout concert judging by the length of the snaking line of punters at each side of the venue. The nature of audiences tells you a lot about the performer's appeal - or should do. Tonight's 5,000 plus crowd seemed to be made up of around 70%-80% young females with the only males being the security staff (OK, there were a few more males but really not that many).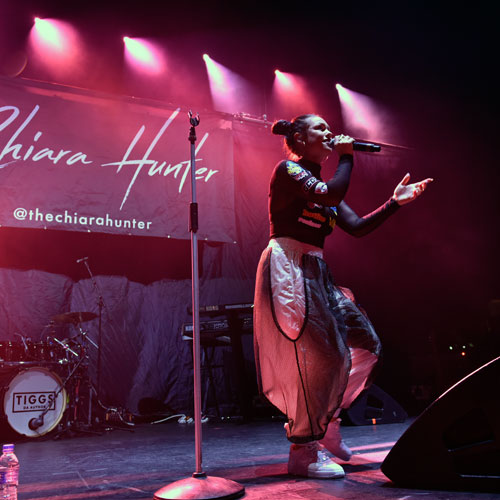 Glynne had two support acts, the first of which is a young ali baba-dressed lady who I did not know (no mystery there then…). Her name is Chiara Hunter who I now understand is an Aussie now bunkered in London. She actually looked a lot older than her 23 years while she valiantly performed alone to a backing tape. She reminded me of one of those fame-seeking reality contestants although I have to admit that she did possess a reasonably good voice. The crowd likee this electro-dance diva which is really all that mattered I suppose.
SETLIST
Unshakeable
Little Girl
Strange Relationship
Tell Me
Hammer
War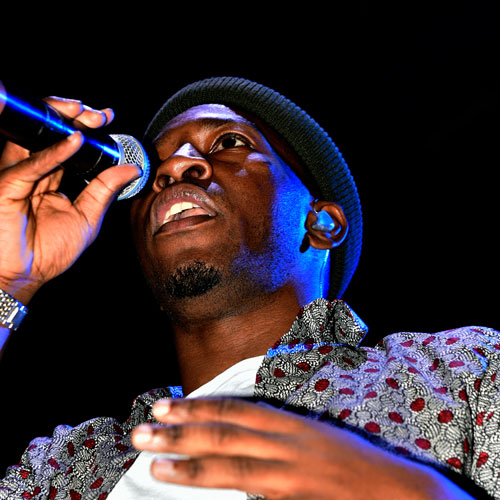 The second support was a tad more interesting and, wonder of wonders, I hadn't heard of him either, although with a name like Tiggs Da Author perhaps I should have done… That said his short set was impressive. Backed by some half decent musicians he gave a skilled and animated show that really woke the crowd out of their slumber. The songs were pretty good as well, however, he reminded me of several other UK rappers which I suppose is inevitable… No album yet from Tiggs but I got the feeling that it's not too far away. A great effort and I gotta say, very entertaining.
SETLIST
Run
Fragile
Uptown Funk
Georgia
Brand New