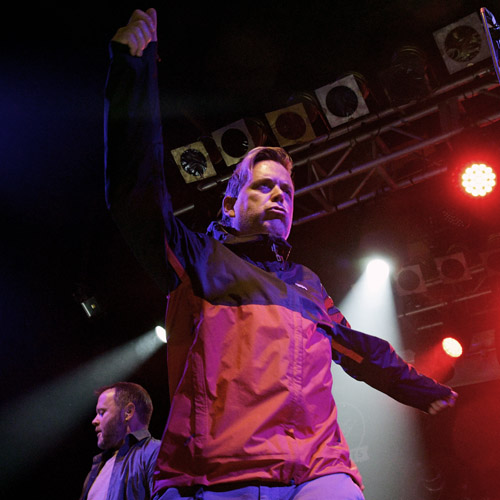 Area 11 is an English rock band from Nottingham, England. The band currently consists of four members; Thomas "Sparkles*" Clarke, Alex Parvis, Jonathan Kogan and Leo Taylor. To date, they have released a number of singles, three EPs, and two studio albums. The band's sound is heavy with minimal synthesizers and electronic effects that they call modern rock, however in their earlier records, Area 11's sound commonly blended heavy metal guitar riffs with a wider more prominent range of synthesizers and electronic effects, which they sometimes referred to as gaijin rock.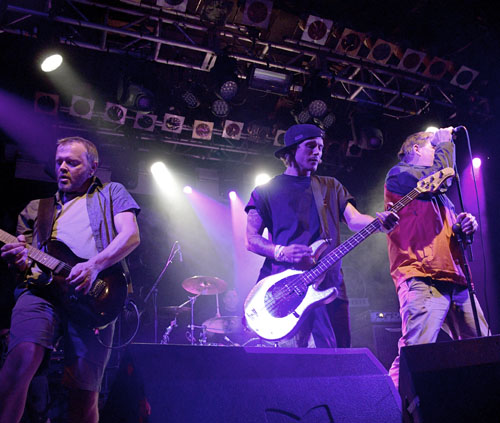 It was back to The Electric Ballroom for Area 11 to witness a great demonstration of alternative heavy rock spiced with several atmospheric keyboard effects. The Ballroom by now was really full with many fans for a band with several releases under their belt. The two songs I caught highlighted the lead-man's powerful voice and animated performance style. I wish I could have stayed longer but it was time to move on back to The Underworld for a vintage act…
Setlist
Dream & Reality, The Contract, All Your Friends, New Magiks, In the Blind, Versus, Everybody Gets A Piece, Red Queen, After the Flag, Heaven-Piercing Giga Drill.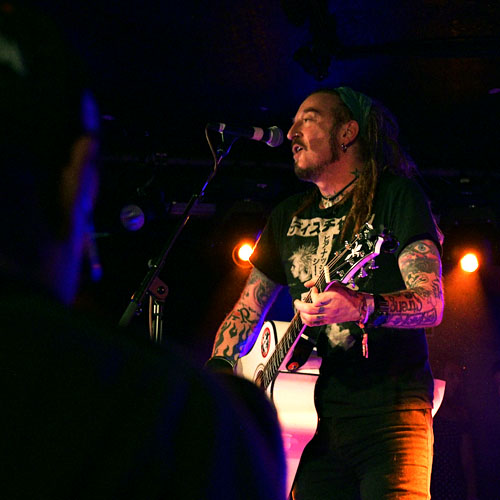 http://www.gingerwildheart.net/
Ginger Wildheart, sometimes known simply as Ginger, is an English rock guitarist, singer, and songwriter. He began his professional career as a guitarist in The Quireboys, but is best known as the founder and leader of The Wildhearts. In addition, he has released numerous solo albums and has been involved in many other musical projects. In early 2001, during The Wildhearts' first disbandment, Ginger proposed a series of CD singles with three tracks each, to be released each month for one year. Known as The Singles Club, this project included the first material released under the name Ginger and operated parallel to the Silver Ginger 5 project and a reformation of The Wildhearts. Due to financial problems at Infernal Records, only 18 tracks were recorded, and only five singles were released. A compilation of all 18 tracks was released in 2005 as the double album A Break In The Weather. Ginger also performed regular acoustic shows during this period, resulting in the live acoustic albums The Great White Monkey (2004) and Potatoes & You (2005). In addition Ginger has participated in many side projects.
The Underworld was so packed with the guy's fans that it was impossible to get close to the stage. By the time he started his set I did manage to barge my way to a position where photos were possible - just! Ginger performed well interspersed with stories about his extensive musical history. He was backed by a couple of backing singers, guitarist and percussionist. The crush though made this performance hard to enjoy and the distinct feeling that I was not welcome encouraged me to leave after just sooner than later…
Setlist
Dislocated (The Wildhearts song), Let 'Em Go (The Wildhearts song) (with Frank Turner), The Renaissance Men (The Wildhearts song), Fine Art of Deception (The Wildhearts song), Diagnosis (The Wildhearts song), My Kinda Movie (The Wildhearts song), Little Flower (The Wildhearts song) (with Tom Spencer), Emergency (Fentanyl Babylon) (The Wildhearts song), My Side of the Bed (The Wildhearts song), Pilo Erection (The Wildhearts song).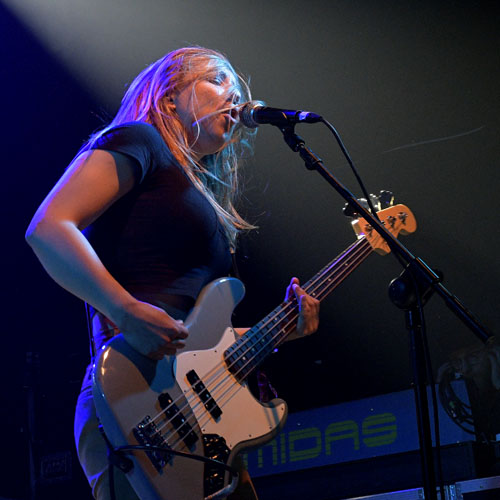 https://www.milkteethpunx.com/
Milk Teeth are a British punk band from Stroud, Gloucestershire, formed May 2013. The band consists of bassist and vocalist Becky Blomfield, guitarist Em Foster, and drummer Oli Holbrook. The band was signed to Hopeless Records in April 2015.
The band began producing music in early 2013, and released their first EP, Smiling Politely, independently in August 2013. After signing to Hopeless, the band released their second EP titled Sad Sack which was released in April 2015. On 5 January Josh Bannister left the band and was replaced by former Hindsights member Billy Hutton as touring guitarist. The band released its debut album, Vile Child, on 29 January 2016, through Hopeless. In April 2016 the band toured the US supporting Sorority Noise, Citizen (band) and Turnover. In 2017 the band signed to Roadrunner Records and announced a new EP called Be Nice which was released in July 2017, followed up by 'Go Away', another EP, released in November 2017.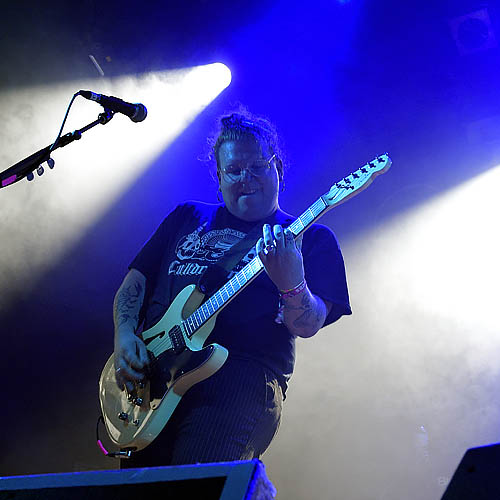 Back to the more user-friendly Ballroom and a band that impressed greatly. Milk Teeth boasted a dynamic lead-lady, Becky Blomfield, who also gave her bass guitar heaps. Clearly influenced by grunge and punk the band's music seemed to attract a very mixed age audience. Blomfield's performamce was inspiring as many of my photos showed, while the capacity audience response (including singalongs) showed that this band is going places. Thus far, my favourite gig of the festival.
Setlist
Vitamins, Brickwork, Prism, I Stabbed You First, Fight Skirt, Flowers, Swear Jar, Nearby Catfight, Lillian, Owning Your Okayness, Stain.