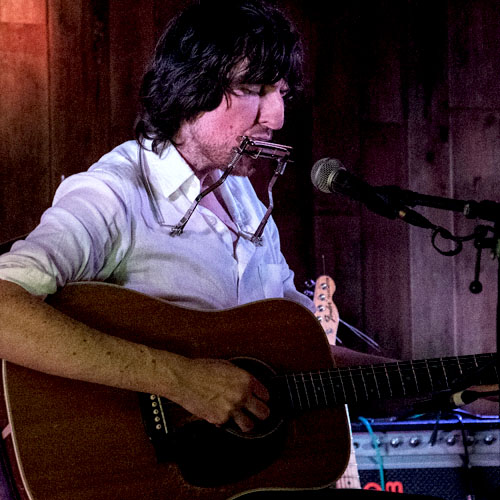 I wish I could be as complementary about the remaining players on the night…Blackwell sat in the middle of the stage and while he drew strong applause for his performance his voice and song lyrics were untintelligle. Part of the reason was his attempt to sing in a strong American accent which just didn't work for me. That said his performance style is expressive and passionate. But overall, a disappointing display.
Tom Blackwell Biography
Now Liverpool based, Tom Blackwell emerged from the folk clubs of South Manchester where he discovered the country, blues and gospel music that would become the foundations of his work. Between 2010-2011 a succession of home recorded demo collections garnered somewhat of a cult following in Manchester and North Wales. In 2012 the Viper Label of Liverpool (The Stairs, Edgar Jones) released a compilation of these songs under the T.G. Elias moniker which Blackwell formerly performed under. The record received support from BBC Radio 2 and 6 music.
After a tumultuous start to 2014, Blackwell found himself embarking upon a 3 month pilgrimage across America. Armed only with his guitar and the clothes on his back, he travelled thousands of miles over rail, and Greyhound bus before ultimately reaching Nashville where a chance meeting with sound engineer Matt Wyman led to the recording of Tyrone The Gun. The album found critical acclaim and was one of Country Music People's albums of the year in 2015.
A prolific writer with a visceral and dynamic performance style, Blackwell is currently working on an archival project to document the dozens of songs that had nearly been lost along the way. The 'Memphis Tapes' will be released across 2018 and 2019 with 10 volumes in total mooted to be in the pipeline.
https://www.blackwellsongs.com/
Feature artist John Murry was accompanied by a drummer and bass player but despite this I found his performance introverted and frankly boring. Each song seemed the same as the last while he too was plagued with sound that negated any comprehension of song lyrics (so important in his artistic make-up) and a muffled voice. Perhaps his tour had just tired him out but there was no connection or empathy with or for him, perhaps it's best to listen to studio recordings…Murry has received unanimous high praise from the music media but tonight I didn't feel or see it.
Setlist
When God Walks In, Perfume + Decay, Silver Or Lead, One Day ( You'll Die), I Refuse To Believe, Miss Magdalene, Defacing Sunday Bulletins, Wrong Man, Under A Darker Moon, The Ballad Of Pyjama Kid, Southern Sky.
Encore:
Oscar Wilde, What Jail Is Like, Waiting Around
John Murry Biography
John Murry is an American musician, singer/songwriter, composer and co-owner of Evangeline Recording Co..
His debut solo record, THE GRACELESS AGE, was issued on Evangeline Recording Co. in 2013 and listed by Uncut as one of the 10 best records of 2012. Mojo also included it in their 10 best albums of 2013; The Guardian included it in their Top 50 of 2013; and American Songwriter included it in their Top 5 of 2013. Murry has recorded and toured with Memphis singer/songwriter Bob Frank, whose 1979 Vanguard LP is now available via an agreement between Sony and Vanguard, allowing Light In The Attic to release it on vinyl, followed by a CD and digital release by Sony/Vanguard. Murry often writes and collaborates with San Francisco singer/songwriter Chuck Prophet.
He is from Tupelo, Mississippi, and currently lives in Kilkenny, Ireland. The follow-up to THE GRACELESS AGE, was recorded in Canada by Michael Timmins (Cowboy Junkies) and was released by TV Records in Europe under exclusive license from Latent Recordings on July 14, 2017 and in February 2018 in North America by Latent Recordings.
Murry's debut solo record, THE GRACELESS AGE, details his struggle with substance abuse. It was released in 2012 in the UK on Bucketfull of Brains, and in 2013 in the US and Australia on Evangeline Recording Co. and Spunk Records, respectively. It received critical acclaim from a number of magazines. It was featured in the September 2012 issue of Uncut; senior editor Allan Jones called it "a masterpiece" and gave it a 9/10 rating. Mojo gave the record a 5/5 star review, and The Guardian called it "a work of genius", also giving it 5/5 stars. NPR said the record's "deep rock 'n' roll is alluring, emotional and infectious," while American Songwriter said it was filled with songs about "drugs and near-death experiences" that had "standouts everywhere." Q magazine called it "Intensely beautiful… Like Father John Misty, Mark Lanegan and Josh T Pearson rolled into one really broken dream." The record featured a song called "Little Colored Balloons," chronicling Murry's near-overdose from heroin, the video for which was directed by Chuck Mobley and premiered on Billboard.
Shortly after the release of THE GRACELESS AGE, Murry's mentor Tim Mooney died suddenly and Murry eventually relocated to Ireland. A SHORT HISTORY OF DECAY was released in July 2017 on Michael Timmins label Latent Recordings in Canada and on TV Records Ltd in Europe. Produced by Michael Timmins and recorded over a period of 5 days in Toronto. A SHORT HISTORY OF DECAY features Michael's brother and fellow Cowboy Junkie Pete Timmins on Drums, Josh Finlayson on Bass (Skydiggers) and Backing Vocals by Cait O'Riordan (The Pogues, Elvis Costello). A SHORT HISTORY OF DECAY has again received widespread critical acclaim. With glowing in reviews in Mojo 4/5, Q Magazine 4/5, Uncut 8/10, The Sunday Times "Seer Of The Week', Hotpress 9/10 and The Quietus observing, "There is more than a touch of Cave's brooding darkness about Murry, whose rumbling voice and preoccupation with mortality place him in a genre somewhere between Mark Lanegan and Mark Linkous." A documentary about Murry's life (also called A SHORT HISTORY OF DECAY) is currently being made by film makers Paddy Hayes and Sarah Share, Director of 'If I Should Fall from Grace: The Shane MacGowan Story'.