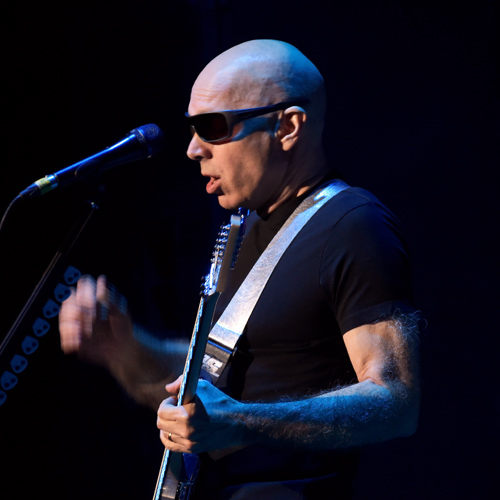 Joe Satriani (Ibanez JS Series guitars)
"Satriani is considered a highly technical guitarist, and has been referred to as a top guitar virtuoso. Satriani has mastered many performance techniques on electric guitar, including legato, two-handed tapping and arpeggio tapping, volume swells, harmonics and extreme whammy bar effects. During fast passages, Satriani favors a legato technique (achieved primarily through hammer-ons and pull-offs) that yields smooth and flowing runs. He is also adept at other speed-related techniques such as rapid alternate picking and sweep picking. Satriani was influenced by blues-rock guitar icons such as Jimi Hendrix, Brian May, Eric Clapton, Jimmy Page, Ritchie Blackmore and Jeff Beck, as well as jazz fusion guitarist Allan Holdsworth."
I've mentioned sound quality a few times, and especially in relation to a show which mainly featured instrumental performances that are so reliant on good sound which is hard to get right. Sound had improved incrementaly with the previous players until Satriani illustrated just how much of a difference great sound management can make.  And it was clear from the very first notes of new song 'Energy' (from his latest LP WHAT HAPPENS NEXT). Alongside Satriani were old friends Mike Keneally on guitar and keys, Bryan Beller on bass and Joe Travers on drums.
Drums feature strongly in 'Energy' providing a dynamic rhythmic foundation. Satriani's entrance is nothing short of spectacular in its sonic clarity and expressive playing. Right at the onset I was forced to make comparisons with the night's other featured guitarists and would summise that Satriani is up there with the best from any generation. Second song 'Catbot' (also from the new album) illustrates perfectly Satriani's lyrical playing and in song-writing terms his ability to grasp the importance of melody. In sharp contrast to the night's other featured guitarists, Satriani's songs are short and memorable, while his guitar talks in no uncertain manner.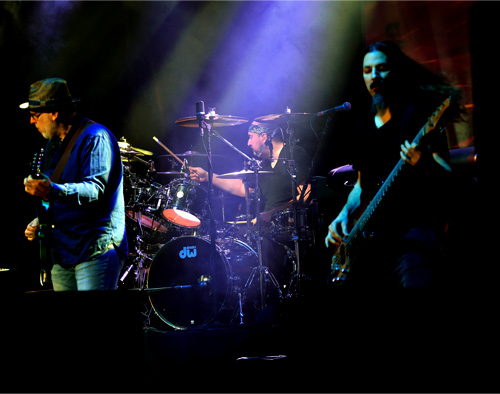 Another new song, 'Cherry Blossoms', underlines his love for the blues and his guitar talks mournfully and slowly, before soaring to the heavens. 'Thunder High On The Mountains' is nothing short of adventurous rock with those drums offering thunderous support but there's almost moments of sublime emotion punctuating the rocky thinder. Incredible! Hell, there's even a passage which verges on the classical! The much longer 'Super Funky Badass' has jazzy undertones while 'Circles' is introduced as 30 years old and a favourite - although in this company it's beginning to show its age.
Satriani seems to me to be getting better with age and my guitarist wish-list has him playing alongside my other favoured guitarist John McGlaughlin - one can but dream… There are some other special moments during his performance including his guitar duels with that exceptional instrumentalist Mike Keneally who also provides some deft touches on the keyboard.
Setlist
Energy*
Catbot*
Satch Boogie
Cherry Blossoms*
Thunder High On The Mountain*
Super Funky Badass*
Circles
Always With Me, Always With You
Summer Song
* from the new album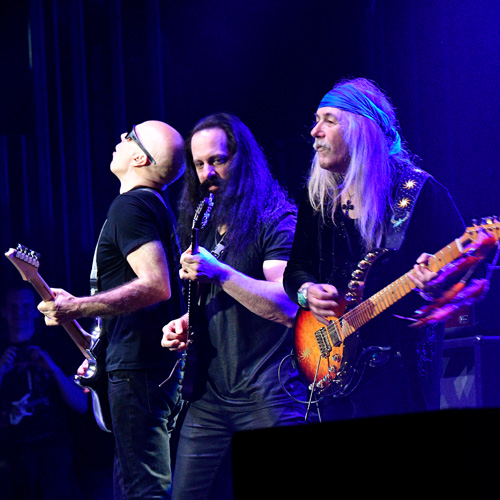 G3 Jam
Finally, Roth, Petrucci and Satriani came together as G3 to finish off a night which those attending will never forget. Satriani's influence is telling as the sound quality is sustained and melodies secured. The rendition of Dylan's 'All Along The Watchtower' was spectacular with solos coming from Roth backed by his fellow guitarists. Led Zeppelin's 'Immigration Song' couldn't have been more appropriate at this moment in a rather tainted current British environment.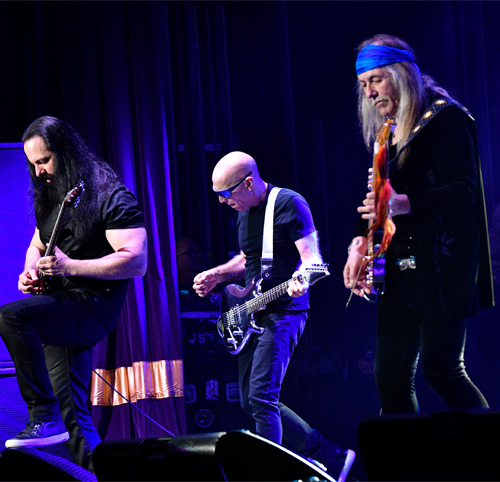 Setlist
Highway Star (Deep Purple song with John Petrucci, Uli Jon Roth & Niklas Turmann)
All Along The Watchtower (Bob Dylan song with Uli Jon Roth & John Petrucci)
Immigrant Song (Led Zeppelin song with Uli Jon Roth, John Petrucci, Niklas Turmann & David Klosinski)