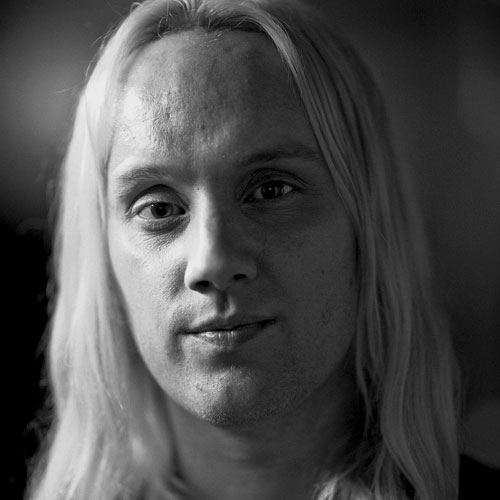 Interview with Olof Mörck from Amaranthe by Charlotte Barnes
London, 5 April 2014
Thanks for making some time to chat with us briefly before the gig – it sounds like all you guys have a massively punishing schedule on this tour; you must be exhausted?
Ha, yeah!  The last few days have been quite tough and we've been existing on a grabbing a few hours' sleep where we can get it, really.  Last night after the show in Berlin, we had to drive to the airport hotel, got to bed at three, got up again at four thirty or something like that, flew here, got to our bus but didn't get a lot of sleep because we had to sort all our stuff out, before the sound check so it was rough – but it's going to be fine.  We're professionals!
And you're going to be back out again after this show?
Yeah – we are driving with our tour bus from here back down to Ludwigsburg in Germany tonight so that's actually quite fine.  We'll probably get more sleep this way.  After that, we've got a break for a day or so and I think we're back in the UK at the Slade Rooms in Wolverhampton on the 9th and then onto the Rescue Rooms in Nottingham on the 11th  It's a pretty full-on schedule!
One of the things I really wanted to ask you about – I've been watching your videos and I absolutely love them and I love the cinematic stuff.  I wanted to ask you a few questions about how they came about and about your director, Patric Ullaeus who I gather has been the same for all of your most recent videos?
Yeah, it's been the same for all our videos – we met Patric several years ago and apart from one live video, he's directed all our films for us.
I'm interested in the way you develop themes for your videos – particularly productions like The Nexus.  Were you thinking about themes as you were writing the song, as you were writing the lyrics or after the song's mostly written?
It's definitely a combined process for us; sometimes it's hard to say what comes first.  Obviously, we record the video after we have recorded the song but you definitely have some kind of vision in your head when you start to write the song.  From the lyrical aspect, you kind of get a kind of visual theme to it as well and that goes on to help us work out the story we want to tell.
You're all very visual people, then?
I think that's true, yes.  When we started out the band in 2008, the first thing that we did was not even record music – we actually took photos first of all.  We had been jamming and I had been just recording some ideas and we knew that we were going to have some really cool stuff - I also knew that the singers were totally awesome.  We just wanted to have more than that.  We started out knowing we wanted a really futuristic theme which you can now see in the Nexus video and we started out with that sort of thing in mind with the videos we made in 2011, Amaranthine and Hunger.  We carried on elaborating from that, I suppose - it kind of lead into more and more wild stuff.  As we were recording the first record, have you seen the video for Hunger?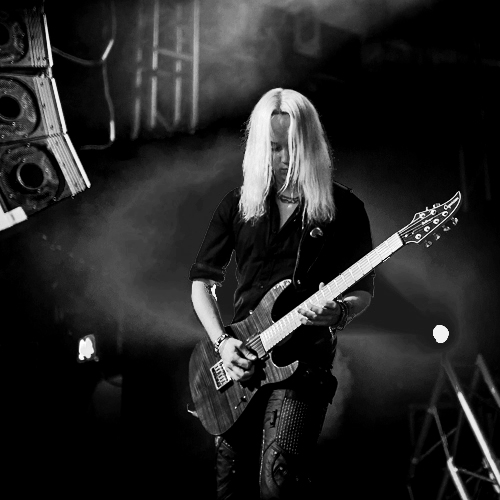 Yes, I have – great video.
Well, while we were actually recording that song, we were staying after hours in the studio, me and Jake were in charge of all the video process and setting up a concept story.  We're both huge cinema enthusiasts and we really liked that we were able to bring this across in that video.  So for our later ones, we wanted to get back to that same place and find ourselves in the same creative zone that our favourite directors like George Lucas or Steven Spielberg must have been in when they started to work on Star Wars or Jaws or whatever.
So Jake and I would draw up a storyboard and although we had some great ideas, we knew that we'd have to make this work logistically somehow. We were thinking like, we'd need one castle, one private jet, one big explosion, you know… all these things and we were like, well, we *do* have a pretty decent budget but we probably can't afford absolutely everything we want!
I was thinking that – I mean how to you persuade your label to come up with the money for some of these big ideas?
Well, every time recently we've shown them our ideas, they've absolutely loved it and we've managed to find a way to make it all work.  We're lucky that we have some good contacts who have helped up to keep the costs under control, but our last three videos haven't been cheap to make.  The problem is, we've started a tradition of making these fantastic productions, so now we've got to keep it going and up our game every time we make another.  Which we completely love to do, by the way.
Speaking of which – I really wanted to ask, are you guys gamers at all?
Of course, of course!
That comes across really strongly in the video for The Nexus – for me it's like you've been playing a lot of Resident Evil and watching a whole lot of Alien franchise.  What sort of stuff do you all like to play?
It's really nice to hear that these things come across because we sometimes wonder how much of these references will get picked up.  Personally, I'm a huge Aliens fan and me and Jake have just bought ourselves a couple of really kickass gaming laptops and we're playing a shit-tonne of Call of Duty, Modern Warfare and stuff like that on the tour bus.  I think if you watch the comments section in our most recent videos, you can really pick up just how much of a crossover there is between gaming and the creative process and storyline that we have going on there.  We know so many of our fans are gamers and that's brilliant to know that we all share the same stuff.
I can't be alone in wanting to play a game that has an Amaranthe soundtrack – do you think there's any scope for something like that in future?  Would you collaborate with a game maker?
We would love to – it's something I think would be super cool, definitely.  I think that's the thing with this band; we're trying to do something that is an entire concept.  Whether it's our videos, our photos, our live shows or whatever, we want to keep a theme running through all of it.
So about the live show; what do you have in store for us tonight?
Well, we're really excited about this evening's gig.  This will be the first time we've headlined here at the O2 Academy in Islington and although this is a pretty intimate venue, we're still going to put on a hell of a show.  We didn't have an enormous production budget for bringing our full European show with us to a smaller stage, but we've done everything we can to get that feeling into tonight and we're sure everybody's going to have a hell of a time.
The other thing is that we want to make sure that our look on stage reflects our music and our visuals from the videos, so we've always got that in mind.  Not just for now, but for where we're planning on going next.
Getting back to the videos, what can we expect from your next release?
I can't really talk too much about our next one yet, but what I can tell you is that we have an excellent idea and I can definitely drop the hint that it'll be inspired by one particular genre and one specific franchise that we're all really into right now.  Imagine the link between The Nexus and Aliens; it'll be like that sort of link if you can imagine that?  People who are gamers will certainly get the reference, I think.
Well we're all really looking forward to it and I can't wait to see what you come up with.   Thanks for your time Olof!

Photo By Charlotte Barnes 
More Exclusive photographs available from: http://www.charlottebarnes.co.uk/140405amaranthe