In 1966, Buddy Rich finally managed to put together his own successful big band, which under different guises became his main group for the next 20 odd years. These outfits - which featured young, unknown players - performed largely at colleges and universities and won over a new generation of jazz listeners. Rich introduced rock and pop arrangements into the band's repertoire, demonstrating his ability to adapt to his audience's changing tastes.
Rich had a fiery temper, which he freely acknowledged, having once said to jazz journalist Whitney Balliett: "I have the worst temper in the world. When I lose it, oh baby." Known as well for his caustic humour and engaging personality, Rich was a frequent guest on The Steve Allen Show and Johnny Carson's The Tonight Show, as well as other television variety shows.
Today, Buddy Rich is remembered as one of history's greatest musicians, and was, according to jazz legend Gene Krupa, "The greatest drummer ever to have drawn a breath."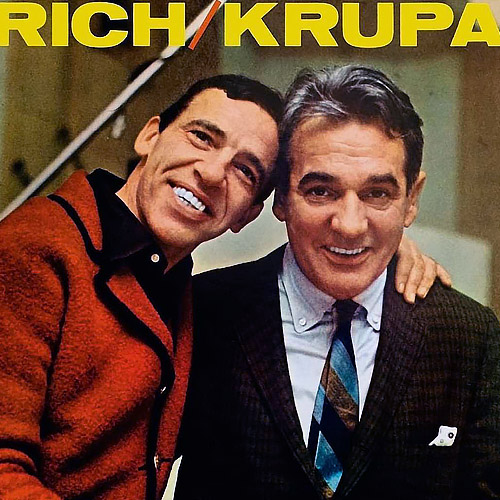 Tracklisting:
A1 Wind Machine
A2 Night Blood
A3 Ready Mix
A4 The Trolley Song
B1 Winding Way
B2 Harco Shuffle
B3 Just In Time
C1 Loose
C2 Love For Sale
C3 Shawnee
C4 Up Jumped Spring
C5 Why Bother?
D1 Porgy and Bess
D2 Twisted (feat. Cathy Rich)
E1 Good News (feat. Steve Marcus) [Part 1]
F1 Good News (feat. Steve Marcus) [Part 2]
Personnel:
Buddy Rich; drums
Cathy Rich; vocals
Matt Harris; piano
Rob Amster; double bass
Trumpets: Eric Miyashiro, Kevin Richardson, Greg Gisbert, Dana Watson
Trombones: Rick Trager, Tom Garling, Jim Martin
Saxophones: Bob Bowlby, Mike Rubino, Steve Marcus, Chris Bacas, Jay Craig
https://en.wikipedia.org/wiki/Buddy_Rich
http://www.thebuddyrichband.com/