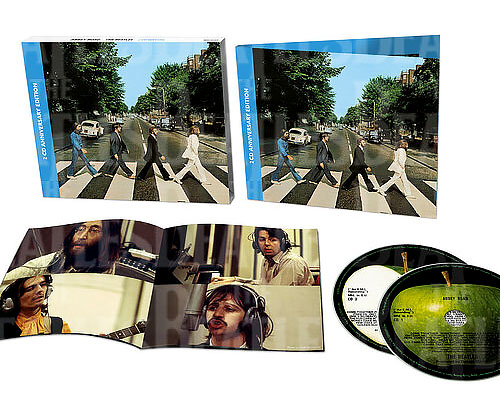 The Beatles reconvened at EMI's studios and Olympic Sound Studios for sessions spanning mid-April to early May. On April 14, Lennon and McCartney recorded the single 'The Ballad Of John And Yoko' in EMI's Studio Three, with Geoff Emerick as the balance engineer. Two days later, the single's B-side, 'Old Brown Shoe' was recorded. Session recordings for these tracks, as well as three more songs started during this period, 'Oh! Darling', 'Octopus's Garden', and 'You Never Give Me Your Money', are featured in ABBEY ROAD'S anniversary edition.
The remainder of Abbey Road's sessions took place in July and in August with George Martin producing, and with principal engineers Geoff Emerick and Phil McDonald taking turns at EMI's groundbreaking new mixing console, the TG12345. On July 2, 3, and 4, McCartney, Harrison, and Starr recorded "Golden Slumbers"/"Carry That Weight" as a medley (Lennon was hospitalized in Scotland, recuperating after a car accident). A sequence of Takes 1-3 from the first day's session is featured in the anniversary edition. Take 9 from McCartney, Harrison, and Starr's backing track session for "Here Comes The Sun" on Starr's July 7 birthday is also included.
On July 21, 22, and 23, The Beatles were in-studio to record 'Come Together', followed by additional sessions on July 25, 29, and 30. The anniversary edition features Take 5. On July 23, The Beatles began recording 'The End', which, along with McCartney's timeless couplet – "And in the end, the love you take / Is equal to the love you make" – features Starr's only drum solo on a Beatles recording. Take 3 is included in Abbey Road's new edition. The next day, just before the band's 34-take session for 'Sun King' and 'Mean Mr Mustard', McCartney cut a quick studio demo for 'Come And Get It' – later a hit for the Apple-signed band Badfinger. The demo's original 1969 stereo mix, made with McCartney and Lennon present in the control room, is released for the first time in the new edition, as is Take 20 from The Beatles' 'Sun King' and 'Mean Mr Mustard' session. On July 25, two more songs, 'Polythene Pam' and 'She Came In Through The Bathroom Window', were recorded as one for inclusion in the album's epic medley. Take 27 from that session is featured on the new edition.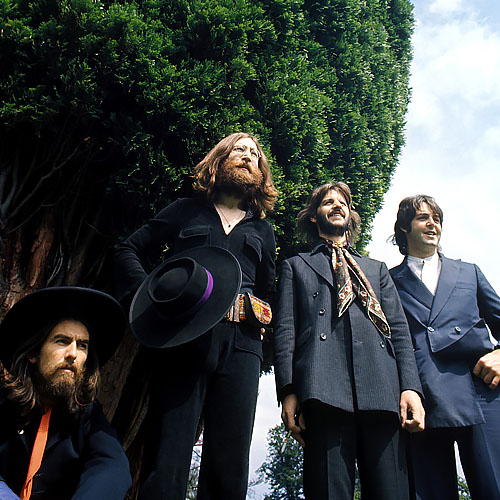 After Harrison had transported his rare and cumbersome Moog synthesizer to the studios, four songs received Beatle - played synthesizer parts: 'I Want You (She's So Heavy)' (Lennon), 'Maxwell's Silver Hammer' (McCartney), and 'Here Comes The Sun' and 'Because' (Harrison). This was a very early use of the newly-invented instrument on a pop record. George Martin wrote arrangements for several tracks that were recorded in Studio One toward the end of the sessions in August 1969. The original overdubbed recordings of Martin's scores for 'Something' and 'Golden Slumbers'/'Carry That Weight' are included in ABBEY ROAD'S anniversary edition.
August 20, 1969 was the last time The Beatles were together as a band at the EMI studios, for an evening session to compile ABBEY ROAD'S master tapes. The album's sides were sequenced, with 'Come Together' opening Side 1, and with the medley of 'You Never Give Me Your Money', 'Sun King', 'Mean Mr Mustard', 'Polythene Pam', 'She Came In Through The Bathroom Window', 'Golden Slumbers', 'Carry That Weight', and 'The End' placed on Side 2. 'The Long One', a different trial edit and mix of the medley, including 'Her Majesty' (ultimately placed 14 seconds after 'The End' as an unlisted, hidden track) is included in ABBEY ROAD'S new edition.
A few weeks before ABBEY ROAD'S release on September 26, 1969, Apple's press officer Derek Taylor revealed that the album was "recorded at nice, workmanlike sessions which usually began at 2pm and continued until the end of the evening." Millions of ABBEY ROAD LPs were pressed at manufacturing plants around the world. The album was another blockbuster release for The Beatles, holding the No. 1 spot on the U.K. albums chart for a total of 17 weeks and topping Billboard's U.S. albums chart for 11 weeks. For their work on ABBEY ROAD, Geoff Emerick and Phil McDonald won the year's GRAMMY Award for Best Engineered Recording, Non-Classical. In 1995, ABBEY ROAD was inducted into the Recording Academy's GRAMMY Hall of Fame, recognizing "recordings of lasting qualitative or historical significance." The Beatles' best-selling studio album, ABBEY ROAD'S universal popularity and influence have continued to grow since its debut.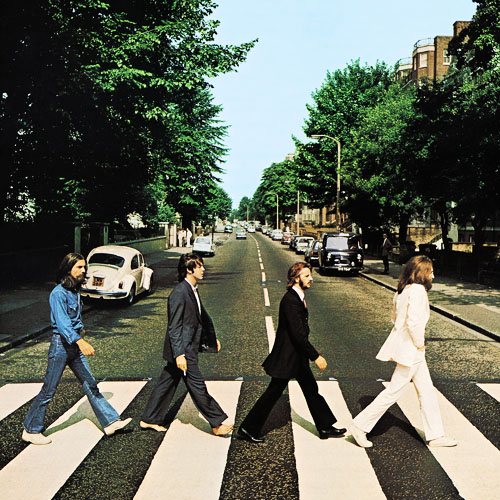 Since ABBEY ROAD'S release, the street's zebra crossing has been one of the most celebrated and photographed sites in the world, protected as an historic landmark and visited by thousands of Beatles fans each year. Due to the success of The Beatles' album, EMI Recording Studios was renamed Abbey Road Studios. Owned and operated by Universal Music Group, Abbey Road Studios is the most famous recording studio in the world and a global music icon.

Website: https://abbeyroad.thebeatles.com/