Gorilla, Manchester, 26 January 2018
Based in Montreal, Quebec, Canada, the Barr Brothers consists of two brothers: drummer Andrew Barr and songwriter and guitar player Brad Barr, both from Providence, Rhode Island. The third core member is harpist Sarah Pagé. Other instrumentation and musicians are added on tour, as needed.
The band's recordings have twice been nominated for Juno Awards (in 2013 and 2015 for Adult Alternative Album of the Year. Their self-titled debut album The Barr Brothers was released in 2011 and focused on acoustic and electrified songs rooted in Appalachian folk. Second album Sleeping Operator (2014) further explored the connections between the Delta blues and its West and North African ancestry. Leftover songs from the Sleeping Operator sessions were released as a five-track collection Alta Falls (2015). Their third album Queens of the Breakers will be released in autumn 2017. Sarah Pagé will leave the band in 2018. The band tours frequently in the United States, Canada, the United Kingdom and Europe with some shows played in Japan. Notable venues have included Levon Helm's studio in Woodstock NY; Red Rocks Amphitheater; two appearances on the Late Show with David Letterman.
Maddy Storm
Supporting tonight is a young singer/songwriter from Manchester who at first glance looked more like a model. Within minutes she convinced me that she was an artist to look out for. Playing her electric guitar (with lots of reverb) she displayed a voice of enormous range, which touched incredibly high notes with relative ease and seamlessly. Her songs were intense, highly emotional and certainly grabbed the attention of the sellout crowd. She played a couple of her singles which were impressive of which 'Tempest' stood out - I'm looking forward to hearing her debut album.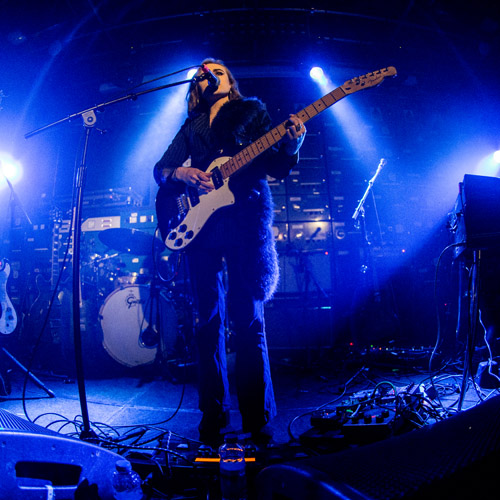 Most important of all for me is that she is an original and distinctive talent of high quality with a very independent musical approach. The ability to write songs that will connect is going to be vital for her in generating a wider audience. Her style is alt/art rock and she seems to have the ability to create attractive melodies which are so important in capturing the imagination. Maddy Storm (her real name) is someone to watch for…
https://www.facebook.com/maddystormmusic
https://soundcloud.com/maddystorm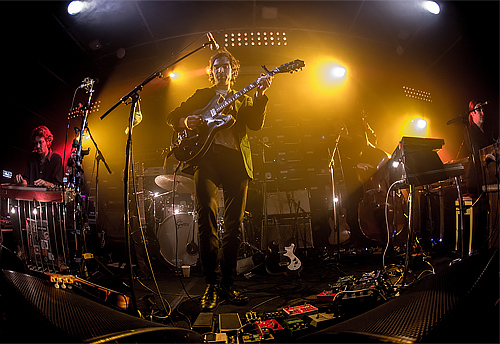 The Barr Brothers
I first heard of this Canadian band several months ago when I received their excellent album, QUEENS OF THE BREAKERS, which was included in my list of best albums of 2017 (and widely acclaimed both here and abroad). The venue's modest sized stage was crammed full of instruments including two keyboard setups, drums, several guitars, double bass and several microphones for main and backing singers/instrumentalists.
This is my first time at the Gorilla venue and I was pleasantly surprised by its size, lighting and ultimately its acoustic quality. This was a sellout concert which surprised me as the Barr Brothers are hardly a household name and it's only their most recent album that's drawn any attention here in the UK. The very tall and rock 'n' roll scruffy Brad Barr took his place centre stage while brother Andrew nestled behind the large drum set at stage rear. What followed was the standard of concert I had hoped to inspire me early in 2018.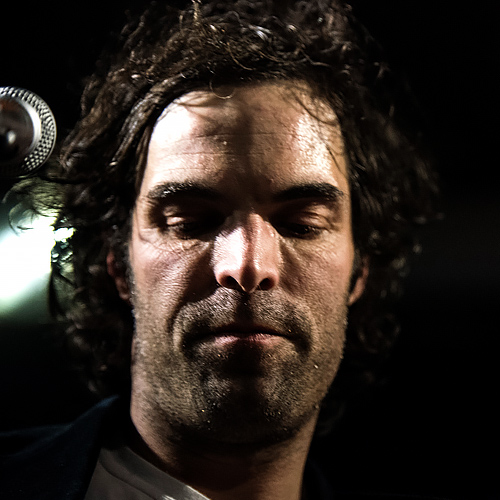 'Radio' passed well but reasonably quietly but when the distinctive drum opening to 'Defibrillation' began the crowd let forth with the loudest acclaim I've heard for some time. It was wild and this enthusiastic response just got bigger and bigger as the show progressed. The song is one of the finest I heard last year and it deserved all the praise it got for its tremendous performance.