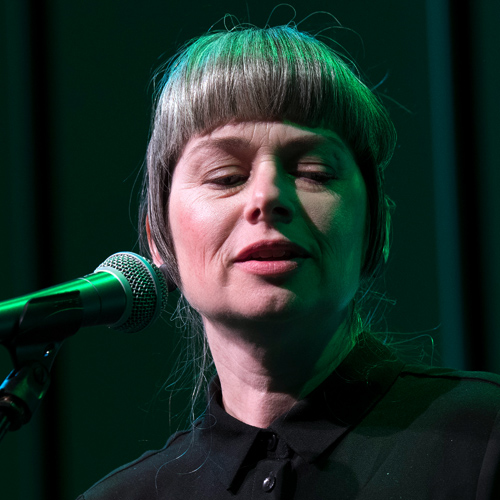 Liverpool Philharmonic Music Room, 4 March 2018
Lead Vocal - Nicola Kearey
Guitar - Ian Carter
Violin - Ellie Wilson
Lead Backing Singer/Instrumentalist - Fran Foote
Percussion - Si Foote
I have never been a fan of traditional folk music (and probably never will be) but there's something about this folk band that has hit my much-like nerve. It started when I received their new album FOLLOW THEM TRUE which I scored a potential album-of-the-year 5/5. I was struck by its modern twist on several songs which even made the traditional songs a lot more palatable. The band's music is highly rhythmic and melodic while touching on many of the social topics of then and especially now. Vocal delivery also had a more conventional modern sound. The next step for me whenever I love an album is to witness a live performance and Liverpool's Philharmonic Music Room (and on a Sunday night easy parking - Manchester please note…) beckoned.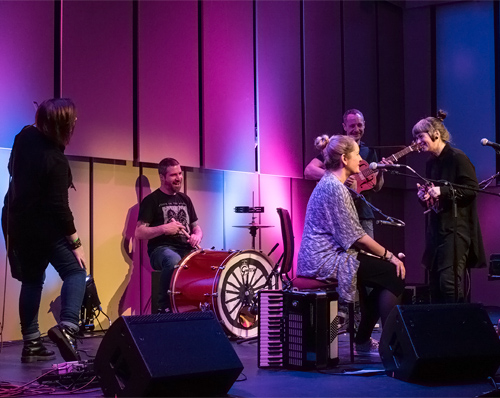 As a photographer as well as a reviewer, the quality of the venue is so important in the area of lighting. The bonus at the venue was that it had obviously designed to house music with lofty ceiling height and walls covered in acoustic panels with facilities for standing and seating. I sat next to a couple who commented on how good the acoustic quality of the venue is, and so it proved - in spades. In addition, the size of the stage was large for a modestly sized venue.
Liverpool Philharmonic has a comprehensive programme of music events covering most genres and attracts healthy sized audiences. The night's show was a seated sell-out predictably with an audeince of thirty-somethings plus and here lies the band's challenge - to attract a wider audience. On the strength of the night's show the band deserves to be heard by all and the strategy of playing major outdoor festivals is the right one.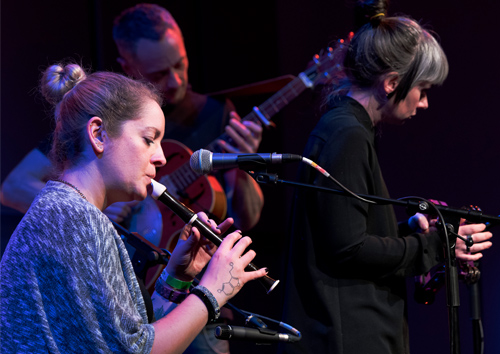 With the stage occupied with instruments (including one very large drum and beat box), mics, chairs and the expectant seated audience and a little later than scheduled, the band mounted the stage. Supporting lead vocalist Nicola Kearey and guitarist/producer Ian Carter were a drummer, lead backing vocalist/flutist/accordion player, and a violinist. First cab-off-the-rank was a song from the band's 2015 album FROM HERE. 'Me N Becky' was described as a song about the London riots in 2010 and Kearey asked if we had experienced the riots in our part of the world. I actually did when I attended a gig in Manchester's Northern Quarter
which was shortened to just one song due to the police requesting that the show be cancelled. As I drove home that night through Manchester I witnessed the most horrible scenes of looting and destruction, and was terrified. Now I know I like the band's second album but on the strength of this song I might just have to acquire the older LP…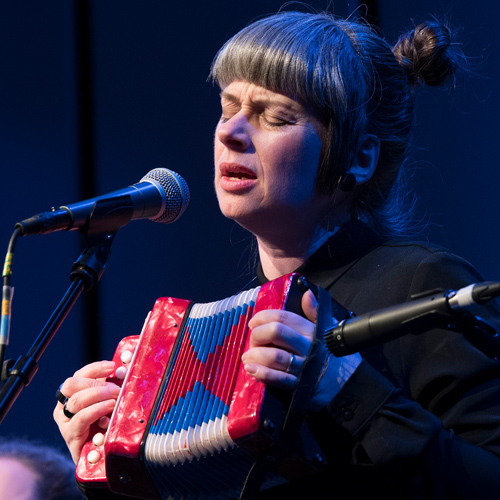 It became clear very quickly that Nicola Kearey is the head honcho here. She has a semi-detached, sardonic persona which is different, humorous and likeable. Vocally it is a good voice, not a classic one and certainly a little right of that traditional folk sound. I loved it! 'Common Ground' is also from the band's first album and another reason why I need the album. Each song is briefly described by Kearey and stating the obvious 'Jail Song' is about a prison and the conditions therein. Then comes a song about Epping Forest in Essex which was local to me many years ago when I lived in Essex. Kearey asked the audience what was the local forest and in the absence of an answer suggested that there might be a Mersey Forest (a river maybe but not a forest). More a laughter before eventually arriving at a song that I recognised.
Title track 'Follow Them True' is the most beautiful, moving, melodic and glacially paced song with Kearey showing abundant vocal expression and feeling backed by fabulous accordion and solid rhythmic base line. This could well end up as my song of the year. Together with this, the instrumental 'Abbots Bromley Horn Dance' (with flute and dominant bass line) were my highlights of a memorable evening. 'White Copper Alley' is back in time with the subject of prostitution at its heart. Kearey's rushed cockney tones give it a small modern edge and it's a delight. Another traditional song in 'Weaving Song' (from the new album) sounds wonderful with Carter's plucked guitar dominating the background.