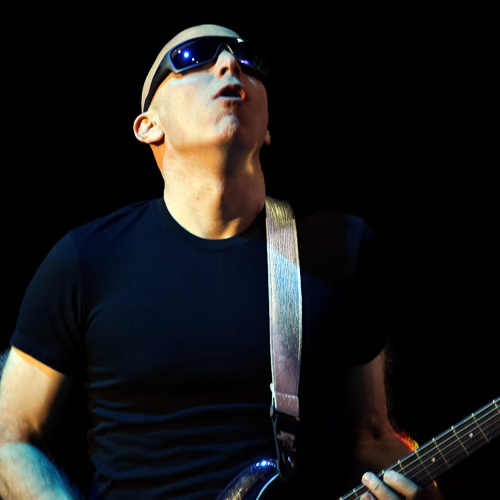 Joe Satriani
Joseph Satriani (born July 15, 1956) is an American instrumental rock guitarist and multi-instrumentalist. Early in his career, Satriani worked as a guitar instructor, with many of his former students achieving fame, such as Steve Vai, Larry LaLonde, Rick Hunolt, Kirk Hammett, Andy Timmons, Charlie Hunter, Kevin Cadogan, and Alex Skolnick; he then went on to have a successful solo music career. He is a 15-time Grammy Award nominee and has sold over 10 million albums, making him the biggest-selling instrumental rock guitarist of all time.
In 1988, Satriani was recruited by Mick Jagger as lead guitarist for his first solo tour. Satriani briefly toured with Deep Purple as the lead guitarist, joining shortly after the departure of Ritchie Blackmore in November 1993. He has worked with a range of guitarists during the G3 tour, which he founded in 1995. Satriani has been the guitarist for the supergroup Chickenfoot since joining the band in 2008.
Satriani started playing in a San Francisco-based band called the Squares, where he continued to network and make musical connections (Squares sound man John Cuniberti co-produced his second album). He was invited to join the Greg Kihn Band, who were on the downside of their career, but whose generosity helped Satriani pay off the overwhelming credit card debt from recording his first album Not of This Earth. In 1987, Satriani's second album Surfing with the Alien produced radio hits and was the first all-instrumental release to chart so highly in many years. The track "Crushing Day" was featured on the soundtrack of a low-budget film titled It Takes Two. Surfing with the Alien is his most acclaimed work, according to aggregator Acclaimed Music. In 1988 Satriani helped produce the EP The Eyes of Horror for the death metal band Possessed. That same year he also released an EP titled Dreaming #11, which featured the song "The Crush of Love". In 1989, Satriani released the album Flying in a Blue Dream. It was said to be inspired by the death of his father, who died in 1989 during the recording of the album. "One Big Rush" featured on the soundtrack to the Cameron Crowe movie Say Anything…. "The Forgotten Part II" was featured on a Labatt Blue commercial in Canada in 1993. "Can't Slow Down" featured in a car-chase sequence in the Don Johnson starring show Nash Bridges. "The Bells of Lal (Part One)" was featured for an eerie scene in the 1996 Billy Bob Thornton movie Sling Blade, while Carl is sharpening a lawnmower blade to kill the menacing Doyle Hargraves played by Dwight Yoakam. Joe Satriani also sang backing vocals on the self-titled Crowded House album. Satriani was a friend of Mitchell Froom.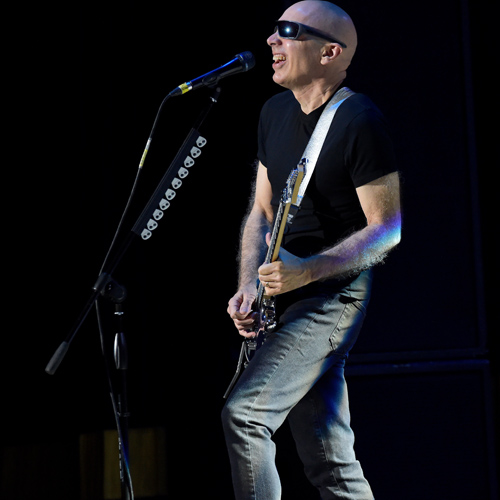 In 1992, Satriani released The Extremist, his most commercially successful album to date. Radio stations across the country picked up "Summer Song," which got a major boost when Sony used it in a major commercial campaign for their Discman portable CD players. "Cryin'," "Friends," and the title track were regional hits on radio. In late 1993, Satriani joined Deep Purple as a temporary replacement for departed guitarist Ritchie Blackmore during the band's Japanese tour. The concerts were a success, and Satriani was asked to join the band permanently but he declined, having just signed a multi-album solo deal with Sony, and Steve Morse took the guitarist slot in Deep Purple.
In 1996, Satriani founded the G3, a concert tour intended to feature a trio of guitarists. The original lineup featured Satriani, Vai and Eric Johnson. The G3 tour has continued periodically since its inaugural version, with Satriani the only permanent member. Other guitarists who have performed in G3 include among others: Yngwie Malmsteen, John Petrucci, Kenny Wayne Shepherd, Robert Fripp, Andy Timmons, Uli Jon Roth, Michael Schenker, Adrian Legg, Paul Gilbert, Steve Morse and Steve Lukather. In 1998 Satriani recorded and released Crystal Planet. Crystal Planet was followed up with Engines of Creation, one of his more experimental works featuring the electronica genre. A pair of shows at the Fillmore West in San Francisco were recorded in December 2000 and released as Live in San Francisco, a two-disc live album and DVD.
Satriani regularly recorded and released evolving music, including Strange Beautiful Music in 2002 and Is There Love in Space? in 2004. In May 2005, Satriani toured India for the first time, playing concerts in Delhi, Kolkata and Mumbai. In 2006, Satriani recorded and released Super Colossal and Satriani Live!, another two-disc live album and DVD recorded May 3, 2006 at the Grove in Anaheim, CA. In 2006, Satriani signed on as an official supporter of Little Kids Rock, a non-profit organization that provides free musical instruments and instruction to children in underserved public schools throughout the U.S.A. Satriani has personally delivered instruments to children in the program through a charity raffle for the organization and, like Steve Vai, sits on its board of directors as an honorary member.
On August 7, 2007 Epic/Legacy Recordings re-released Surfing with the Alien to celebrate the 20th anniversary of its release. This was a two-disc set that includes a remastered album and a DVD of a never-before-seen live show filmed at the Montreux Jazz Festival in 1988. Satriani's next album Professor Satchafunkilus and the Musterion of Rock, was released on April 1, 2008. Satriani released a live DVD recording of a concert in Paris titled Live in Paris: I Just Wanna Rock and a companion 2-CD set on February 2, 2010. In March 2010 Satriani participated with other guitarists in the Experience Hendrix Tribute Tour, performing music written and inspired by Jimi Hendrix.
On December 4, 2008 Satriani filed a copyright infringement suit against Coldplay in the United States District Court for the Central District of California. Satriani's suit claims that the Coldplay song "Viva la Vida" includes "substantial original portions" of the Satriani song "If I Could Fly" from his 2004 album, Is There Love in Space? The Coldplay song in question received two Grammy Awards for "Song of the Year." Coldplay denied the allegation. An unspecified settlement was reached between the parties.
In May 2010, Satriani announced he was about to enter the studio to record a solo album, and dates were released for an autumn tour. He also said that demos had been recorded for a second Chickenfoot album. Satriani released his 13th studio album Black Swans and Wormhole Wizards, on October 5, 2010. Satriani released the DVD/Blu-ray of his 3D concert film Satchurated: Live in Montreal on April 24, 2012 after its limited showing in theaters. The film was shot in December 2010 in Montreal and was directed by award-winning filmmakers François and Pierre Lamoureux. Satchurated is the first Blu-ray concert film available in 3D with Dolby TrueHD 7.1.
On May 7, 2013 Satriani released his fourteenth studio album, titled Unstoppable Momentum. A career retrospective box set titled Joe Satriani: The Complete Studio Recordings, which contains remastered editions of every studio album from Not of This Earth to Unstoppable Momentum, was released on April 22, 2014. A book titled Strange Beautiful Music: A Memoir was also released to coincide with the release of the box set.
In August 2014, Satriani participated in the G4 Experience—a week-long guitar camp—with fellow guitarists Paul Gilbert, Andy Timmons, and keyboardist Mike Keneally.
February 2015 saw the first dates announced for the upcoming Shockwave World Tour, in support of Satriani's fifteenth studio album, slated for release in July. Shockwave Supernova was released on July 24, 2015. The album was conceived after Satriani found himself playing guitar with his teeth a lot during the Unstoppable Momentum tour, and had a daydream about an alter-ego, "Shockwave Supernova", making him do it. On September 16, 2017 Satriani teased his upcoming sixteenth studio album, What Happens Next, through social media. The album was released on January 12, 2018. He collaborated with former Deep Purple bassist Glenn Hughes and Red Hot Chili Peppers drummer Chad Smith, two Rock and Roll Hall of Fame members.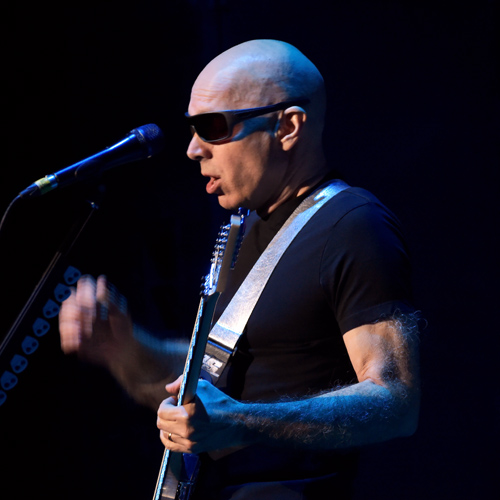 On May 29, 2008, it was revealed that Satriani was involved in a new hard rock band called Chickenfoot with former Van Halen members Sammy Hagar and Michael Anthony, and Red Hot Chili Peppers drummer Chad Smith. The band features Hagar on vocals, Satriani on guitar, Anthony on bass and Smith on drums. Their eponymous debut album was released on June 5, 2009. The first single and video released was the track "Oh Yeah," which was played on The Tonight Show with Conan O'Brien on June 5, 2009. Satriani received a co-writing credit on all the songs on the band's debut album. Broken Records magazine asked Satriani about his new band, and he enthusiastically mentioned that "it was great fun" and it gives him a "kick in the music bone" to play with such great talent. He said it felt natural to step back and play more rhythm than solo guitar. Chickenfoot's second album, Chickenfoot III, was released on September 27, 2011. Its first single was the track 'Bigfoot'. In its first week of release, it charted #9.