Satriani's G3 with Uli Jon Roth and John Petrucci
Apollo Manchester, 27 April 2018
Back in 1995, and on the strong recommendation of a well known hi-fi magazine, I acquired a copy of Joe Satriani's eponymous album. It was my first solo rock guitarist album and I was more than impressed. I seem to remember that it was Satriani's first album to feature only songs written by him and in this respect it was a revelation. After several more albums, and many years I view Satriani as one of the leading guitarists alongside several that have influenced him on his musical journey.
Manchester's iconic Apollo is once again Satriani's location of choice and one of my favourite venues - especially when visiting sound engineers are able to optimise the venues sound potential. The night's show represents a Cordon Bleu menu of rock guitarists who have proven their credentials over the years. After their individual sets, Uli Jon Roth, John Petrucci and Satriani will finally come together for a jam under the name of Satriani's well-established and innovative guitar 'supergroup' called G3 (which has also included Steve Vai, Eric Johnson, Kenny Wayne Shepherd, Yngwie Malmsteen, Michael Schenker, Robert Fripp, Brian May, and several more since 1995).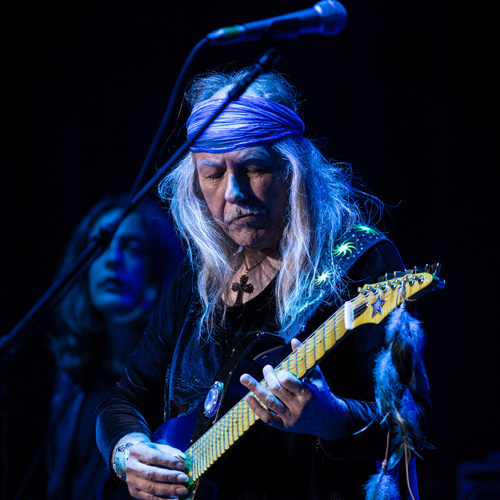 Uli Jon Roth (Sky guitars)
"In Roth's early days with Scorpions, his soloing style was based primarily on the blues scale, occasionally incorporating notes from other modes. However, by the time the band recorded the Virgin Killer album, he began incorporating more advanced compositional elements from European classical music, such as pedal tone sequences and intricate arpeggios. Beginning with Electric Sun, the classical influence began to dominate his playing style, notable in songs like "Cast Away Your Chains" and "Still So Many Lives Away". His style eventually became a fusion of blues-based rock with European classical sensibilities. Roth employs major and minor pentatonic, the blues scale, phrygian, harmonic minor, diminished, and the whole tone scale, notably in his famous "Sails Of Charon" solo."
First to front up to the near capacity seated audience was veteran Uli Jon Roth supported by a full band including vocalist/guitarist Niklas Turmann, bass guitarist, keyboardist and drummer. The set of Scorpions songs was enough to convince me that Roth is a special guitarist. Against a very large video backdrop and with some excellent vocal performances from Turmann, Roth's music was epic in a symphonic sense while the homage to Roth's deceased older brother 'Sun In My Hand' was immensely moving made more poignant with the large photo backdrop of Zeno Roth. But hearing the music proved to be a challenge with inadequate sound management that created an inpenetratable fog and over-amplification. Melodies and clarity of playing proved problematic to establish. The Apollo proved that it can be a rock band's best friend but can also be the band's worst enemy…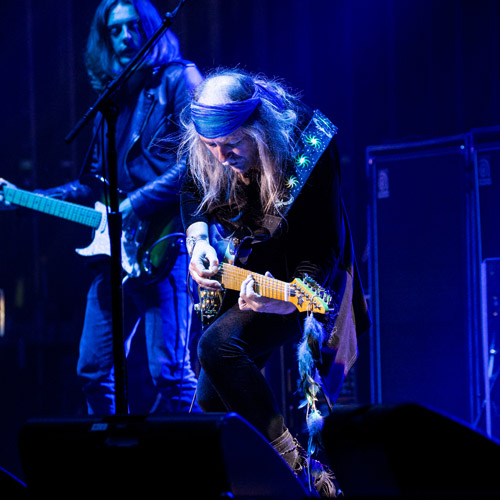 My highlight was the mournful vibe of 'Fly To The Rainbow'. There were moments when Roth played without his band while his brief solo vocal completed the set nicely with the classic 'The Sails Of Charon'. Sound problems aside, Roth received loud and enthusiastic acclaim form fans while setting the scene for what was to follow.
Setlist
Sky Overture
Sun In My Hand (Scorpions song)
We'll Burn The Sky (Scorpions song)
Fly To The Rainbow (Scorpions song)
The Sails Of Charon (Scorpions song)