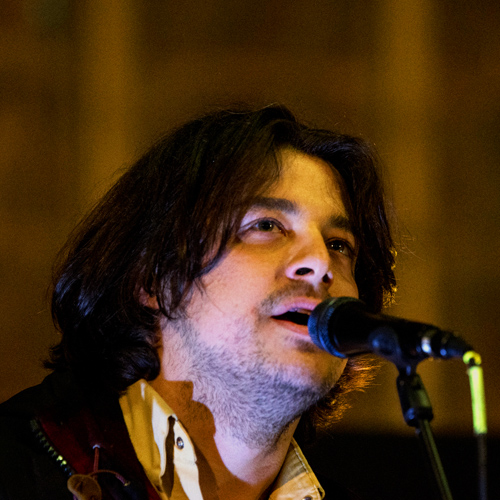 St Mary's Creative Space, Chester, 8 February 2018
Back in 2009 I received an album by a five-piece alt country rock band from Austin, Texas called Delta Spirit. It became my favourite album that year and led to a live review and interview at Manchester's
Night & Day Cafe venue. The live performance was electric and fronted by one Matthew Logan Vasquez who not only sang but also played keyboards and guitar. It turned out that he was also the main source of the band's wonderful songs.
Then last year I received Matthew's second solo album, DOES WHAT HE WANTS and was impressed. But what was surprising was that he was going to perform at a little known Chester venue called St Mary's Creative Space (I live in Chester and have never heard of it!). The venue is actually a rather beautiful old church slap bang in the city centre (and happily adjacent to loads of free parking!) and on reading reviews of the place discovered that the acoustic quality was of a high order.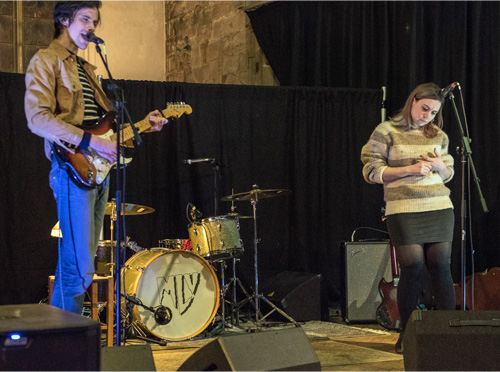 Support act American Blues/Folk singer-songwriter Robert Chaney played songs of deep intensity and emotion. Each song was accompanied by a brief story of its real/true origin including one called 'The Cyclist' performed along with a female backing singer. It exemplified this artist's songs which appear to come out of his own real life experiences - something the audience responded to with great enthusiasm. My only criticism was that his songs sounded very similar to each other, with just one exception. That said, here is a real, understated talent whose album I eagerly await.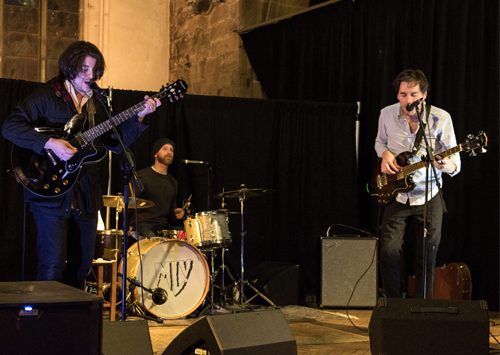 From that concert back in 2009 I knew that Matthew Logan Vasquez (MLV) is something of a free spirit who has significant enthusiasm for his art, and he loves being a team player. Tonight he is accompanied by two Texan buddies in Jud Johnson on drums and Brendan Bond on bass guitar, with MLV on rhythm guitar. A carefree-looking MLV wandered onto the stage - possibly a little worse for wear - and quickly set the pace with a storming rendition of the anthemic rocker 'Stand Up' from his solo debut SOLICITOR RETURNS. This was followed by another explosive interpretation of another SOLICITOR RETURNS song, 'Personal' about the evils (or benefits) of alcohol.
As far as front men go, MLV tops most of them. His voice is deep, gritty rock 'n' roll and heaped with expression. He chats with the audience are natural and very funny while he continuously acknowledged his instrumental playmates. I'm a little surprised that no songs so far from his latest album but as if he was reading my mind up pops 'Same' which opens his new album. Drums explode as this blues rocker of a song reaches out to grab the audience to loud applause. It's a stunner of a song and a slam-dunk of a performance.
MLV then informs us that his friends are heading back to Texas after the show while he is headed for Oslo! I later discover that he's actually moving his family there - for a change. Then comes another new song called 'Red Fish' which slows the pace somewhat and injects welcome lightness to the proceedings. His friends then disappear while MLV continues with his acoustic guitar before they return to join him on the mic to sing a delightful song together.
The setlist features some of his best songs including the marvellous 'Bushwick Blues' from Delta Spirit's HISTORY FROM BELOW album. As I leave this beautiful venue I ponder on MLV's future and whether the world will eventually recognise his enormous talents. And as one of the finest singer-songwriters around right now and deserves nothing less - tonight proved it.
Setlist
Stand Up (from SOLICITOR RETURNS)
Personal (from SOLICITOR RETURNS)
Same (from DOES WHAT HE WANTS)
Red Fish (from DOES WHAT HE WANTS)
Maria (from SOLICITOR RETURNS)
Halfcolt (from AUSTIN EP)
Blue Eyes
Theatre
Bushwick Blues (from Delta Spirit's HISTORY FROM BELOW)
Everything I Do Is Out (from SOLICITOR RETURNS)