RNCM Manchester, 20 October 2018
"Polwart writes music for social change, with lyrics that articulate their values poetically and succinctly, obliquely and persuasively" - The Guardian
"An unflinching social eye" - The Observer
"One of our most lyrically striking, and significant, artists" - The List
Karine Polwart is a multi-award-winning songwriter and musician, a theatre maker, storyteller, spoken-word performer, essayist, and published writer. Karine is touring in 2018 with her trio – long-term collaborators brother Steven Polwart (guitars) and Inge Thomson (accordion, percussion) – and recently released a new studio album, LAWS OF MOTION.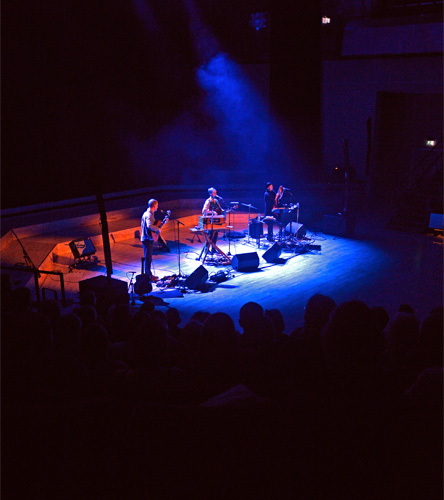 I was familiar with Karine Polwart's name but have never heard her music until her latest album arrived for review. Now I have never been a fan of ye olde tradional English folk music but in the last few years the genre has been dragged into the 21st century by both bands and solo artists, and with a significant amount of popular success. Earlier this year I favourably reviewed an album by Stick In The Wheel which for me was a perfect example of how the genre's essence can be preserved while sugar coating with indie rock arrangement and sounds. Polwart's new album LAWS OF MOTION is another wonderful example of how the genre can maintain it's storytelling impact with subtle modern musicality. For this reason I was keen to see the lady and her associates perform live, and in a venue that would do the trio justice.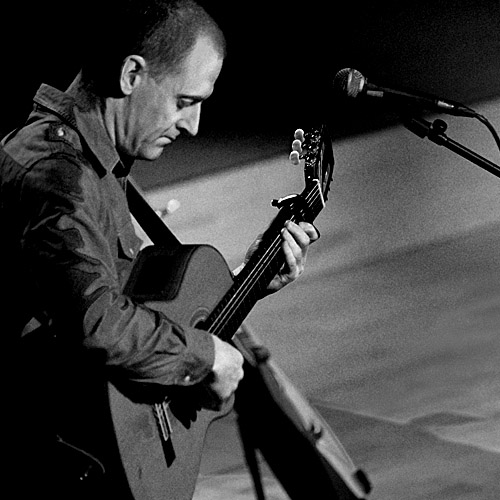 The Royal Northern College of Music is tailor-made for acoustic singer-songwriter acts although Manchester council has made it so very difficult to secure convenient parking and access. With its colosseum arena vibe the venue lends itself to audence participation and excellent acoustics. Just fifteen minutes before the performance commenced there was but a trickle of punters wandering into the auditorium but in that short period of time the place was virtually full. One aspect was unusual and that was the number of parents accompanying their very young children. Age-wise, the audience was dominated by middle-age but there were a significant number of younger fans although not many teens. So a welcome broad section of popular support which proved to be more than justified.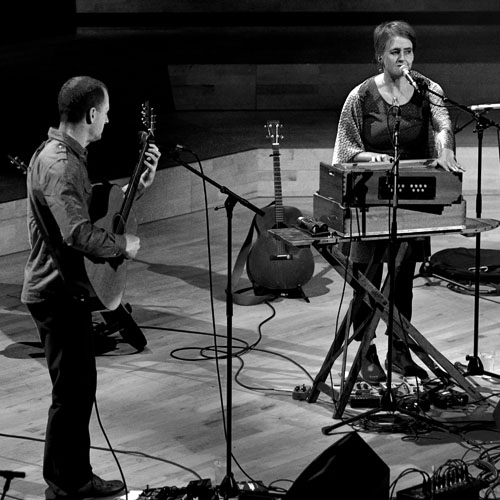 The opening song, 'I Burn But I Am Not Consumed' (from the new album), featured spoken dialogue of Marianne McCloud's story with a backdrop of plucked guitar notes which built into the trio's instrumental storm. There were early examples of lush and fragile vocal harmonies from Steven Polwart and Inge Thomson which were to appear throughout the concert. 'Rivers Run' (taken from 2008's THE EARTHLY SPELL) further underlined Polwart's quite beautiful fluid and natural voice.
Polwart explained most of the songs performed with one of the most poignant being the story of Jewish children being transported to safety. The song was 'Suitcase' from the new album - "The suitcase in the lobby is always packed and ready for the leaving….for when it's time to go." It's a darker song with a deep rhythmic thrum from brother Steven's guitar and percussive moments from Thomson. This was one of my highlights from the show. The next song, 'Cornerstone', was also introduced with a  story about a lighthouse on an island of natural scientific interest. Again Steven's acoustic guitar played a vital role in lifting the drama of the track with a riff refrain that provided a distinctive and memorable note. Through this earlier phase of the show Polwart stayed anchored behind her euphonium but increasingly began to rely on her guitars for song support. The trio played in total harmony and at a level where Polwart's vocal were heard with utmost clarity.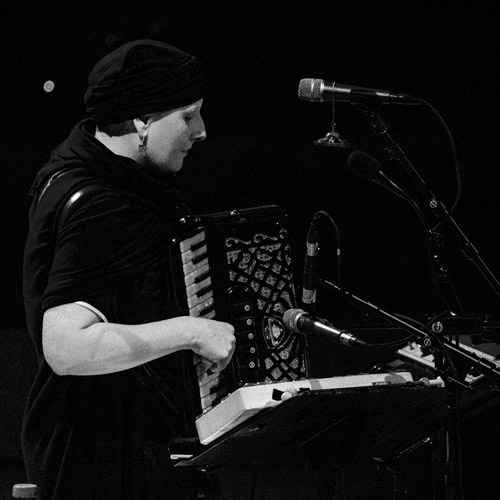 Another story accompanied 'Molly Simes' and a song with a dance resonance, but perhaps the most moving point in the night came with a song called 'Swim Until You Can't See The Land'. The song was written by Scottish band Frightened Rabbit's Scott Hutchison, who killed himself in May 2018. Hutchinson was a prime supporter of those with mental health issues. Polwart's rendition was dark and emotional. Polwart then described a pop quiz which was part of a Scottish pop celebration festival. The trio came through with flying colours until the last segment of the contest and eventually came second, floored by s single question. It was one amongst several humorous stories told and much appreciated by her audience. Then another favourite song from the album appeared. Title track 'Laws Of Motion' comes with a strong melody and powerful choruses and is the rockiest song of the show. The backing vocals and instrumentals were fabulous.
After the intermission my favourite song on the album, 'Ophelia', arrived with its wonderful acoustic introduction and for me Polwart's finest vocal on the album. This was an effortless and wonderfully entertaining display by the singer and her supporting players who provided superb instrumental and backing vocal performances. This was meaningful and sincere folk music for a wide audience and I can heartily recommend you buy a ticket if she arrives in your neck of the woods.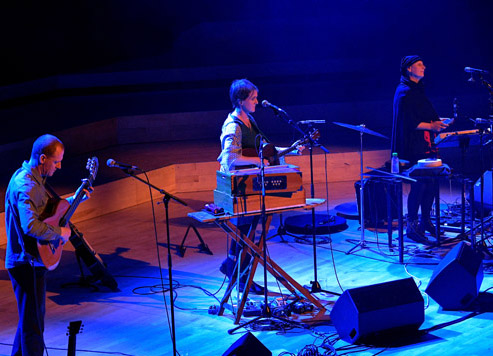 Setlist
I Burn But I Am Not Consumed
Rivers Run
Young Man On A Mountain
Suitcase
Cornerstone
Molly Simes Welcomes To Salters Road
Here's Where Tomorrow
Swim Until You Can't See Land
INTERMISSION
Ophelia
Crow On The Cradle
The Robin
Inge Thomson Performance
Tinsel Show
Video
Sorry
Kings Of Birds
Follow The Heron